August 9th, 2010
---
10:07 pm - Voyeurism Meets Owls

The Live Owl Nest Box Cam.

Of course, she had to be sleeping when I tuned in.

November 27th, 2008
---
12:15 pm - Turkey Pardon (no not that Palin video)
My favorite Thanksgiving tradition: the Presidential Turkey Pardon!

This year's turkey is Pumpkin, and his backup counterpart, Pecan.




To all you travellers this holiday season: drive safe!

June 30th, 2008
---
12:02 pm - Caterpillar
Saw this little guy outside today: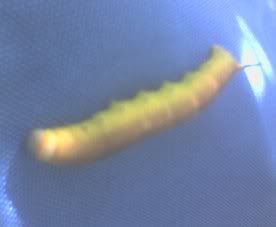 After poking around on the internet I'm pretty sure this is a hemaris thysbe (Hummingbird Clearwing Caterpillar).
Current Mood:
curious

February 13th, 2008
---
02:07 pm - Uno the Beagle Wins at Westminster
I watched this last night. This dog was gorgeous and had a great personality.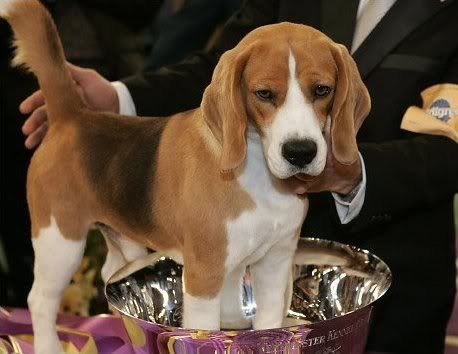 May 24th, 2007
---
08:01 am - God Suports Gay Adoption!
Gay flamingos pick up chick
LONDON (AFP) - A pair of gay flamingos have adopted an abandoned chick, becoming parents after being together for six years, a British conservation organisation said Monday.
Carlos and Fernando had been desperate to start a family, even chasing other flamingos from their nests to take over their eggs at the Wildfowl and Wetlands Trust (WWT) in Slimbridge near Bristol.
But their egg-sitting prowess made them the top choice for taking an unhatched egg under their wings when one of the Greater Flamingo nests was abandoned.
The couple, together for six years, can feed chicks by producing milk in their throats.
"Fernando and Carlos are a same sex couple who have been known to steal other flamingos' eggs by chasing them off their nest because they wanted to rear them themselves," said WWT spokeswoman Jane Waghorn.
"They were rather good at sitting on eggs and hatching them so last week, when a nest was abandoned, it seemed like a good idea to make them surrogate parents."
Gay flamingos are not uncommon, she added.
"If there aren't enough females or they don't hit it off with them, they will pair off with other males," she said.
August 4th, 2006
---
02:40 pm - World's Worst Guard Dog (but he's pretty cute)
LONDON, Aug. 3 — For these teddy bears, it was no picnic.

On Tuesday night, at a tourist attraction called Wookey Hole Caves in western England, Barney, a Doberman pinscher guard dog, briefly went berserk, running amok among a collection of teddy bears, including a 1909 German Steiff bear called Mabel reputed to have belonged, once upon a time, to Elvis Presley. was nothing but a hound dog.

"It could have been the scent of Elvis" that prompted the attack, said Daniel Medley, a spokesman for the 70-acre site near Wells, in Somerset. Or maybe Barney

But whatever it was, Barney chewed, tore, ripped and otherwise savaged about 100 teddy bears before his handler, Greg West, was able to restrain him.
( Full storyCollapse )

March 23rd, 2005
---
08:39 pm - OMG Sooooooo Cute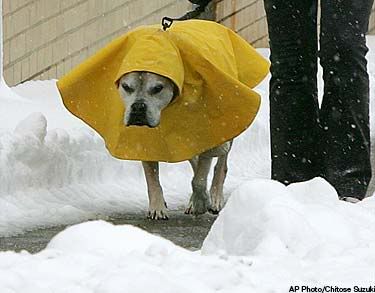 "A dog named Tyson of Brookline, Mass., wears raincoat while walking with his owner Fatima Fatal in Brookline, Mass., in the snow, Tuesday, March 1, 2005. The second snow storm to hit the Northeast in less than a week snarled traffic and caused numerous school and flight cancellations along the East Coast." (cnn)
Current Mood:
blah
Current Music: law and order