Thursday, October 3rd, 2013
---
10:25 am
- Is Live Journal undergoing a Renaisance?
I had just about given LJ up for dead, but now more and more of my friends appear to be posting here again.

Whilst a post to Facebook reaches more people, the noise to signal ratio is a lot higher on FB. Perhaps it is time to go back to posting here...
Sunday, April 17th, 2011
---
11:46 am
- SK8Goth
With summer coming, that's 2 weekends in a row that I have been out skating for at least 30 minutes. After feeling like I nearly killed myself on the local SkyRide last year, I want to be ready for the central London this year.

current mood:
Endorphin High
Sunday, March 6th, 2011
---
12:12 pm
- Does Anyone Want?
Saturday, February 26th, 2011
---
6:13 pm
- Hazel O'Connor Last Night
It was a good evening. It was a bit weird at the start. The last time I had seen her live was so long ago that the Mean Fiddler was in Harlesden. When she first came on stage, initially it felt a little bit embarrassing like watching somebody's granny in a Judy Dench haircut trying to dance with the youngsters at a wedding.

After a couple of tracks the magic of the music took over and by the end I was calling for more like the rest of the audience.

The song list was everything from Breaking Glass, plus Hanging Around - from Cover Plus, Decadent Days - From Sons and Lovers and for the encore rocked up version Spancill Hill - From Smile.

The Sax player also deserves a special mention for her playing. She really nailed the emotion of the music.

For those of you who are interested apparently Hazel will be back in London, playing with a different band in May (hopefully in a venue that's not seated), so keep your eyes open.

current mood:
content
Friday, October 8th, 2010
---
6:33 pm
- Receipe for Fake Blood!
Half and half syrup and water coloured with a mixture comprising 2 parts red food dye to 1 part blue food dye. The blue is the secret ingrediant. Do I have any white cloths to spill it on?

On the other hand my first attempt at Zombie make-up for tomorrow is rubbish - time to get out the copydex and toilet paper.

current mood:
artistic
Monday, September 6th, 2010
---
7:24 pm
- The Story of My Life :)
Saturday, September 4th, 2010
---
11:16 am
- Holiday
Once again, it looks like I'm going to Whitby. Macula and Snow were trying to get me to go, so I told them that if i could find a Hotel at this short notice, then I'd do it. I found 2 hotels on DiscoveryYorkshireCoast.com and booked the cheaper one :-p

current mood:
Man-Flu
Sunday, August 15th, 2010
---
12:03 pm
- Yes or No?
Some friends have asked them to go to Whitby with them this Autumn. I'm in 2 minds as to whether to go.

On the plus side
I have the holiday time available which will probably just get wasted at home if I don't do something with it.
I think my friends are just about relying on me to provide transport.
It's Possible I could enjoy it.

On the minus side
I'm bored with Whitby, I've been trying to stop going for years and for one reason or another I keep getting dragged back.
The line-up ('tho i wouldn't mind seeing Manuskript again - even if they never play the good stuff from their first Cd).
I learn't from Leipzig that if a certain person is in the room I will not enjoy myself and if someone is there, Whitby is too small to avoid seeing them.

So What do you think? Should I go?

current mood:
pensive
Wednesday, July 21st, 2010
---
7:46 pm
- Give Away - Part II
Further to the Drill (no takers so far), does anyone want a Canoscan N650U Scanner complete with original CDs and USB cable. It works fine with XP, but I have had to replace it because it because Canon won't write drivers for Windows 7 or even for 64Bit XP.

In addition, does anyone want an HP Designjet 980cxi. The double sided printing doesn't work any more, but apart from that it's good. Again it will be complete with USB cable, but you'll have to download the drivers because I can't find the CD.

Since I don't have suitable boxes to mail these, I'm going to have to limit this offer to people who can either collect, or meet up in London.
Tuesday, July 20th, 2010
---
10:56 pm
- Bath and the Festival Of History
Once again, this long weekend saw an all too short visit from
enname over from Australia. As usual she gave me a good excuse to take time off work and get in the car and go places.

On day one we went to look at Bath. Thanks to the cost of parking and only having a large pocket full of change (rather than a wheelbarrow,) for the pay and display, we only got to stop there for 3 hours. Long enough to have a pub lunch and look round the Roman Baths. After rescuing the car, we drove around to look at the Royal Crescent, the Circus (which actually looked in better repair than the Crescent) and Pultney Bridge. After which we came home.


(

Pictures of BathCollapse

)



Day Two. We picked up a friend of
enname's and headed up to Kelmarsh for the Festival of History where we got to see re-enactors from Roman Legions to WW2 show off their uniforms and demonstrate their tactics. In the afternoon, we got to watch Knights Jousting against each other. It was nearly time to go home before we finally ran in to
morbidfrog and
simonsatori, of course we had to admire the tent, (which only lacked a leather bucket). All too soon, it was time to come home.


(

Pictures of The Festival of History 2010 - KelmarshCollapse

)


Day three saw
enname off to catch her train for the continent. Apparently it is cheaper to take the Eurostar to Paris and fly to Australia from there, than to fly from Heathrow
Monday, July 19th, 2010
---
12:11 pm
- Give Away
Does anyone want an electric drill, it's years old, but has never been opened. When I was given it, I kept it as a spare in case my Black and Decker died, but I figure that if I ever need a new one now, I'll go for a cordless anyway.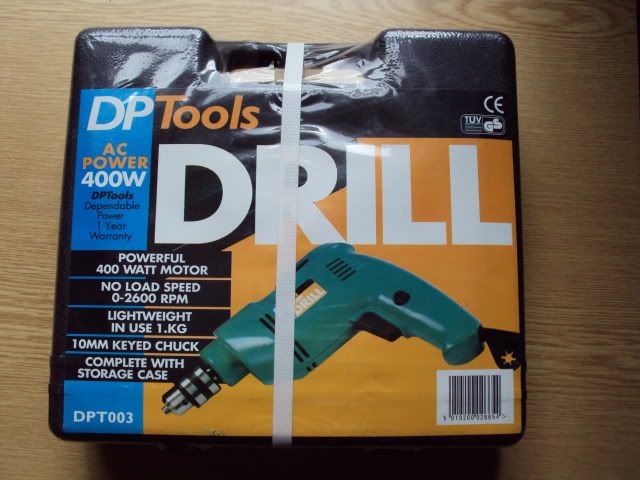 If you are London based, you can come and collect it, or we could meet up in town. If you are further afield, I'll need you to paypal me postage and packing.

This is offered on a stricktly first come first served basis...
Monday, June 28th, 2010
---
8:29 am
- There's a First Time For Everything
I got stuck in the lift today. It jerked to a sudden halt and I thought it had actually bottomed. Then had to wait 20 minutes for the engineer to come and open the doors. When he did, I saw the lift had stopped about a foot early and had to jump down.

I usually try and match my music to the post, but since I was sharing the lift with a skin-headed air-conditioning engineer, I'm Not listening to Aerosmith.

current mood:
amused
Saturday, June 19th, 2010
---
4:39 pm
- Lost Email
Due to a Cock up on my part, I've just lost all my emails between the 17th of April and the 9th of June.

On the plus side, I've learned that Norton Ghost V12 doesn't work properly with Windows 7

current mood:
annoyed
Monday, June 14th, 2010
---
8:27 pm
- Apocalypse
Under the cut few images from a very good night out. More fun, I think, than I have had in the best part of a year


(

Read more...Collapse

)
Monday, May 31st, 2010
---
2:24 pm
- Giving Stuff Away
Before I post this on the give stuff away group, Do any of my friends want this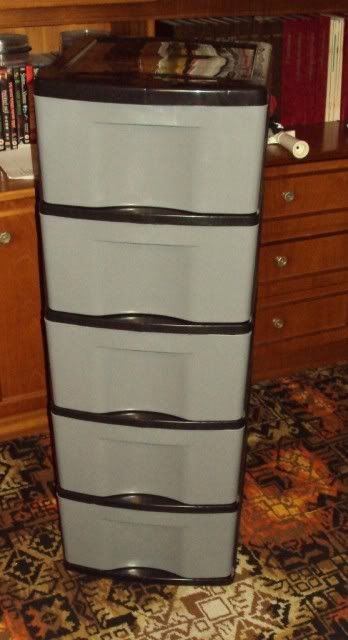 I bought it to give me more space in a cupboard, but it is too deep for where I wanted to put it.
It's dimensions are:-
Height 35"
Width 12.5"
Depth 15"
Sorry, It's too big to post, so you'd have to collect it from west London. Or if you are not too far away, you might be able to convince me to drive it over to you.
Sunday, May 16th, 2010
---
5:03 pm
- Something Different - Post 9
10:44 am
- Leipzig: Ash Cloud Back
The forecast says the ash cloud is likely to be over the UK Monday and Tuesday, maybe clearing Wednesday. I'm scheduled to fly out Thursday. Is anyone else wondering about backup plans to get there?

If a group of 3 or 4 of us could get to the continent, it shouldn't be too expensive to share the cost of a rental car for a one way drive out there. According to Google it would be about 7 hours 40 minutes of solid driving.

current mood:
Apprehensive
Wednesday, May 12th, 2010
---
8:28 pm
- A, B & C
There is one good thing about this new version of the Prisoner. At least it gives them an excuse to re-run the real version on ITV4.

Be seeing you.
Sunday, May 9th, 2010
---
11:57 am
- Cooking
Yesterday, I tried my hand at cooking Chili Sauce, based on this Recipe, but smaller proportions, a bit of sugar, malt instead of rice vinegar and no salt or fish sauce. I'm very pleased with the result, nice and hot! The aftermath wasn't as bad as I was expecting either.

My only complaint is that it is a bit lacking in flavour to go with the heat. Next time I think I'll blend in some sultanas and try and make a hotter version of The Chili man Sweet & Hot Sauce .

current mood:
accomplished
Monday, May 3rd, 2010
---
10:02 am
I really don't feel like going on the walk today. And for the record, I haven't checked the list to see who is, or isn't going.