Y'all can get to see about everything in my photobucket. Just things that interest me greatly. Some from the internet I found and some from the photographs my friends and I took.


I want to say THANK YOU only to whoever bought that for me! That made my night! ♥
Within last hour, I've realized that someone anonymous upgraded this lj account from basic to plus, and I don't know exactly when it happened.
Fun fact: My sister said I look like Stephanie from "Full House" (Jodie Sweetin) once we were avid watchers of this show, and it was about 15 years ago!
Recent better pics of her:
http://www.jodiesweetin.net/html/photo/index.php
ETA: Additionally!
OMG ANGELINA!
I'm gonna jump on the bandwagon!



5/27/06 4:25AM EDIT: Surprisingly, I almost am done packing everything since this evening! I've realized that I got rid of lots of things I hardly ever used when I moved in here. So yay!
Just in case you are wondering, I probably will not be updating within a week or so. I am in progress of getting prepared for moving out which is on 31st; additionally, I've been away from the internet lately for many reasons. I think it's time for me to take a LJ break for a little while; however I may read around and leave comments in your journal once I have time. I have way too much stuff to take care of. Sometimes it's not easy to have responsibilities on your own. I will see you guys shortly! :)


70.135.121.44
4th May 2006 22:18:51
5th May 2006 03:17:41
8th May 2006 22:12:02
8th May 2006 22:17:58
9th May 2006 21:10:51

70.135.103.112
29th April 2006 17:08:17
29th April 2006 17:08:55
2nd May 2006 10:22:41

*Both could be from the same person


Also from Kirkland, Washington:

64.193.76.151
1st May 2006 03:02:37
1st May 2006 03:07:31
1st May 2006 03:10:37
4th May 2006 14:14:00
5th May 2006 15:51:00
At this hour I reviewed over the summary of my stats counter, and noticed someone in Plano, Texas has been visiting my journal quite a lot compared to anyone else off my flist. Both of these IP addresses are in Plano.
yesca
has given me the letter "L". This is how it works: Comment on this entry and get a letter.
Write ten words beginning with that letter, including an explanation of what the word means to you and why.
Land of Nod - Where I should have headed hours ago.
Lilith Fair - The best concert I've ever attended where I've spent about twelve hours at.
Library - The place of my curiousity where I can find any informations on different subjects that interest me such as autobiography of a few well-known people I admired. That place brings peacefulness to my thoughts and feelings. I love the way it smells.
Lemon - I can eat
anything
with lemon in it; lemon sour cream pound cake, lemon danish cake, a few drops of lemon juice over any type of seafood.
Lipreading - The method of communication I was taught to use before sign language movements.
Lolita - While living a sheltered life and raising in a strict Christian family, reading the story of forbidden love affair between a middle-aged male novelist and a pubescent schoolgirl affected me to become less innocent in my own youth. It was when my sexual awakenings begin.
Love - If I truly love someone, I would sacrifice myself to save that person no matter if I would be able to live, or even if it's against God's or man's laws.
Lamp - The object that sits right in front of me at this point.
Loyalty - My strength. I can easily get loyal to my significant one unless he is very special to me. This quality makes the one a better person, I suppose.
Laundry - My favorite household chore. I love it when I can feel the warmth and smell the fresh scent of the clothes as I gather them right out of the dryer.
stobors
, I will try to do the same with the letter "P" tomorrow. ♥
Brokeback Mountain dvd - it's going to be my first time! I'm about to press "play" at this moment...

Weeeeee!!!
I rent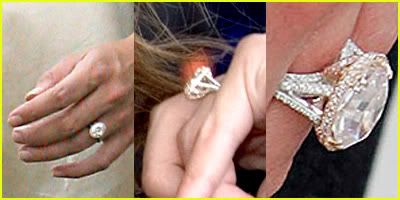 She's proudly wearing her Edwardian-style oval-shaped diamond ring of about 5 carats in a pave setting.



(

Can you guess who?Collapse

)
Current Mood:

cold


I left a egg into a pan of boiled water one night and it exploded that almost the whole kitchen was in mess. Ying got upset by it and I told her that I'm going to fix about this problem. I cleaned everything just in 10-15 minutes - it's just food disaster, but for some reason, Ying realized that she couldn't take my lifestyle easy. That night, the decision was made.

She moved out without saying goodbye, but I see her again occasionally. On the other hand, she's preparing to move out of state anytime soon to enter the career world as a doctor in case she gets hired so I would still need another roommate to share with.

She offered to take a responsibility in finding a new roommate for me. Fair enough. And also she pays me $300 for rent every month (some of her furniture and storage still are furnished in my apartment) till the lease ends which would be on May 25th. In her knowledge, I posted a couple "female roommate wanted" ads in one of university's housing websites just for free and received numerous ads especially from a few males. Nothing works out ever since...

I had some spare time last weekend and checked the site and I found an ad about a female is in need of renting a room this summer after the spring semester ends. I wrote to her about the room, apartment, utility fees, etc. and she wrote back right away. She sounds like she's very interested in taking a look sometime this week. Also she gave me a "warning" that her fiance may come for a visit two weekends a month. It'd not be a big issue for me, tho. I'm not that uptight for a roommate.

It has been very nice living alone for a month so far and it has been quite a while. Drinking lots of beer, making loud noises while getting off, walking around in my underclothes or bikinis, having any friends over, even smoking occasionally (shhhh!).

I'll tell you about the results after the lady's visit.
One thing I didn't tell you what's going on last month. Ying, my former roommate, decided to move out at the beginning of March after we had a little fight a couple weeks earlier. Both of us thought it is for our goods since we have a very few in common.
10. Jennifer Aniston:
Yoga Helps Her Heal
Since breaking up with Brad Pitt a year ago, Jennifer Aniston has found solace in yoga. "It keeps my body strong. It's been wonderful for me," says Jen. Not only does hatha yoga give the 37-year-old an amazingly toned body, she claims it also helps her sleep! Jennifer also practices Budokon, a challenging combo of yoga and martial arts. "She's willing to put the work in, no matter what you ask her to do," Budokon founder Cameron Shayne tells
In Touch
. "She's very dedicated to her health and wellness."
Fit fact:
Jennifer also loves high-intensity cardio, like running.
(
More...
Collapse
)
Whether they're surfing, cycling or sprinting, these celebrities work hard to stay in shape...