(written in july, back date to june)


international lolita day - june 1st

im usually too busy to go to lolita gatherings, but tamie invited me along & i wasn't madly sewing (for once lol) so i participated in international lolita day X3 i think last time i did was...three years ago? XD;;;;



theme: カチニカ!(caccinica!)
i was inspired by sachi's look when she modeled for chantilly, and also the classical otome look when she plays for caccinica



theme: rococo vampire
the dress is robe a la francaise from antique beast, it was so beautiful
she is always so gorgeous with a bit of ero, perfect for antique beast <3



cam whore-ing with oneesama lol



carmilla's rose
「ワタクシも以前は薔薇が好きだったのよ」 この台詞なーんだw多分ちょっと前のオタクにしかわからんwww



dress: chantilly (phantom merry go round)
socks: jane marple
bonnet, hair piece, merry-go-round necklace, lace choker, cuffs, mary janes: hand made or taobao finds X3



rilly and kurasune hosted the event at dockside restaurant on granville island. they made us a special menu set <3



tamie and i both ordered the smoked salmon penne, but it tasted very...normal, nothing special XD;;; i heard the other girls commenting the same on other dishes XD;;;



most of the group left for theatre sports, but few of us stayed behind to chat over dessert and wine <3 i like the mermaid on this bottle X3



i prefer smaller groups since it's easier to talk, so this was a perfect way to end the night!




la petite cuillere - july 15th

lou, dawn, and i decided to go to la petite cuillere after work on monday X3 it's so nice there are many new tea places in vancouver that we can go to in the evening now <3



theme: チロリン村の卯月さんw (uzuki of chirorin village lol)
super simple coordinate since this was after work XD;;;; but im happy i got to try out the チロリアン dolly look X3 (idk how to translate チロリアン XD;;;)
(skirt: innocent world / blouse & cutsew: baby the stars shine bright)



decorated very cute and pretty X3 i like how they offer 3 different tea sets and items other than afternoon tea too (like brunch type foods)



we ordered the high tea set <3 i got jasmine iced tea, it was refreshing with the right amount of sweetness.
sandwiches: cucumber cream cheese & smoke salmon and asparagus on focaccia
scone: apricot with thickened cream and jam
sweets: green tea mango macaron & lemon cake



i really like how la petite cuillere had a smaller tea size available X3 it was just the right size
i liked the focaccia sandwich and apricot scone, but the sweets were "okay", not bad but not outstanding. i heard good things about their cupcakes so i might try that next time tho.



i also like how the decor was cute and classical, esp the cabinets filled with antique tea sets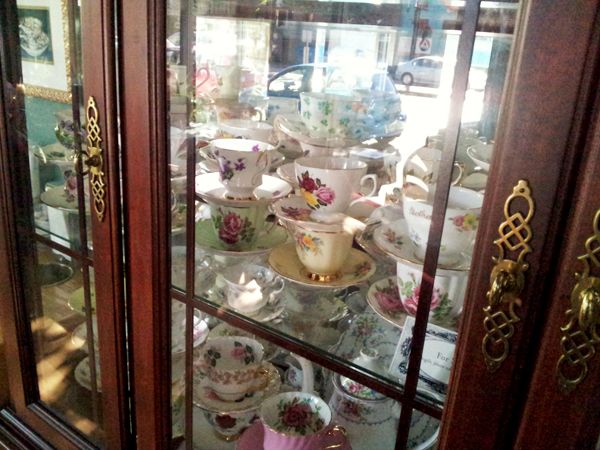 some of the cups were for sale X3



i enjoyed their small tea set and scones so will definitely come again <3 i want to try their brunch menu too!

it was a 女子会 (girls evening out?) but all we talked about were ridiculous otome games and one piece lol lots of fun, we should do this again XD



AX was great and i met a lot of ppl who liked magi XD im still collecting photos so will make a post hopefully soon <3