sakura con 2013 unfortunately didnt go too well for me (;w; ) i had fun, but there were loooots of little bad things that kept happening OTL but bf and friends were extra amazing to make up for it X3 so i'll omit most of the bad things----sorry if it's a bit choppy XD;;;;
scon this year was referred to as SAOkura-con, it had a few sword art online related guests so the con was a sea of kirito and asuna cosplayers. but all of my cosplays were magi so it was a magi-con for me lol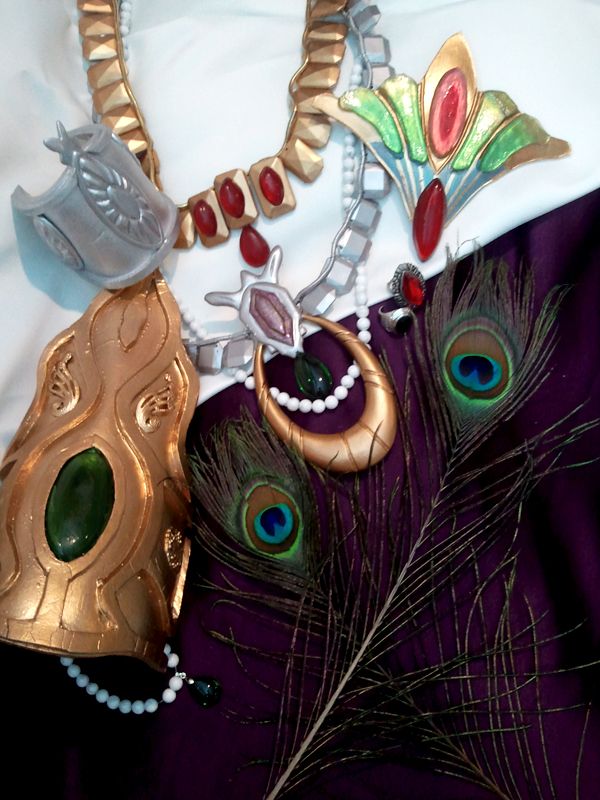 PRE CON
ever since last nov, i've been working on magi costumes...i made 6 total (ja'far, sinbad, postcard ja'far, postcard sinbad, kougyoku hakuryuu) f yeah!! prob spent over $600...?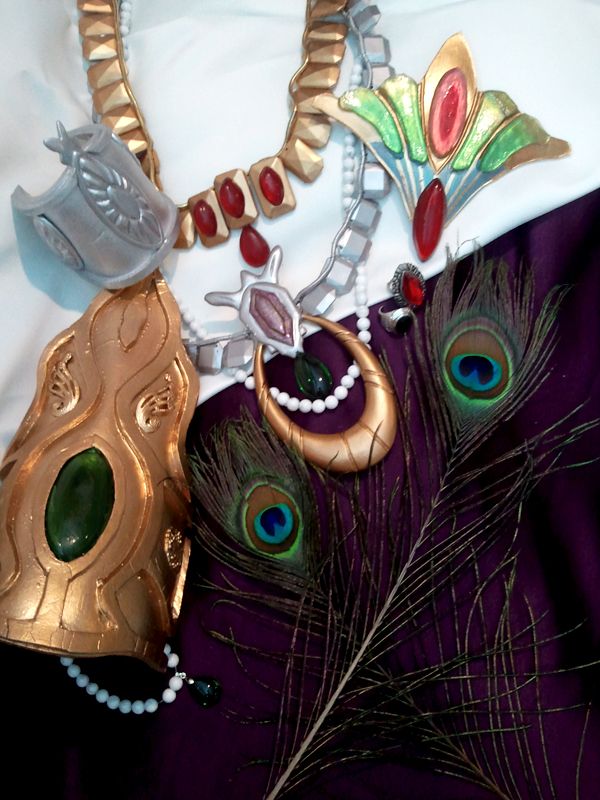 sinbad's metal vessels / kinzokuki (minus the sword) and accessories...srsly, too many things man...OTL
sin sama was by far the most time consuming and expensive. "he's a king, he needs nice things" was my excuse XD;;;; it's prob the most expensive costume i've ever made...im scared to calculate the actual cost XD;;;;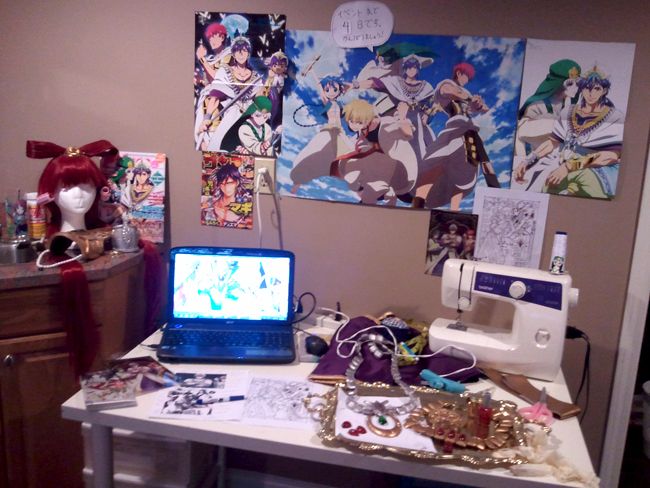 my battle station while making...(4 days before the con)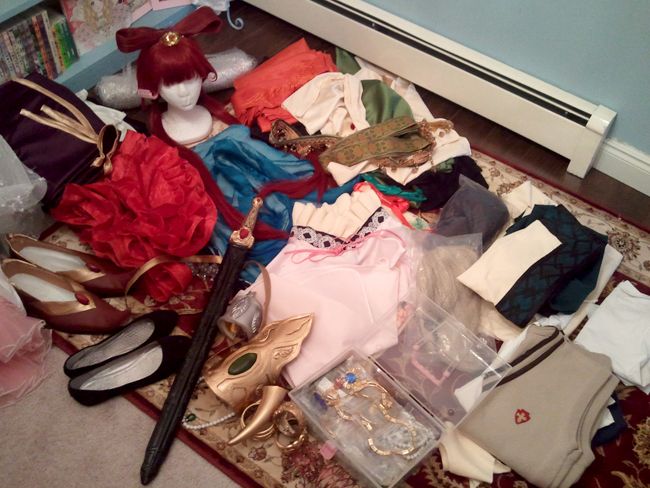 and everything done ready for packing-----

john and i had work so we got to the con at 9:15pm (;w; ) missed pre-reg by 15 min OTL scon is always a bad time since work gets insanely busy with fiscal year end and it's hard to get time off...

also border line up took over 1.5 hrs this year OTL we had a cool border guard tho:
him: "what costumes are you wearing to this anime con?"
us: "this arabian king and parliamentary secretary...?"
him: "cool, a lot of ppl told me pikachu-s and naruto-s today" lol XDDDD

anyhow, checked into the hotel and i spent the next 4 hours unpacking and ironing everything...omg magi plz stop it with your huge skirts and fabulous drapes everywhere designs *sob*
only got maybe 3hrs of sleep...i woke up at 5am...prob too excited, calm down brain XD;;;;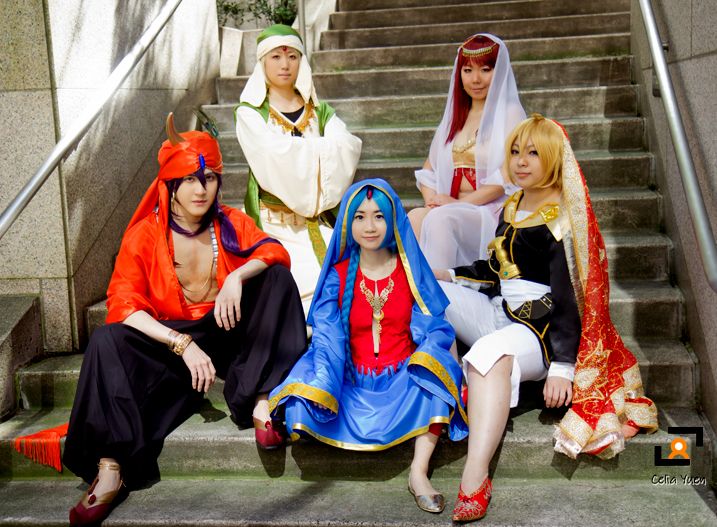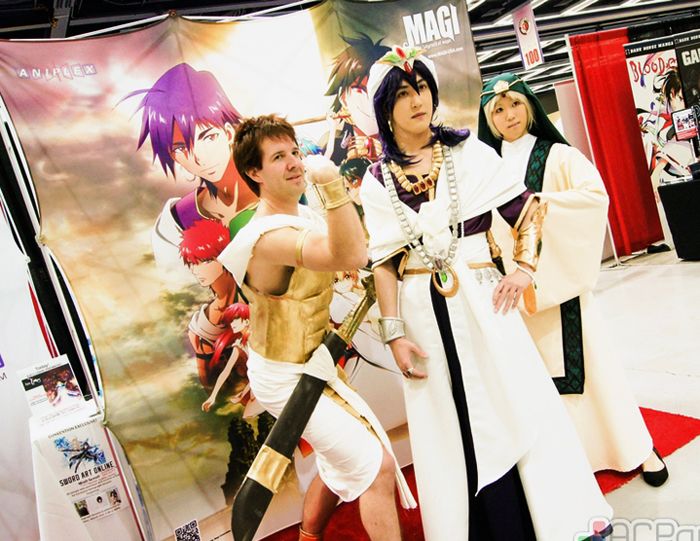 DAY 1 - MAGI POSTCARD / DEFAULT SINDRIA
we went to pick up our pass at 6am and i tried to go back to bed but couldnt (=w=;; ) i need to calm down...lol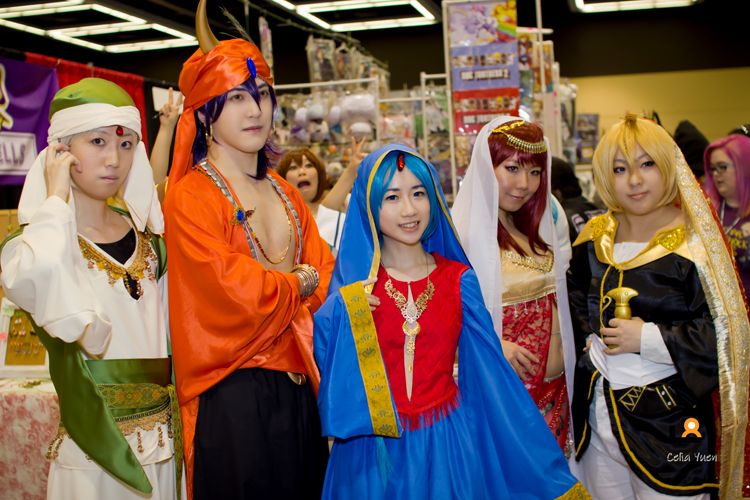 met up with my lovely magical friends at the con XD (and lol best photobomb of this con XDDD)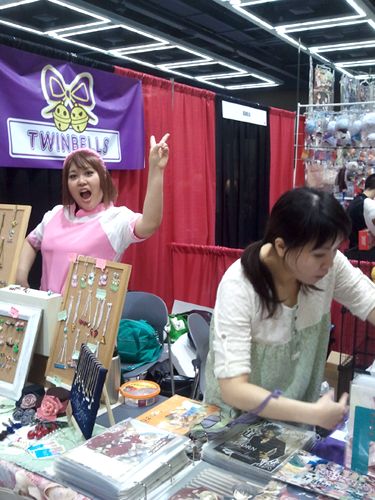 my awesome friends from geek attack and twinbells doujinshi----8D you'll see their booth a lot in my con photos lol

had a quick magi shoot: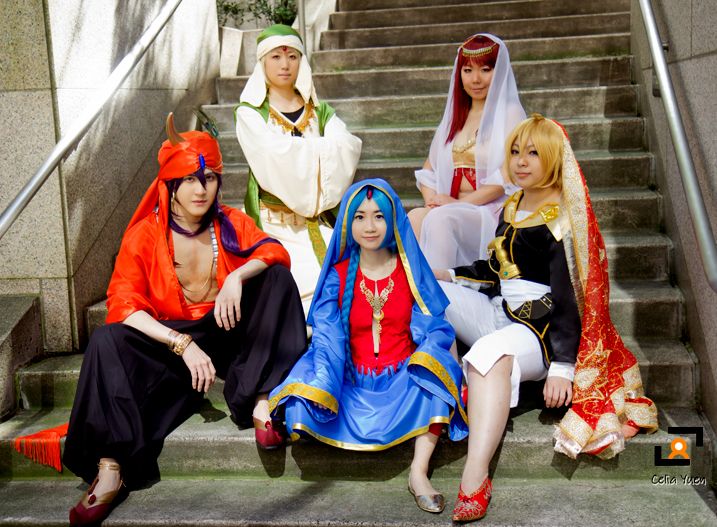 aladdin: hakukumo (karen)
alibaba: kaworu (sonia)
morgiana: ai chan (grace)
sinbad: haya (john)
ja'far: uzuki (me 8D)
photos - rico tam and celia yuen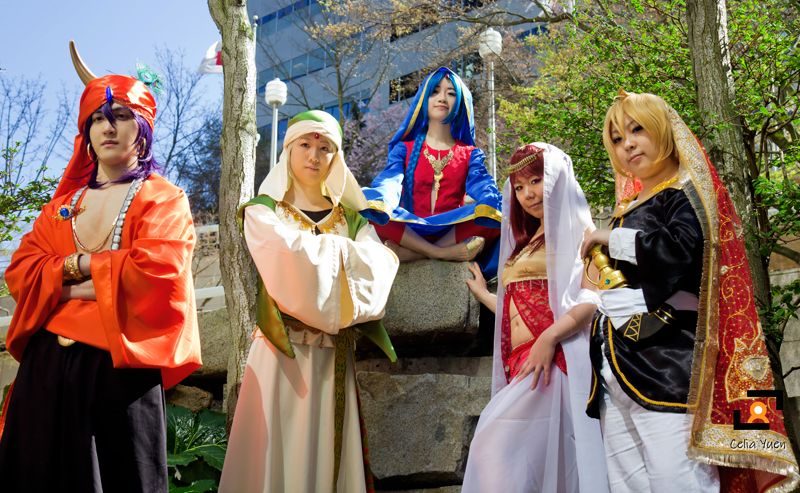 this is an official illustration, often referred to as poscard of pixiv poster illustration version X3 but we just call it "color blinding nuns" lol


it would have been nice if we had a masrur but im still happy----





sinja sinja 8DDDD my otp lol X3
ja'far's costume was pretty easy to sew once we figured out how the green vest thing and hat worked. sin sama was just a lot of draping and fabulousness XD;;;;

john and i quickly shared a sandwich at boar's head deli before changing into default sinja----it was really tasty 8D
changing into sin sama took longer than we thought...over 2 hours with 2 set of hands OTL he really has TOO MANY PARTS TO HIS COSTUME OTL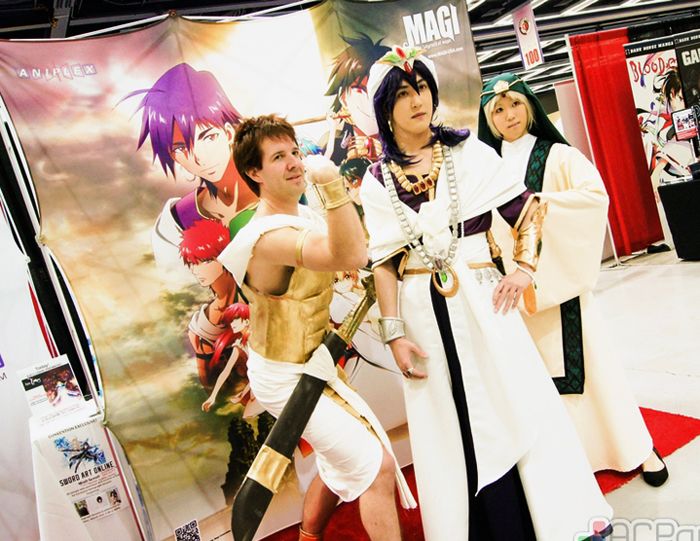 we made it to the last part of the aniplex gathering----i wanted to attend all of it but we took too long OTL
nevertheless, im happy we got some photos----yay sindria trio-!!!! 8D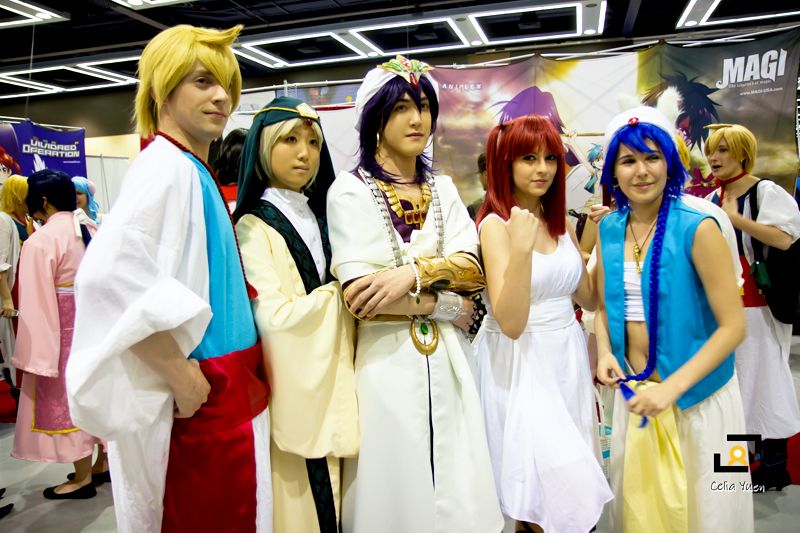 also with the traffic light trio XD

and quick photos i took of my blood and tears------but they are very crappy photos, sorry (;w; )


視線の先には・・・ (beyond the gaze...)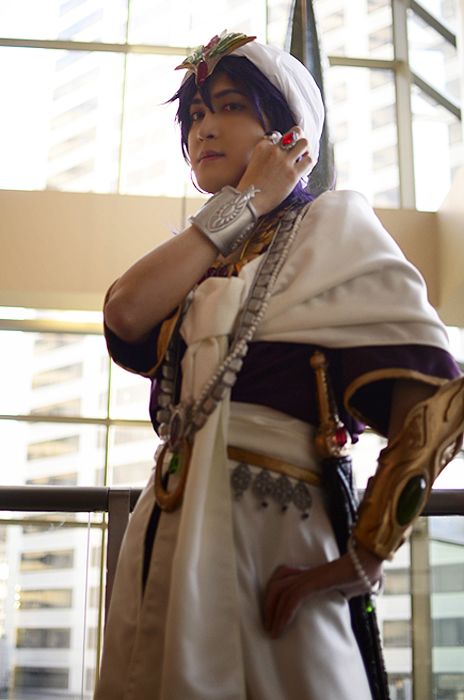 ALL THEM PARTS AND DETAILS *tableflip* i dont think i'll ever work this hard on a cos ever again...
for a few months, it was a rinse and repeat of work > sew/make > sleep, and wknds were mostly just sew/make OTL im too old for this OTL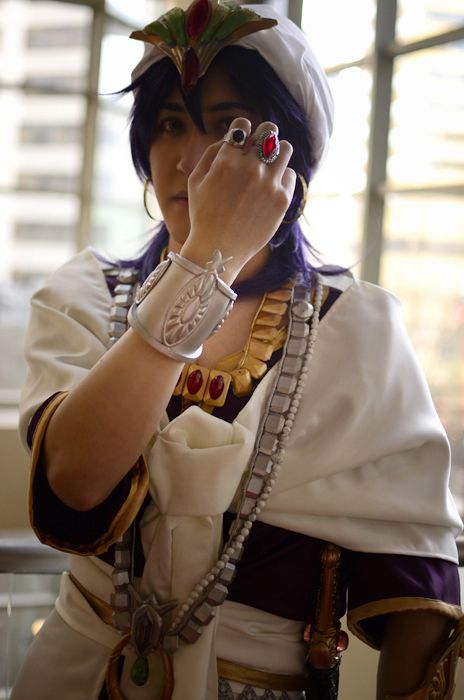 支配と服従の精霊「フォカロル」。我が身に宿れ。
that scene in vol 12 is where i fell for mai waifu LOL i love focalor out of all the masou-s (〃∇〃) hshs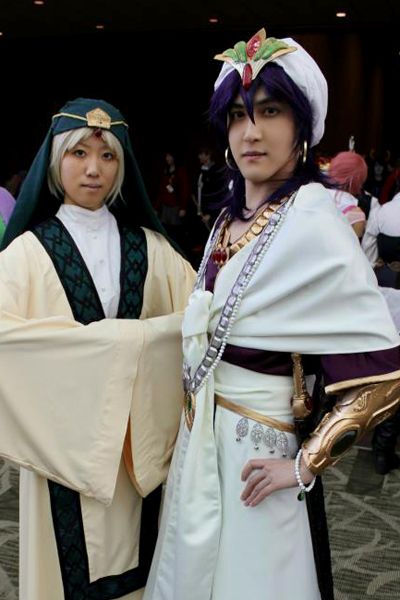 i dont have many photos of us together cuz things were hectic OTL this is a random con photo i found on 4chan...but that's another story lol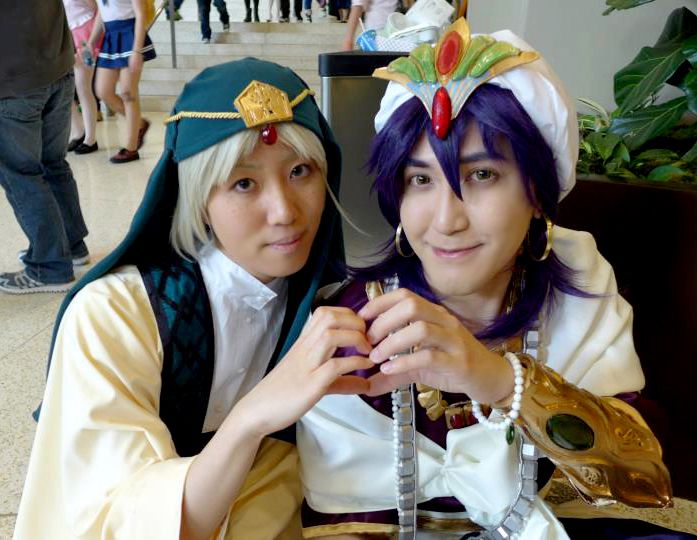 "quick! do something gay!" lol i love my friend, thx dawn lol

most of the canadians then united to have dinner at cheesecake factory----(there were like...16 of us? we dont have this luxury up in the north lol)
john sat at the head of the table as king LOL should have taken a photo before they dimmed the lights, it looked pretty funny (;w; )


ja'far sleeves are useful for covering up my hurhur-grin and john has the "plz make her shut up about this sinbad costume" face...XD;;;;; thanks for putting up with me hurhur 8D


it was funny, jingie had a dominator app so we all measured our

psycho-pass...everyone got under 50 while i scored over 200 and john score somewhere around 450 lol XD;;;; the dominator sensed our

assassin

ja'far and kuro-sinbad cosplays lol



we changed out afterwards and hung out in karaoke, singing along really loudly in the back XD;;;; we put in songs but due to the constant technical errors, it took many hours and we eventually gave up and left (=w=;;; )

day 1 went by as a blur and i wish i took more sindria photos (;w; ) it was too busy, my head was all over the place and there was a streak of bad luck that wknd, so things were quite stressful...but i did have some fun!!!


as my last post (back in feb lol), i'm going to japan this friday so day 2 report will most likely come after im back in mid-end May. i also went to fan expo last weekend (cosplayed misaka mikoto 8D) so hopefully i can blog about that later too----X3
i got both afternoon and evening tickets to the anime magi event so im really looking fwd to that X3 will report back about it + the other magi doujin events!!!