Here is a bit of info for all of the wonderful gals I'm going to be meeting in THREE DAYS!!! Everyone else can pretty much skip this...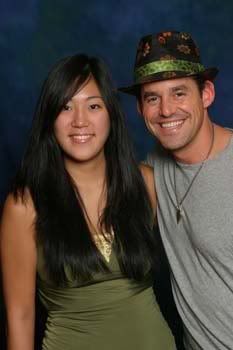 So...this is me! Obviously, I can't bring Nick Brendon to the con with me - sorry! :-D
And then here is a little bit of info for the folks who don't know me!
I'm 20 - but feel free to sneak me into the bars and get me a couple mohitos - PLEASE! I'm Asian (obviously) but am adopted so I don't really know anything about being Asian - other than eating their food (I LOVE sushi!) and making bad sterotype jokes. And I'm tall - 5'8" and always in heels. Any other Asians coming too??
Um...my friends say I'm pretty sarcastic and negative but funny and loud, and I talk very quickly. And I am a night owl to the extreme but very grumpy and silent in the mornings...and considering that I won't have gotten any sleep by the time I get to the hotel Friday morning, things might be interesting. :P Just get me some coffee! I work at Arden B., a trendy fashion store, which is my life away from school. I am also obsessed with Buffy, Angel, Firefly, Veronica, Grey's, Bones - so if you want to chat about something other than SPN come debate Buffyverse stuff with me! (Just don't diss the Spuffy love!)
And if you're in the Wincest fiction part of the fandom, I run
Sinful Desire
. More importantly, if you're an author and your stories aren't already included there, I expect to know WHY before the weekend is up! Hee! ;)