So, after taking the entire day to recover (I skipped two classes to nap and I still can't wait to sleep tonight!) I decided to sit down and relive the great memories from this past weekend. I met so many wonderful people, so I'm sure I'll leave a couple of you guys out here and there, which I apologize for. But YAY! Wincon, you guys! It was just the best experience ever and gosh - our fandom just rocks. Hard.
Friday
So, my plane left Richmond at 6:00 AM, up to NYC, and then to Nashville by 11:00 CT, which means that I didn't get ANY sleep before heading down to the con since I left my house at 3:45 AM. Which was lovely *sarcastic sigh*
I rode to the hotel with
acostilow
and
dove95
and then immediately ran into the two awesome gals who I would wind up hanging with all weekend,
calicokat
and
black_regalia
. So...I checked in, ran into
estrella30
for the first time and tried to remain calm :P, went up to my room, and met my awesome awesome roomies,
coiledsoul
,
saintawesome
,
huggenkiss
, and
bitemywalther
!
And then I went to eat lunch with a ton of people!
paddle_slut
,
tallisen
, and OMG I'm already drawing a blank with names. Um....*looks pretty and moves on*
So, I hung out, I wandered, then hung out some more, and then went to the first panel about beta reading, which I thought was really interesting since I used to beta for a couple of people in the Buffy fandom. It was interesting to see what I did right, what I could improve on if I ever beta read again, and the gals were funny. Immediately after that was the mythology/urban legends panel, which I really enjoyed. It was great to have like, real, genuinely serious panels before we got into the craziness that was Saturday's.
Moving onto dinner, which I ALMOST didn't attend (I sent in money like 2 days before the deadline), but I was SO glad that I did! I sat with my roomies and a few others and EVERYTHING was just so good! It was weird eating the flower in the salad though.
Look at us hot chicks! The roomies and me!
Yay! It was the first night of me getting to hear the stories I would wind up hearing 8 more times! (hehe, I kid because I love) Me with
calicokat
and
black_regalia
.
After dinner (and I had the stuffed-with-delicious-cheese-chicken-co
vered-in-ham-and-gravy), we had the raffle and socializing time. I didn't win anything, but I felt okay since
bitemywalther
made us all Dean amulet necklaces anyway!
poisontaster
came over and hung with our table a bit and said that she really wanted to come say hi to me but just hadn't gotten a chance to do so until now! And I had my first fangirl-OMG-I-am-but-a-lowly-reader-and-y
ou-are-the-effin'-amazing-PT! moment! :P
And then
mona1347
was not far behind, of course, and I got to attempt to not fangirl in front of her, as well! (And it was really hard not to!)
So...after the dinner we did the whole room party bit. I wound up hanging with
calicokat
and
black_regalia
the majority of the night, who before the con, I was just a huge fan of as far as their writing goes (GO READ THEIR STORY NOW), bu now I consider them both good friends. I also met
baileytc
who was sitting in the room all quietly until I started asking her stuff. Woo! We should definitely hang since I know ZERO other SPN-loving people in VA. There were a ton of other people there too, but yeah...I'm so bad with normal people names, I have ZERO chance for remembering LJ names.
Saturday
Let's see...woke up, dead tired, got breakfast...went to the first panel on world building and AU. When we broke up into groups, I was in the future fic corner, led by
maygra
, which was really fun. I'm sure a TON of people left that panel with 13423467 plot bunnies in their mind.
Then we watched "Bloodlust" and oohed and ahhed at teh pretty before heading out for lunch here: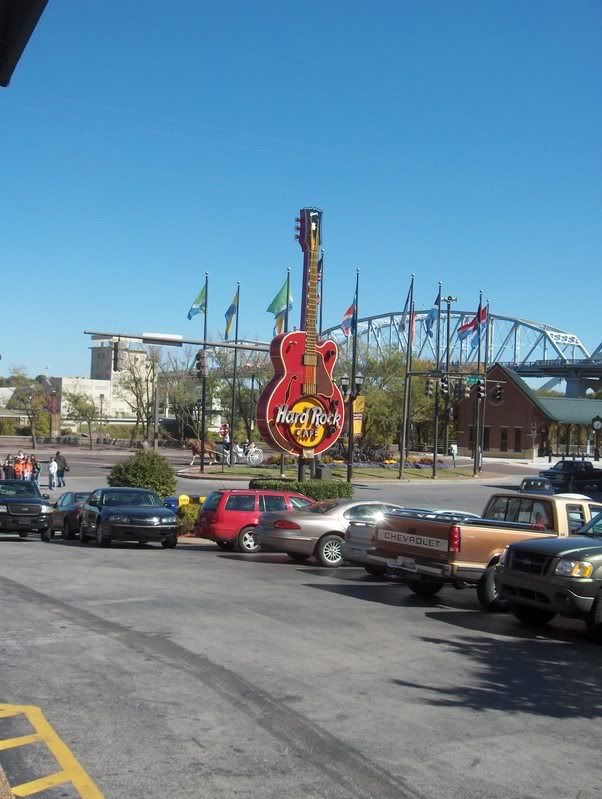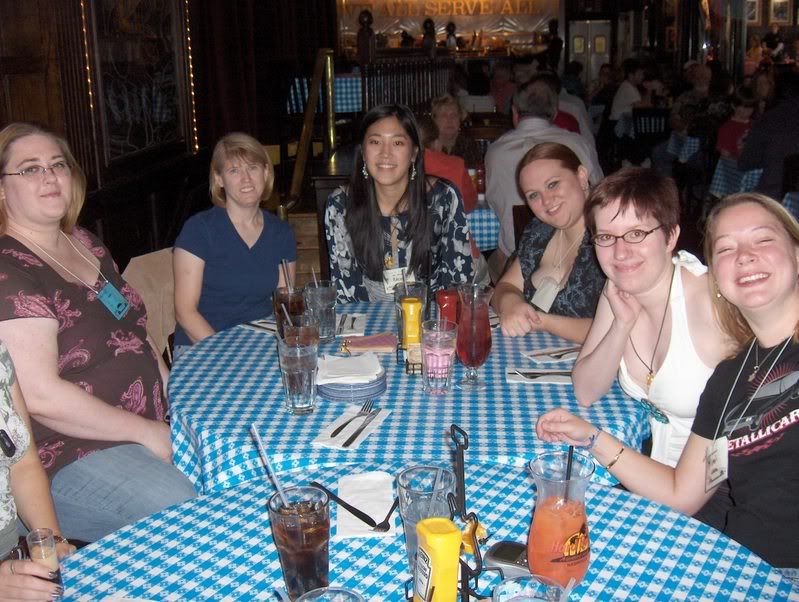 And because it must be posted:
And then we went to the Wincest/Anti-Wincest panel, which was actually a LOT more interesting and debate-like than I thought it would be. But throughout it all, it really showed that us fangirls are awesome, because we could completely, 100% disagree with what someone said, but still be all "yay! You're cute!" I'm 100% Wincest obviously, but it was great hearing other's POVs and see that we can get along (something I feel like would just NOT happen with fandoms such as Buffy, Angel, Veronica, etc).
Oh, and I just have to mention that it was hilarious having the Creative Memories Scrapbooking Convention next door to ours for two reasons. 1: They turned the men's bathroom into a second women's bathroom, and 2: While waiting in line, you always heard conversations like this:
Scrapbook Lady: "Oh, so you're with the writer's conference this weekend, correct?"
Wincest fangirls: "......Yes...that's correct..." *blushes* *looks away* *tries not to think about the bro!sex*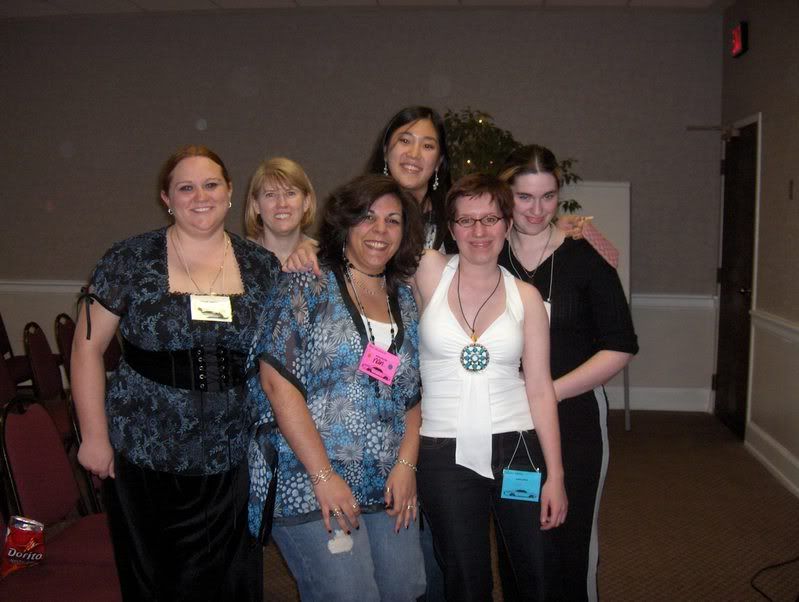 And this was taken after that panel:
black_regalia
,
baileytc
,
estrella30
, ME!,
calicokat
, and
star_dancer54
.
And later on was the Vid Show - which I absolutely LOVED! Every video was far above the level of what I was expecting and they were just great. And I think it was one of the biggest fangirl moments since everyone was Awwwww-ing the sad Dean moments, laughing at the bitchface!Sam moments, and just going extremely fangirl with the squee-ing and yay-ing at seeing certain moments in those vids. (Which I want a copy of!)
After the Vid Show? ROOM PARTY!
Ohhh boy, there were TONS of people this night! The usuals from the previous night and then...
innie_darling
,
gothphyle
,
bozaloshtsh
, and several other wonderful gals were also there - let me know, so I can put a face to a LJ name now! (Especially YOU standing up in the back with the yellow name card and red plastic cup!) :P
We watched a couple of episodes, often pausing to debate and discuss, and then started telling ghost stories, mostly great ones from
calicokat
and
bozaloshtsh
Sunday
Sunday was pretty bittersweet. People were leaving, hugs were had, and it was looking like we'd have to get back to real life pretty soon. I did get to meet
thisisbone
, who has an awesome Asian adoptee who is going to grow up to be am amazing gal!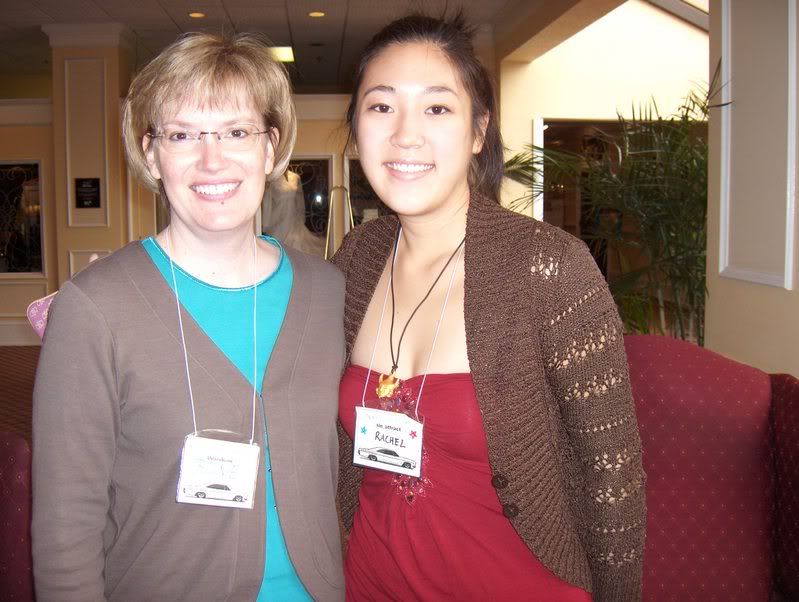 I had lunch with the usuals and then hung out upstairs with the few remaining people until
baileytc
and I left for the airport - which was insanity! The power apparently went out so security was backed up forever! I was lucky enough to run into congirls who let me slip into line with them. And there were a BUNCH of us on the plane together, which was fun. I sat behind
estrella30
on the way back to JFK.
And then I had to run to the layout flight since it technically was supposed to leave 5 minutes after we landed. They said the plane was delayed behind ours from Nashville but that was a definite lie. But I made it home okay at 12:30, got lost in the garage and almost cried trying to find my car...had to call security to come protect me from possible scary Richmond men, and found my car 30 minutes later. Got back home at 1:30, where I ate dinner and then passed out.
So, that was the weekend!
Honestly, I cannot even put into words how AMAZING everyone was that I ran into and got a chance to talk to. This was the first fan-run, small, intimate convention I've ever been to, but it definitely will not be the last. DragonCon is great, but there's something about knowing EVERYONE that's so much better. There were some people I wish I had gotten more time to hang out with, but that's what next year is for, right? :P
WinCon 2007! hehe.
Current Mood:
nostalgic