OK, so here is my REALLY, REALLY long DragonCon report…it's definitely image heavy, be warned! Costumes, some candids, and me behind the cut! My photos with Gareth, Nathan and Alan, and MIKE ROSENBAUM behind the cut too!

Oh, and this is basically what I wrote up while waiting for my plane to leave Atlanta on Monday, so what I've written is probably all over the place. I have just tidbits I really want to remember from the weekend in this post.

Thursday, my plane left - on time too! - and I got into Atlanta around 7:30, got to the hotel at 8:00. I checked in, and I was really annoyed when I was told that the room in the International Tower I reserved wasn't available and there was no history that I had requested that room. GRRR....

But I got to the room and then headed to registration. The line was wrapped around the building! I met up with one of my friends, Randy, who I met last year and he hung out with me while I waited an hour and a half to get registered. My roomies were getting in late Thursday night or Friday, so I hung with Randy and his friends for the rest of the evening. Randy got me food since I hadn't eaten since 11 that afternoon. It was pretty calm, some good costumes, and I was already excited for the con.
jade_starlight, my awesome roomie #1, got in around 11 and we relaxed for the rest of the night!



Me and Randy! He's wearing a costume from an Anime show



Great Alien vs. Predator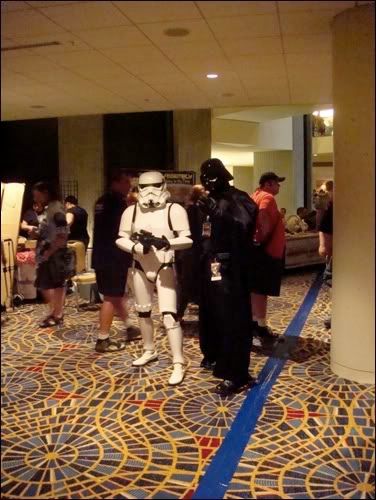 The GREAT Barbosa costume!

Friday morning…
jade_starlight and I got up and hit Caribou Coffee for breakfast and then got in the photo ops line so I could buy them and she could pick hers up. I got photo ops with Gareth and Alan and Nathan. Gareth's was right at 11:00, and we were like the 8th person in line. OMG he is just adorable with his little face and his smile and his relaxed jeans attire. And he speaks all softly and GAH I love him! We shook hands and he thanked me for coming to the con. I could seriously listen to the man speak all day, no joke.




After that we had some time to kill before the walk of fame and dealers room opened, so
jade_starlight and I relaxed in the Hilton. The Walk of Fame opened and I ran in over to the side where the actors were I wanted to meet. I got to meet Michael Rosenbaum first and I said how much I enjoyed him on Smallville and then we bonded over being left handed and we both agreed that it made us "more artistic" and "smarter" and his agent said "a better lover." Heh He looks great with his hair grown out and just seems like a pretty awesome guy. It's MIKE. Dude, Smallville is not my most favorite show ever, but I can appreciate a great guy like him.




So then I headed over to get Nathan's autograph and guys? I could barely speak. Just…Captain Malcom Reynolds in front of me, and he looks so handsome and just…NATHAN. I've wanted to meet him since I was 18, so it was VERY cool! And I really don't remember what I said or what he said back. But OMG SO cool! He spoke about David Palmer giving him a set of the Firefly prints since I had him sign my painting, I do remember that. Alan was sitting beside him, but I got autos from him two years ago. He signed the print "Huh" from the pilot episode and signed it. I only have 2 signatures left to go, Sean's and Gina's! I meant to get an 8x10 signed by him too, but heh, I forgot. Oh well!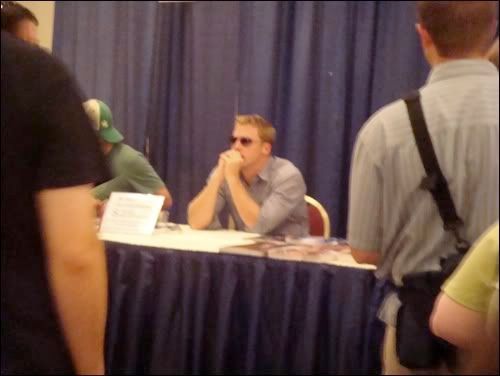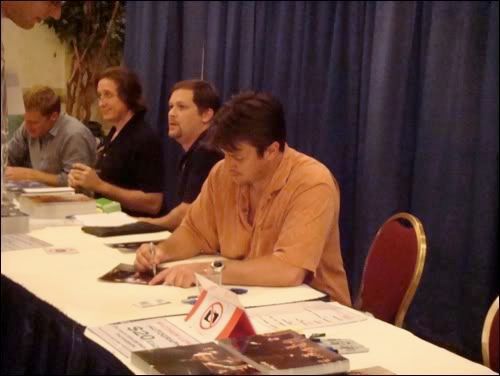 Matthew Lewis - his hair is all gone! :P




Once I got Nathan's autograph, I went back to the photo op line for Nathan and Alan. It was $10 cheaper to get a group "Serenity sandwich" photo, so I did - thanks to
jade_starlight for letting me know! And they were totally hamming it up for the photos! Before I got up there, Nathan took an electric seat from someone getting her photo with them and drove it in a circle and then outside the photo ops room and down the line of people waiting before speeding back inside and jerking to an abrupt stop. What a guy! In a continuing tradition, I got a Charlie's Angels shot with them…and it's totally THEM. Alan looking down in confusion is just priceless! When I went back to pick it up, everyone was like "yours is the BEST" Hee! YAY! Froggy remembered me from EyeCon when he took the photo and then when I came back he said, "Are you going to the next EyeCon?" And, of course I am!





Then it was back to the Walk of Fame AGAIN now for James and Gareth's autos. I got in James' line first. I got up to him and had him sign 2 Torchwood Capt. John, and he shook my hand and immediately said, "It's so great to see you again" and I told him I was here last year and he totally remembered! I LOVE HIM HAHA…and I go right back to being a 18 year old Spuffy fangirl. I said I didn't get tickets for his banquet and he said "awww' and that he was sorry, they couldn't find a bigger place to host their party so they had to keep the # down low. And then I GUSHED about how much I loved Torchwood and his character and seeing him get back to a bad ass type of role…and how I was so glad he talked about it last year to get me to start watching the show. And he said he loved getting back to that bad ass character. I asked if he was/would come back and he said absolutely…since they are down 2 characters he'd love to come back. And he hoped the show would get as good a writer as Chris Chinball for the future series. He shook my hand and said that "John's a great man…and so is he, Mike is great" when he pointed to my Mike auto. Yeah, I remember him saying he was fine with Mike, not so much with Tom last year.



I'm going to get John to sign it @ The Hub...dang, that's like 4 things I want him to sign!




I hopped over to Gareth's line and had him sign a 12x12 photo with the quote "we could release a single" and then the series 2 group poster. I asked him if he could make it out to me and then add a favorite quote. He said "Oh boy, you're just putting me on the spot here" and I laughed and said "I like to try." I said I liked the phones quote and the "single" quote. I should have come better prepared for my favorite Ianto quote, because he has quite a few in series two. I thanked him for coming since I thought filming had started. Gareth said that production had but he didn't start until next Thursday, so he could still make it, and I thanked him again. He's so cute when he smiles!

I finally had all my autos and photos! So it was time to shop! I went by the dealers room and stopped by Henry's NSTC booth…I've been seeing him since my very first DC, and he always gets me a good deal. He was all "I knew you were coming so I brought all my SPN cards…what else do you need?" I think he took off over $150 from my total! I got the final card I need for a complete season 2 set and some autos and piecework's for the new Connections set, as well as the incentive cards! And they are variants! EEE! They are fantastic! He said that I could probably sell my season 1 complete master set for about $1500, so I know if I'm ever in a bind, I could do that. I also picked up a Serenity Fruity Oaty Bar shirt and some free stuff.

Sometime during the day, awesome roomie #2 arrived,
musicbitch but we pretty much only saw each other in the mornings when we were all getting ready! HAHA But it was a good time all round nonetheless!



The BEST costume of the weekend! :P




Around 6, I stopped by Sub-way and then headed to the Sheradon for the Dr. Horrible Sing Along Blog show – WHICH WAS PACKED! I don't think they were expecting it THAT crowded…it wound entirely around the building. But it was SO great, and the people they got to play the roles were perfect, especially the two guys playing Dr. Horrible! Everyone was singing and clapping, it was so much fun! And then was the Buffy Horror Picture show! I always go to the 1st show of the night, and was so glad they let us stay in the room. The people playing the roles had perfect outfits, had the dancing down pat, and were great together. I met up with Randy afterwards, and we went back to see the 11:00 show, and it wasn't as great because everyone was apparently wasted…and there was a drunk girl who kept running on stage with her alcohol for the performers. It was kinda…a joke, really. And a sign they don't need 3 Buffy Horror shows if they can continue to keep it in the Sherradon, which is a MUCH bigger area.

Here are some photos of Dr. Horrible and the Buffy Horror Picture Show:



Ken Feinberg - The Chaos Demon from the show - as the Mustard Man! YES! It was HILARIOUS!



Willow and Tara gettin' it on!



The 3 lackeys? Wearing Bush, Regan, and Nixon masks - hilarious!





Saturday, I woke up super early and had to sacrifice seeing the parade to get in line for the Torchwood panel – TOTALLY WORTH IT. I was in the 2nd row, close to the center and had a great spot. Waiting 2 and a half hours is worth it for that, definitely. James and Gareth and Anthony were hilarious together! James and Gareth especially were wondering. Hell, Gareth by himself was fantastic! He can joke and is so…soft spoken but clear and concise and just wonderful. I love them talking about the show and John and their characters. Anthony got to joke about making out with Naoko the same day that the actor playing Adam did. And Gareth talked about a Captain Sandwich toasted. And how a lot of the innuendo between he and Jack is John's idea (big surprise there). James talked about how he injured himself on set and sliced his thigh…he didn't tell anyone for a full day, and came back in still bleeding and finally told John. John called in private doctors to stitch him up and didn't tell anyone on set. Seems like they all had a blast working together. I didn't know that Anthony is also in a band…he says it's very like The Verve and Snow Patrol…so I must check it out!


Go to the Saturday Torchwood Panel - audio, video, picspam




Team Torchwood!



And an AWESOME "Blink" angel!




After the Torchwood panel, I went to check out the artists gallery. There are always some amazing people there! The same artist who I got the turkey feathers painting from last year was back and I told her how much I love that painting and if she did commissions – which she does. I want one of whales/dolphins. I picked up a print of a panda bear feather she did. She had prints of the lions feather, but the one I have is hands down the best. Then I found this artist – I gotta get his name – has this amazing series of women in nature, and I want one…it's $150, we'll see. I killed some time at the dealer's room again and got a stuffed animal reindeer because I've always wanted a stuffed animal from that dealer.


Then I headed over for the Firefly panel – which was a madhouse! We weren't allowed to line up because the Tolkein people were in the area where we needed to stay in order to avoid fire hazards. So we hung out wherever, and just watched for updates. BUT, someone else was telling something different, and so we wound up sitting in blobs all over the floor area since we weren't going to just leave for a while until we got to time to line up. There I met some cool people, William, and others, and we talked about when we started watching Firefly, and other Joss shows and what we loved, hated, etc. It was a really fun way to kill the time and get to know other fans. FINALLY, we started moving – only to have the fire marshal say not yet still. But by then a good 200 people were already in line and it was going outside…there was no moving us. So we were fairly close. Apparently the line went ENTIRELY around the Hyatt and then doubled back around the 1st part of the line – insane! When it was time to go in, somehow a bunch of people cut in front of us, but I still got to stay with my friends. And I caught up with Carole. Who was right in front of me!


Go to the Saturday Firefly Panel - audio, video, picspam



Our kickass group!



One of the Bedlam Bards came over and sang!

THE PANEL WAS HILARIOUS! Nathan and Alan together and the girls cracking up, and Jewel being a smart ass, was wonderful! Nathan had all these sound effects on his iphone and every time it got awkward he had sounds, when Alan said something he made a crickets chirping noise. It was HILARIOUS! And Nathan was all "Morena's going to answer my questions." Morena cut her hair SUPER short, but it's so cute! It makes her look even tinier, I think! And Alan was great, as always. Jewel talked about her versus Nathan and their one-upping the middle finger game. It was funny! And Nathan made fun of Alan for saying there would be a Serenity sequel. And they talked about favorite episodes, and their characters, and just were…awesome. Seriously, they will forever be THE BEST cast ever. I know SPN is great, but these actors do so much for US and are genuinely appreciative of what we have done for them, it's amazing.

After the Firefly panel, I met up with
baileytc and
black_regalia! YAY! We walked around trying to find a place to eat and settled on the steak place we went to last year.
black_regalia, you looked GREAT! And it was so great getting to chat with these two gals again, yay! We got to catch up on life, our fandoms, and pretty much everything.

Then we headed to the SPN fan panel, which was "supposed" to be about the car. But we immediately talked about Dean going to hell and then into Ruby and Bela, and the problems with women and the writers' handling of them on the show. I spoke up a few times, and then got on the subject of race and how that bugs me even more than how women are treated on the show, especially this season. The race problem just really, really annoys me. And finally, we did talk about the car, the music, the boys, some fan squee, and then in the last 5 minutes we had a talk about the season 4 spoilers and the rumors and speculation. Very fun panel…kinda reminds me of why I love this show.

Afterwards, I said my goodbyes to
black_regalia and
baileytc (see you in a few weeks YAY!) and went to the shindig! I finally found
eyesthatslay,
angstchic,
musing_mia, and met "lj user="psu_brat"> - my Spuffy gals! Good times! Oh, my Spuffy girls! We're gonna tag team tomorrow for the Firefly panel in order to ensure we all get in. It's good to see everyone again!

I found William and met his partner David and friend Julia, and we hung out…briefly went to the Rainbow Flag party that Star Trek was throwing (boys dancing with boys, yay!) before headed for some food at The Metro. I got an omelet, yum. William is hilarious and is big into Buffy and Firefly. We tried to get into the Rocky Horror Picture Show, which was supposed to start at 1:30, but it was 2:15 and we weren't even in yet…so we gave up. We're going to try to run into each other tomorrow, we'll see!

Sunday, I woke up early again to run over to the Torchwood panel with Gareth and Anthony – they were hilarious! They seem to get along well and joked about Anthony with Naoko and how Anthony got to meet Gary Oldman since his brother was in Harry Potter with him, and Gareth was jealous. And Gareth did this whole schpeel about Kirk/Spock and it was hilarious! And he said that he and John text each other body parts in "various biological states" while the other is filming, with things like "you're my bitch" in the message. Sounds like it is a blast to work on that show! They talked about their music, inspirations, favorite actors, and the cast. It was a great panel.

Go to the Sunday Torchwood Panel - audio, video, picspam



A Fantastic "Enchanted" costume!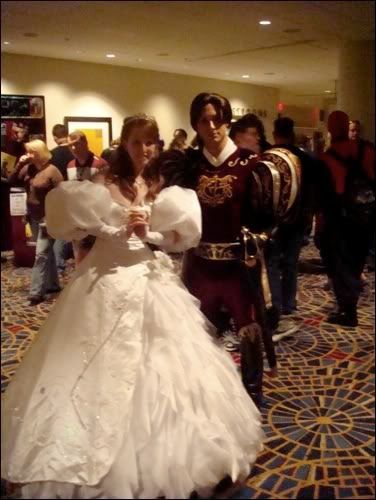 Dumboldore meets the Snow White queen!



These guys are always cool and what they bring.



Me and
eyesthatslay - it was great seeing everyone again!



Guy holding up a "This is the end of the Firefly line" sign - right next to us who were the start of the line. Yep, it had wrapped around the entire building back to the start!

After that, I headed back to the Marriot to get into the Firefly panel – lucky, my Spuffy friends were right at the front of the they had a great spot. I got to catch up a bit with
lady_anne as well!

We waited for a couple hours and the line had completely wrapped around the circular shaped floor and then doubled back around again! We got into the panel and it was just as funny as yesterday's! Jewel told her embarrassing story over meting Matthew Fox and how she sad "very good, very good, very good….good night!" They all made fun of each other, Nathan had his sound effects, and it was great. Nathan did this hilarious thing where he showed an acting technique he picked up from "One Life to Live" where you have to have that emotional reaction on the long pull in to the character. "I left the oven on…I didn't leave the oven on…oh. I did leave the oven on" and he did it for us and it was just hilarious! Nathan is definitely the joker and has plenty to laugh about. Alan was saying how he never really memorized some lines and had cheat sheets where the camera wouldn't see it. They really seem great all together and know how thankful we are for them doing all they have, and vice versa.


Go to the Saturday Firefly Panel - audio, video, picspam


When the Firefly panel ended, I went to get a photo op for Gareth and James together…I'll get that on Monday before I leave the hotel. Then I went by to pick up that piece of artwork that I wanted from the artist, Paul Vincenti. I just LOVE what he did and think it will blend along with my other big piece of artwork that I got three years ago since it's all nature and women. He is shipping it to my house for free and even threw in a free set of bookmarks with women of all four seasons since I bought the actual canvas one rather than a print. I'm always up for supporting individual artists and their work, they genuinely appreciate the comments.




I got a photo with Mike Rosenbaum! It was kinda weird b/c I had asked for a funny pose, but then he had to run out of the room and then was talking to everyone, and then just kinda stopped to take a photo with me and then move on. But, I'm so glad I got a photo of him – with hair – since I don't know when else I would ever meet him again since he's done with Smallville.

While waiting in line, saw Kenny and Voni, who run EyeCon and we said hi and caught up a bit. They really are the nicest convention organizers I have ever met.




I grabbed dinner from Yami Yami, the sushi place in the mall near the Hyatt entrance, and then went to the room to relax for a bit – I was exhausted after waking up so early 2 days in a row. I then headed downstairs and meet up with Randy and we went to the Harry Potter ball, the Yule Ball, together. They were showing a bunch of music videos from different fandom's there and people were actually dancing and having fun. There were some awesome costumes there – the Harry Potter kids really do go all out when it comes to costuming. The winner of it all was the chocolate frog and free Wizard card, which was one of the most unique costumes I saw there that night. Randy and I briefly stopped by the Wolf Pack party, but it was a bit too extreme for my liking.

After leaving the parties, we went for dinner at Hard Rock café, which was nice. We're making plans to go to the Dali museum south of Orlando at the end of this month in between EyeCon.

Monday woke up to check out as well as head over to get my photo with James and Gareth. I continued the tradition of getting a Charlie's Angels photo – not too sure how it turned out since I was rushed and not too sure where to stand. I got into the room and James said, "I see you were brave enough to try us both" haha oh boy! Gareth said, "hello lovely," and..yeah. Kinda died. So I asked for a "bad ass Torchwood Charlie's Angels" shot and James just laughs! After the photo, I said thank you and got hugs from both of them! Gareth hugged me first and said "thank you" and then I hugged James, said it was great to see him again, and he said "it was great to see you too. You look great." Compliments from James! Yay!

As far as an ending experience, that was the best one I could ever ask for – to end with hugs from James and Gareth! I went to get my luggage and headed to the airport early. And it took only 20 minutes to get fully through security and into my terminal, the fastest I've ever been through ATL. Now I'm waiting for my plane and have a lot of time left to wait...

This was, hands down, the best DC yet. They had guests who have never attended before, and the guests that they had were great – Nathan, Gareth, Mike – and the crowd control was 10 times better this year than last year. I think that adding the Sheradon to the host hotels was a big help and I might stay there next year. But yeah, the Firefly panels were hilarious – they were worth the trip alone. And having people from Torchwood was a blast too! Gareth is going back to Wales with hopefully plenty of positive things to say and a plea that other cast members – mainly John – can come back with him for DragonCon 09.