Here is the full audio for the Sunday Torchwood panel with Gareth David-Lloyd and Anthony Lewis:
PART 1 [300 MB]
PART 2 [300 MB]
PART 3 [21 MB]
*rejoin with a program like HJSplit*Direct Links to Video:
http://www.dailymotion.com/video/x6mlur_torchwood-sunday-1_creation
http://www.dailymotion.com/video/x6mlgb_torchwood-sunday-2_creation
http://www.dailymotion.com/video/x6mli9_torchwood-sunday-3_creation
http://www.dailymotion.com/video/x6mm10_torchwood-sunday-4_creation
http://www.dailymotion.com/video/x6mm2i_torchwood-sunday-5_creation
http://www.dailymotion.com/video/x6mm63_torchwood-sunday-6_creation
http://www.dailymotion.com/video/x6mll2_torchwood-sunday-7_creation
Some highlights from Sunday's panel:
- Gareth and John text each other pictures of...ahem, certain body parts in "varying biological states" while the other is filming with messages such as "you're my bitch now" in them. And then immediately said "He's gonna fucking kill me!"
- He did this hilarious Kirk/Spock mocking slash conversation - too funny! "That's my crotch, Spock."
- Gareth talked about his band and performing the Sex and Anarchy show in Wales.
- Gareth spoke about the radio show some, but pretty much what we're aware of right now. Anything else and series 3 is very hush, hush right now.
- When they talked about having Gary Oldman on the show, Gareth said "I just creamed my knickers" and joked about selling them at the charity auction.
- Gareth said some Welsh! He said "I love you, sweetheart" in Welsh with "cariad" *happy sigh* I think it was Saturday's panel where someone asked him how much Welsh would Ianto know, and Gareth said about as much as he does.
- Anthony really preferred drama over comedy as far as genres.
- Someone started a question for Gareth that said, "In a BDSM relationship-" and was cut off by the moderator...and Gareth was all "in what what? What is that?" and then sang a bit!
- Anthony researched a bit for period uniforms and WWI history from his parents for the role of Tommy.
- Gareth assured us that they are keeping series 3 post-watershed and keeping it an "adult" show - they were thinking about turning the content down for kids, but decided against it - THANK GOD!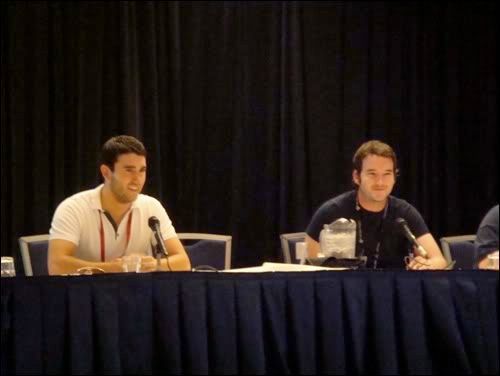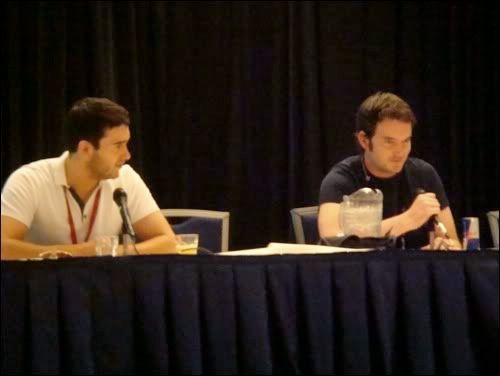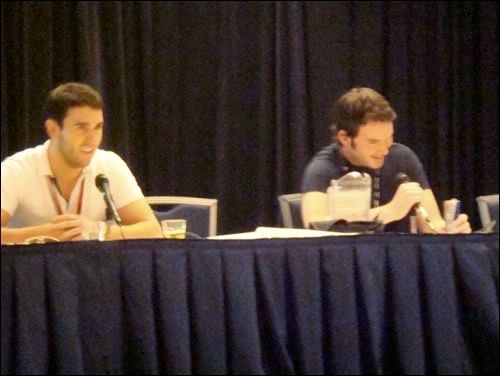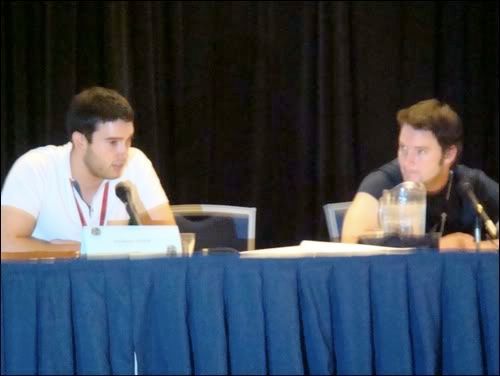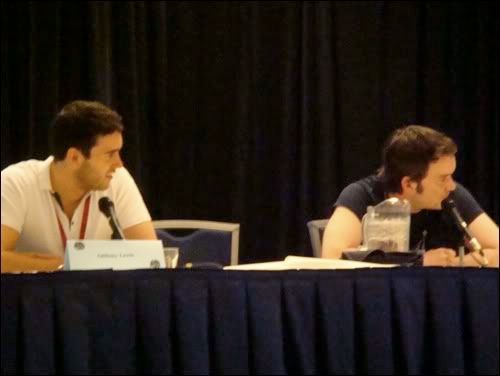 If you want to use any of the photos PLEASE LET ME KNOW BEFOREHAND. Also, I would rather people link friends to THIS post for the audio and video rather than re-post it yourself, please and thank you!