I have a new favorite Charlie's Angels photo! Nathan and Alan really know how to ham it up! And itsn't it so...them? Nathan being crazy and Alan all "whaaa...?"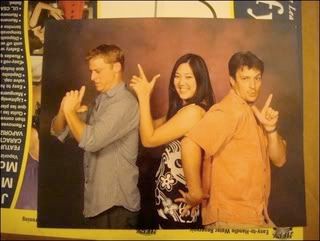 While we were waiting in line, Nathan took a lady's electric cart/seat and vroom-vroomed out the photo op area and into the line waiting outside and then sped right back in - it was so funny!

Froggy remembered me from EyeCon and then asked if I'd be at the next one - said I would!

I unfortunately didn't get in to James' banquet dinner tomorrow night, I'm kinda bummed. People started lining up for that at 8:30 PM LAST NIGHT. It's not that serious really.

BUT OMG GARETH! He said that production has started for series 3, but he doesn't start shooting until next Thursday, so he wanted to come here. I said I loved the show and OMG I could listen to him speaking the entire day and never get tired of his accent and voice.




James said he remembered me from last year! And he LOVED Capt. John and would come back whenever they wanted him to...he loved the show, the cast, John, and getting back to that bad ass character. I said I couldn't make it to the party and he was like "awwww, no good" - seriously, a great guy.

Also? Anthony Lewis, who was Tommy in 2x03 of Torchwood is ADORABLE!

And I got an auto from Michael Rosenbaum, who was lookin' good with the grown out hair. He was very kind and we talked over the greatness of left-handed people!




Adorable! They were super strict about taking photos in the Walk of Fame area...SO strict!



HAHA James




<3



I love my favorite actors in beanie hats



LOVE the Torchwood photos of him, I got a couple! I also got the close up of both James and John, got James to sign it, and will get John to sign it in October! Yay!



Heee! He wrote "We could release a single" from "Meat" HAHA I LOVE Ianto in that episode, all bad ass with the taser! I asked GDL for a quote and he goes "Oh boy, you're putting me on the spot"



My series 2 TW cast photo...that I'll get everyone to sign at The Hub. GDL signed it "lots of love"



Nathan signed "Huh" from the pilot of the show when he opens River's box!

So I'm off to grab some food and then head to the Dr. Horrible and Buffy Horror Picture show. I ran into
isisfrog and my roomies are around somewhere...

OH! And I spent too much money getting some SPN trading cards! EEEEE I GOT VARIANTS FOR THE CONNECTIONS INCENTIVE CARDS!!!! I'll have to scan them in when I get home b/c they seriously ROCK. Instead of all red, I got the letters from the backs of the jacket in the piecework - very rare. I LOVE Henry @ Junior's Comics.