I wanted to create a master list of all of the paranormal romance authors that I avidly follow and love to read. I know that many of us have had comment-discussions about what to read, who writes what, and so on. I wanted to create a post for reference that lists everything that I like in hopes that you might find something new to read!

The list goes in order by last name and lists the series I read in correct reading order (I have small images of each cover, so that makes this a bit not-dial-up friendly), and for some then my personal favorite in each series.


Lara Adrian

http://www.laraadrian.com/

If you like J.R. Ward's Black Dagger Brotherhood series, then you will enjoy Adrian's Midnight Breed series. Why? Um...they're really similar! HAHA, OK, Adrian has definitely taken a world and made it her own, but the premise and alpha-male warriors "brotherhood" are very similar, especially in the first two books.

Her books are wonderful, fast-paced, and well written...with great characters, a great overall multi-book long plot and enemy, and some HOT scenes! There are the good vampire warriors (with with the potential to go Rogue) and their enemies called the Rogues (or, vampires who have given into the bloodlust). The world is well done, it takes place in Boston, and I really like the women. They are headstrong without it being in your face.




Midnight Awakening, is my favorite in the series so far. I really LOVED Tegan and his story...he truly is a emotionally tortured man, which always gets me if it's written well. To me, this book just flowed very well and you can tell improvement with each new book of hers. I'm really looking forward to the next one!

Kelley Armstrong

http://www.kelleyarmstrong.com/

Armstrong's series, Women of the Otherworld series, is a wonderful well-written series with strong women, great plots, and I really like that she doesn't just stick to one character, but she does come back to them, and one type of paranormal creature. Werewolves, witches, she's got it all. Romance is not the #1 factor in the books, but it's definitely there. These are actually shelved in the sci-fi/fantasy section in most bookstores, not the romance. Armstrong has created this really, really neat world with wonderful characters, magic, horror, and is very original.




I've been kinda turning away from this author as of late. I haven't purchased her newest books and don't think I will. But she's very popular, give her a try!

Keri Arthur

http://www.keriarthur.com/

For whatever reason, Keri Arthur doesn't seem to be well reviewed on Amazon.com. I disagree with what many of the reviwers say. Yes, her Riley Jensen Guardian series is very sex-driven (yet, it's not as in your face about it as other authors are). But to me, it's clearly stated why in the first book. It's not like LKH's Anita Blake series where she's suddenly done a 180 and is having sex with 4 men in book 9. No, Riley Jensen is a werewolf/vampire who says who she is in the first book. And it works for me.

Riley is park werewolf, part vampire, and works for an organization that is the police for all supernatural beings. There are good guys, bad guys, hot guys, and I really think these are all fun reads. Riley is a very strong leading lady and while also having to deal with some bad ass vamps, she also has to figure out her love life. There's Quinn, the hotass vampire who swears to never love a werewolf again, and Kellen, the equally hot werewolf who wants Riley all to himself.




My favorite so far is Dangerous Games. I think it was around this book when Riley was really fleshed out into this great character. It's the first book with her new "job" (you'll see what I mean if you read the books) and gets more into her relationship with Kellen and Quinn. I'm torn, b/c Quinn is an ass, but he can be perfect too. And Kellen was always a bit too good to be true. Ah, who knows what will happen!

She also has another series that I am not following at the moment: Destiny Kills: The Myth and Magic Series




Anya Bast

http://www.anyabast.com/

Anya Bast is one of the many erotic romance authors who has been published with Ellora's Cave who made the crossover to mainstream publication with a major publishing company. This is her first paranormal romance book in a new series, and it is HOT HOT HOT and awesome!

All of the books feature some great chemistry between the two characters, VERY hot scenes, and some fun magic and stuff! The guys are hot and the women are strong minded individuals.



*June 2*

Well, my favorite is pretty much the order in which they have been released - the first is still my favorite! I thought that the 3rd one was the worst of the series so far.

Jaci Burton

http://www.jaciburton.com/

Jaci Burton is also published with Ellora's Cave and Samhain Publishing and writes a lot of erotic romance.

Her Demon Hunters series is just HOT! And the first book was very refreshing in its plot and storyline. It's the specially trained against demons army vs. some ugly SOBs. :P It's strong willed, won't-take-crap-from-anyone women and some hot-sexy-yummy men. I definitely like the idea of the overall plot...it's so different from anything I've read. The first book starts off with people thinking it's a reality TV show. Totally not...it's training for killing demons.



*Coming June 23*

My favorite is Hunting the Demon, her latest book. Unlike a lot of follow-up book slumps, Burton dives right in where the first book left off and is nonstop action from start to end. I really, really loved Nic, the hero of this book. I can't wait to see where she takes this series, the possibilities are endless.

She also writes a contemporary series and I really like it! The men are tough secret service riding motorcycle guys and the women are very independent!



*Coming April 7*

She also has plenty of single titles out, and they're all great!

Kresley Cole

http://www.kresleycole.com/

Kresley Cole actually has 2 series I read and love, but I'm just posting her paranormal one. If you like Scottish historical romance, definitely check out her MacCarrick Brothers Trilogy!

The Immortals After Dark series hooked me with the very first book in the series. I really enjoy the verse she has created. There are werewolves, vampires, witches, and everything in between. Each book focuses on a new hero and heroine, but as with many romance novels, the couple in the previous books stick around and are friends of the current hero or heroine.

There are a lot of surprises along the way in each read, adventure, her characters are unique, her dialogue is witty, and the chemistry between each couple is HOT. This is another series that I just can't put down. The world she has created is great, and I can't wait for the next one.




Oooh, tough decision here. But I would say that my favorite is the first one, A Hunger Like No Other. The chemistry between Emma and Lachlain is so excellent, and I LOVED Emma because she was automatically a strong, talk-back woman. But she grew and developed and Lachlain is just - GAH, just the whole story is incredible.

Deborah Cooke

http://www.deborahcooke.com/

Cooke's Dragonfire series is HOT. It's immortal dragons, the Pyr, against the evil dragons, the Slayers. The Pyr have spent centuries protecting the earth and mankind, whereas the Slayers want to destroy all that is good. The Pyr are hot men who have their one true mate and go through this dragonfire mating electricity thing with their chosen woman. And they shift into dragons. There are some plot loopholes (like how they can get away with fighting in the cities) but I love the Pyr men and think it's a fun, hot series.




Winter Kiss - Coming November 2009

My favorite is definitely the second in the series so far, Kiss of Fury. The writing and plot is MUCH stronger than the first, I like the lead male and female characters better than the first one, and it's just...better. Donovan is a great male character and I enjoyed Alex a lot better too than Sara from the first book. I just bought Kiss of Fate the other day and can't wait to start it! It's a very promising series and a lot of fun!

Christina Dodd

http://www.christinadodd.com/

OK, so Christina Dodd writes historical romance and contemp/suspense romance. She recently started a paranormal series in 2008 consisting of four books.

The Darkness Chosen series is the story of a family of four, who must find their mate and an icon before their father dies. Ah, I think I got that right. Oh yeah, almost forgot to mention that they are werewolves!

You really have to read the first one, because that really gets all of the overall plot and goal of her series. The men are very macho, alpha-men, and the women in each book are different. I'm especially interested in their sister, Firebird, and what's up with her. Oooooh, the plot thickens!




I'm gonna say that for right now I really love the story and romance of the first book and the main female character, Ann. Ann and the male character, Jasha, just work for me, more so than the 2nd book's characters.

Christine Feehan

http://www.christinefeehan.com/

Oh, wow. Christine Feehan, where do I even begin? OK, first off, I'll start out by saying that she is most well known for her Carpathian/Dark series. She has 20 books currently within that series and doesn't show any signs of stopping. I, however, do NOT like this series. HAHA. The men are just TOO controlling, expecting the women to do ask they ask and then acting like an ass when the women don't. Eventually in the end, I feel like rather than meet in the middle, the women ultimately sacrifice independence to be with the men. I tried reading this series and just could NOT get past the mentallity and just...abusive control of the men. Someone try to change my mind. Does it get any better than the first 5-7 books?

However, I DO LOVE her other 3 series - The Ghostwalker Series, the Drake Sisters series, and the Leopard Series. (LOVE LOVE LOVE them all, actually!)

The Ghostwalker Series
This is a action/thriller/paranormal series with both strong men and women working together. Each man and women has a different type of psychic ability - empath, telekenisis, fire-starting, etc. The women were "experiments" of this crazy and renowned scientist, and the men are alpha-male army/navy/military soldiers also experimented on. After escaping, they're working together to help find the other children - now grown women - who are out in the world who also ave abilities.

The connections between each character in each book is great. I love the added aspect of having a psychic connection and all the abilities that go with it. Aside from the HOT romance, there is nonstop action, suspense, and jaw dropping moments!




Hmmm...OK, so this is the first series I don't really think I have a favorite. I like the later books because we can just go right ahead into the action and don't have to worry about setting anything up like plot. I remember Night Game the best (possibly because it's the only one in that damn "easier to read" size so it sticks up higher than any other book she's written), and how great Gator and Iris are together. Overall, every book works well together to create an incredible, well written series.

The Drake Sisters Series
The Drake Sisters are all gifted with special abilities. Each sister is different and each bring something unique to the table. They like to float cookies and tea a lot :P

This is a great series because except for the sisters and what makes them unique, this is set in a normal town with normal people and normal lives. It's nothing crazy and all supernatural all over the place. The series starts with 2 short stories before going into novel length stories.



*Coming June 30*

My favorites are hands down, Dangerous Tides and Safe Harbor. In Dangerous Tides, I LOVE Libby and Ty together. They are both brainiacs who thinks the other hates them and are both socially inept. HAHA. Libby has healing powers. The two of them together is just so HOT and Ty is just huggable-never-let-go, caring, perfect character. In Safe Harbor we FINALLY get Hannah and Jonas' story. Those two have been sparring back and forth since the series began, so it was about time to get their story! And it definitely did NOT disappoint!

The Leopard Series
I wish SO HARD that Christine Feehan would get back to this series! I LOVED it the moment I read the short story that starts off this series. It's about leopard shapeshifters and how freakin' sexy they are! :P HAHA, ok, so there is more to it than that.

The main story, Wild Rain, is just sizzling. Rio and Rachael have SO MUCH chemistry together. I don't even want to say too much to give anything away. But I LOVED their story so, so much! Rio is just a perfect character - with flaws, obviously, but written so well to match Rachael. Rio is a shapeshifter who has been banned from his tribe. Rachael is running away - but from what? :P (Obviously, this is my favorite.)



*Coming April 28* FINALLY!

Try all of Feehan's work...you definitely won't be disappointed!

Diana Gabaldon

http://www.dianagabaldon.com

This is THE go-to, must-read, definitive, benchmark, whatever word you want to use for THE BEST, time travel romance. I'm sorry, but NOTHING compares to the genius of this series. NOTHING. With the lowest page count of the entire 6-book series being around 700, you know you're in for a LONG and WONDERFUL read with the Outlander series. I simply cannot give enough praise for these books.

This was the first series that I read when I was ready to read something in the romance section - which it really shouldn't be since it's an all around stunning novel - that still focused on plot. And boy, does this series focus on plot! Every page is rich in historic detail and what life was like back in the 18th century Scotland taking us all the way up to (and possibly through) the Revolutionary War.

Claire Randall is in WWII-era and is transported back to the mid 1700s Scotland. Rescued by Jamie Fraser, (*sigh* Jamie!) the two embark on this amazing journey with romance, marraige, crazy mid-1700 witch burnings, loss, happiness, and EVERYthing in between. The historic accuracy that Gabaldon has with the setting, daily life, people, and culture is just astounding. Claire and Jamie are, like, my time travel romance OTP, because it's REAL and messy and still perfect and just wonderful to read.

Oh man, just typing this out makes me want to go re-read the series before the next one comes out! It's a long time coming to the 7th book, which I don't think is due out until 2009. But at 1000+ pages...well, that's why!




An Echo in the Bone
*Coming 2009 - hopefully*

Other than the first book that started it all off, my favorite is Voyager. Because of that first chapter with Jamie and Claire together. GAH, I don't even want to say anything to give any spoilers out. But it's just...*happy sigh* Definitely Voyager. Someone squee with me about Outlander please!

Elizabeth Guest

http://www.elizabethguest.net/home.html

She's only published one novel in her new Egyptian series, called the Pharoahs Rising Series, but she has written others with a different pen name. Actually, I think her real name is Suzanne Simmons, and she is pusing a pen name for this series.

I really, really enjoyed her debut paranormal romance novel here. It was fresh and a new idea. Adrian was once a pharoah of Egypt...now he is a vampire running a casino in Vegas. HAHA it sounds ridiculous, and it is - but it works too!




I don't know if/when a second book in the series is expected, but I'll try to add it to the list once we know!

ETA 3/6/09 - As far as I know, plans for a follow up book were scrapped and she hasn't written more under this name or in this series.

Lori Handeland

http://www.lorihandeland.com/

This is a fun werewolf series, that combines the legend of the werewolf and modern day science, with hot guys and smart women and it's just fun. I haven't fully caught up with it yet (I'm on book 4)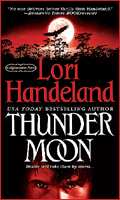 My favorite so far is Dark Moon. I love the lead characters and how they're working together with the characters from the previous books and it all just flowed really well.


Laurell K. Hamilton

http://www.laurellkhamilton.org/

Oh LKH. You were the queen of vampire/werewolf/Buffy-esque/sexy vampire hunter books. And then it all went horribly wrong starting with Narcissus in Chains. LKJ's Anita Blake series started with a great, awesome premise. Here was this strong, kick ass woman, with faults, flaws, conflicts over religion and her job and abilities, bad with men, and torn between the werewolf who wants a normal life Richard and the powerful, hotass French vampire Jean Claude. She's dealing with zombies, vamps, other werewolves, and the first 8 books are just AWESOME. There are plenty of great characters that I really do love reading about...Jason, Asher, and Edward especially.

But then...the series takes a serious turn for the worst. Although I LOVE LOVE Micah and Nathaniel (seriously, she needs to kick Richard to the curb PERMANENTLY and make some major commitment to Micah, because he is IT), she's suddenly having sex with 7 men to feed the ardur, this sex-driven succubus-like THING. It seems like LKH is having a personal contest with herself to see how many people she can fit into one bed together at the same time. HAHA. Her sex scenes aren't necessarily romantic...some I find quite crude, actually. BUT! With this year's release, The Harlequin, I feel like we saw a return to plot and characterazation. For once, sex was not the driving plotline of the book. Maybe she is finally listening to her fans and not being such a high and mighty (and weird...the woman shouldn't talk) diva about her series.

She also writes the Meredith Gentry series. I tried to read it and I just couldn't. It started out immediately with "Meredith must birth an heir - let's bring in the 17 men she will be sexin' up!" and I just couldn't get into it.




I would have to say that my favorite is...The Killing Dance. Why? Well, it's back when things were fairly simple...it was Jean Claude when he was still a strong character, Richard before he got too annoying, werewolf drama, and Edward. ALl in all, this was one of my favorite reads of the entire series. Oh, and I also loved Obsidian Butterfly because it focused on Edward's life and we got to learn a lot more about him.

Anyway, if you haven't read the series before - start with the beginning. Those books are defining in paranormal/fantasy/romance genre. Because when she started writing, there wasn't much out there. I really do think you'll like the first 1/2 of the series if the idea of sex overload doesn't do it for you.

Kim Harrison

http://www.kimharrison.net/

Oh Kim Harrison. She makes me happy. She started out somewhat similarly to LKH. But, unlike LKH, she has maintained her writing and kept the storyline at a very high level of excellence. The characterazations of each person just continues to grow and develop. In her Rachel Morgan series, Rachel is a witch who is living with a vampire, Ivy, who just happens to want her blood. She also lives with a pixie, Jinx, and his family, and she has to deal with a sexy, British bad as wannabe (Read: Spike), named Kisten.

Harrison's verse is complex, well written, and incredibly enjoyable. Rachel has to deal with demons, spells gone wrong, and demon deals. Excellent demon deals...well, not excellent for HER, but fun to read about. These are all great reads, and I can't say enough good things about how much I LOVE this series! I'd take the Rachel Morgan series over the Anita Blake series any day of the week. She truly has created a wonderful series and I'm already looking forward to the next.




My favorite of this series is Every Which way But Dead. I LOVE Kisten (Oh Kisten!) and this is where he and Rachel really get together as a couple. There is also Trent to deal with, who always makes for a fun, awesome plot and character. I don't want to say too much to give anything away (That's the bad thing about picking a favorite that's right in the middle of the ongoing series) but definitely check out KH if you already haven't!

ETA 3/6/09: Um. I have been so emotionally destroyed by this series I haven't read The Outlaw Demon Wails yet. Because OMG For a Few Demons More killed me.

Larissa Ione

http://www.larissaione.com/

Her Demonica Series is off to a HOT start with Pleasure Unbound. I mean, HOT. The Demonica world is made up of different demons, some OK, some bad, and some good. It's a dark world but full of shades of gray. The characters and this world is just written so well, very exciting and fresh to read something so different these days. Great concept and I can't wait to read the 2nd one!



*April 1*


Alexandra Ivy

http://www.alexandraivy.com/

Ivy's Guardians of Eternity series really took off with it's second book, IMO. The Guardians are vampires who work together. The two stories in the series so far are just sizzling and I especially LOVED Shay and Viper in the 2nd story. Excellent story!




My favorite of the series is still book 2 actually. I just got the 4th one and haven't read it yet, so that may change!

Sherrilyn Kenyon

http://www.sherrilynkenyon.com/

Those of you who have talked about SK with me, know that she and my Mom used to work together - along with Cathy Maxwell (who is doing well right now with her historical romance novels). They would peer edit stories and chapters they were working on. I was very young...5-8 years, and would play with Cathy's kids while they would sit at the kitchen table and discuss writing. Sherrilyn is definitely the most popular (considering my mom only had one book published), and is spitting out novels faster than you can blink...which is not necessarily a good thing.

Anyway, Sherrilyn's Dark Hunter series is a fun one, with Greek gods and goddesses, hot men, strong and quirky women, and great steamy scenes. Dark Hunters are immortal bad boy vampires who work for Artemis, killing the Daimons, Apolloites who steal human souls to live past their 27th year. There are also Dream Hunters, shapeshifters, and other supernatural beings in her verse.

OK, I'll say this about the series. I LOVE LOVE LOVE the first 8 books in the series. But the recent books have begun to lose my interest. I think the quality of writing has gone down, the concern for characters and plot is just not there anymore. The first 8 books took place in the same city, with characters you knew and loved making continued reappearances. Now, the books are are all over the place dealing with a tortured God and a virgin Goddess who get thrown together and wuve each other after some "witty" banter back and forth. To me, this is not a formula that works. No woman wants to read about some perfect Goddess. (This is now mostly me venting about the most recent hardcover book). Her most recent paperback? Kinda a waste of my time.

Kenyon also writes historical romance under the pen name Kinley MacGregor. She has a couple on-going series under that name, but I don't know much about them since I don't really read historical romance.

(Keep in mind, all of her books have just been re-released with new, matchy covers. But you can always pick up the first prints in a used bookstore, and this is what the covers will look like.)



My favorite is definitely Night Play. Bride and Vane are just squee!worthy together. And it's the only book I have ever read that has this great, female main character larger than a size 0. She's a WOMAN and Vane is just perfect without even knowing he is. Fantasy Lover, the novel that starts the entire series, is also excellent. Definitely give this series a try if you haven't already despite my complaints about the recent path she has decided to take the series. I still read them and enjoy them.

Angela Knight

http://www.angelasknights.com/

Angela Knight is the go-to for hot, steamy, graphic reads. I'm fairly certain she also started on Ellora's Cave publishing and has made the crossover to mainstream bookstores. I follow her Mageverse and Warlord series, both of which are unique and HOT. In the Mageverse series there are vampires, werewolves, and other paranormal beings. The Warlord series is a futuristic/time travel type of read.

She has written a lot of novels I haven't even read yet, so if you're looking for something steamy, definitely check out Angela Knight!




Warlord - the newest cover that includes all stories in the series to date:



HAHA, I'm honestly not too sure which my favorite is since it's been so long since I read them and haven't gone back to re-read them. If I do, I'll let you know!

Deidre Knight

http://www.deidreknight.com/

I'm actually re-reading her Midnight Warriors series from the beginning since her newest book just came out a couple of weeks ago. I LOVE this series!

It's the only alien more sci-fi than paranormal series that I regularly follow, and I really like what Knight has done with the characters and verse. It does talk place on earth, following a race of aliens who are fighting to protect the humans. Jared Bennett is their leader and the first book in the series is his story.

What I especially like about this series is that in the 2nd and 3rd books, Jared and Kelsey are still important players and the writer still has intimate scenes with the two of them. Unlike most series, who move onto the current male and female lead, this series keeps going back to Jared and Kelsey, which is probably why I love them the most, we just know the most about them.




My favorite in this series is a combination of the first two books. The second book, Parallel Heat picks up right where the first one left off. It still follows Jared and Kelsey and also Thea and Marco. Excellent reads! Jared and Kelsey - I cannot say enough squee about them!

Gods of Midnight Series



*June 2*

This is her new series that combines Spartan warriors with the modern day. Some of the warriors from the Spartan 300 gave up their souls for immortality (something like that anyway) and each one has different traits and specialties that make them unique. There are demons, prophecies, and I'll admit it took me a while for this new world of hers to catch on. But the men are hot and the lead female character was strong. I'm definitely looking forward to the next one!


Sharie Kohler

http://www.shariekohler.net/

Kohler is a "new" author (I use that term loosely since she is an already established historical romance author by the name Sophie Jordan), and she is working on a HOT new series called The Moon Chasers series.

It's about werewolves and a faction of people, NORDA (I think), that was created in order to stop the spread of werewolves. In this verse werewolves are soulless monsters who shift on the full moon night and kill without remorse. Gideon is trying to prevent that from happening to Claire in the first book of the series.




I REALLY enjoyed this book! It's a great start to a hot new series. The story and plot was great, writing and dialogue was smooth and made for a fun read, and it was just HOT! This is a very neat 'verse, with plenty of characters to meet and explore, and I look forward to plenty more from this talented author!

Continue on to Authors L-Z...