(You KNOW you're jealous!) Heeee!

Here is my write up for AsylumCon Day 2. Report and picspam - VERY image heavy, especially with Jensen's panel.

Here is all my LOOT from the weekend! (Well, minus a couple photos that are being mailed to my house). I had to take photos of them since I'm lacking a scanner, but will probably scan them in for better quality when we get home.



It says "No chick flick moments." :P



DUDE. Lives in the same state as me. DUDE.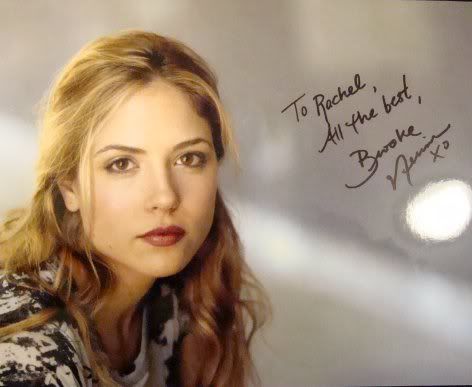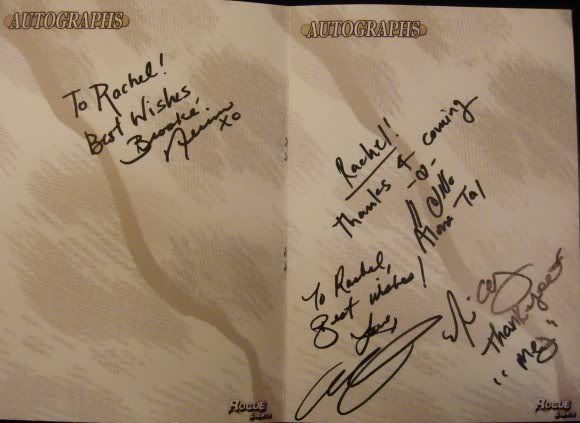 And there were a few dealers there and this one was selling these great blended collages. I bought two.



OK, so here is the GOOD stuff! (Including the video of Allison singing!)

So! Final day of the Con and I feel that it was the day that the organization was all over the place. People were not giving out correct information, the stewards were rude and impatient with 700 people. We were ushered out of the entire main hall, only to be allowed back in less than 20 minutes later, which meant that we lost our great seats for the Jensen panel and that really pissed me off. It was just madness.

The day started off with Alona's panel, and she was really sweet. Like, SO sweet and just very kind. So, first off, she reads EVERYTHING online that the SPN fans talk about. EVERY. THING. Like, REALLY. Also, she was talking more about the pranks that were onset, like Jared and Jensen working together to push Kim into a ditch or something, and Jared poured soy sauce into his coffee and went around asking everyone if it tasted weird. And EVERYONE, EVERYONE fell for it, except for her.

And she knows how to fire an M16 and is really, really bad ass with guns because of serving in the army for two years.

She also talked about BUABS with that scene with Jared, where sometimes he spun her around 360 instead of just 180 and it was funny to film sometimes. The bottle wouldn't break or something else would happen that would make them both crack up.




And during her panel I had my photo shoot with Jensen and WOW. HI PRETTY. After the took the photo I said "thank you" and he said "thank you so much" and then proceeded to pat me on the lower back twice. OK, so I'm shallow and a fangirl, but that was COOL! C'MON!

Then we had Nicki and Brooke's panel, and they were both sweet. Honestly, it's 1:00 AM here and I can't remember too much, but I'm sure others do and more will come to me tomorrow.




After their panel was Allison's panel, and I LOVE HER. She looked super cute! AND SHE SANG! AND IT WAS GOOD!






After lunch I got to get my autographs with Jensen. HELLO STRESS. And anger, because I was told that I could get my official magazines signed and when I got up there, they said that I was not allowed to get magazines signed at all. Anyway, I was in line, near the front, but I was quickly bumped to the very front because I had a photo shoot with Brooke. WHEE! VERY NERVOUS.

And I walked up to him and just WOW. Soooooooooooo pretty.

So, I was the first person to go, and I asked him if he was going to be doing anything after the performances in June. And I stammered. A lot. I was like, "Can, I...Can I ask a question?" And then I said that there were "a bunch - well, not a bunch - like, a few - a few of us going" and I think I made him a bit more nervous about the play in June. (Because he said in the panel that he was "getting very nervous about the play" because of the huge amount of dialogue, but I bet me going on and on saying how we were coming to see him and were excited to see him perform....that probably didn't help.) He said he wasn't sure and wouldn't know for another week or two but as soon as he knew, he was sure that a post would be made. And I replied, "Ohhhh yeah, I'm sure there will be."

Jensen also asked where I was from, and I said Virginia. And he was probably thinking, "Wow. That's NO-where near England or Texas." *sigh*

And then I had him sign a photo for my friend and was telling him how I converted her over to the show and she actually gave up Grey's Anatomy to watch the show on Thursday nights, and he gave a little fist pump of triumph and said "Yeah, that's the way we want it" or something like that. Honestly, I'm not too sure what he said because it was all one big blur and AMAZING. And at the end, he said "oh, thank you, Rachel" - and I was like o_O. Seriously, amazing amazing, wonderful actor and person.

So then we had lunch and when we got back Justin had his panel and he was hilarious! I felt like he was more focused and with us for the panel. He was wonderful. I loved when he ran out into the audience to hear a question. And this woman in the front kept correcting him with words - like archer and aquaphobe, I don't know. And Justin did talk about his pilot that he filmed - he thought that it was practically written for him, his character is all snarky and he really, really enjoyed it. I think I have that on audio.



(Can't get over how much he looks like Jason Dorhing)




After that I went out to get Jason Manns to sign my CD I bought from him last night and OMG the guy is from Virginia! He was born/grew up about an hour from where I live! WHEE! And he's doing a show at the end of the summer either in Richmond or Fredericksburg and he said I should join his Myspace to keep up with the schedule. And who am I to say no to a pretty, tall, friends-with-Jensen, amazing singer?




And after Justin's panel was Alan's and he sang for us too! He seriously is just a very kind, honest person, and I think he's a great guy.




After that was the chaotic leading in and out of the Main Hall while they rearranged chairs and lost of awesome seats. OH! And I met LJ fangirls for the first day there! And they are awesomecakes! When we got back in, there was the auction. And I went INSANE and got into this bidding war before winning THIS kick ass autograph:



11 actors/singer, 11 signatures. Only 3 are in existence apparently. Please do NOT share this image! PLEASE.

And here are a couple photos of Jenny Mollen (Nina from Angel) and Mark Lutz (Groo from Angel) joking and looking at the signed photo of Jensen that went for 400 pounds! (that's $800 American money).




And here is Jenny auctioning one of her paintings:



Lastly was Jensen's panel and it was AWESOME! He was hilarious, very very very pretty, very relaxed, and there were so many great moments. He made the Blue Steele face (AH! I MISSED IT FOR PHOTOS) and said that Jared is literally making that face ALL the time if a scene goes too long or they haven't cut yet. And he was lazy in one photo. And the day that he and Jared wore dresses to the set there were also wigs. HEE!

We asked him to sing REO Speedwagon, but he refused. Haha, and then he yells out for Alona, and he says something like "thanks for that one!" and she says "you're welcome, babe!"

Also, he did mention that the cast will know about S3 for SPN either Monday or Tuesday this week before the Upfronts, so it's not a huge surprise for them there. *crosses fingers*

And then he was asked to say a Sam line, so the one he chooses is "DEAN!! SALTGUN!!!" and is all teehee, "I just love how he says those lines."

And HE brought up the Wincest first! He was asked about fan fiction and he was all "there are some disturbing and freaky fan fiction out there and there's this whole......Wincest." And I'm just *palmface* because OMG. And then he goes on to say that he and Jared have sat down and looked at it, only because Kim Manners told them to, and I think he was joking about the Kim Manners bit, but apparently they ALL know about it.

And then we had a crazy fan who actually asked him about how he deals with the fact that Dean and Sam are sometimes portrayed as "two gay lovers." \0/ And WOW. Jensen tried to play it off and said that it was totally, completely wrong said that Kripke is well aware of it and is just making fun of it in the recent episodes, for sure. SO KRIPKE IS ON LJ SOMEWHERE GIRLS! WE GOTTA FIND HIM. But really, people should know NOT to ask these type of questions when not ONLY is Jensen in the room, but 9 other actors that work with him are in the same room.

Also, he did mention the fight that they both had back in season one that we read about in a magazine article. He was all "he came at me, and I came at him, and then he stormed back to his trailer and I stormed back to mine. And then I went to his trailer and we hugged it out." HEEE! Hugged it out!

When he was asked about his best physical feature, he goes "Well...my best physical feature..." *looks down at his crotch for a long time and then back up, smirk* "and my worst is my Texas bowed legs." ?

And Jared's nickname is Jarhead, Sasquatch, idiot...I KNOW the girl was trying to get Jensen to say Smeckles, but he didn't.

And I KNOW I'm missing stuff, but I need to listen to the audio recording and add in what I missed. I'm going to try and convert the video recordings to just audio .wav files for anyone who wants to download it. I do have a few with video, but these might have to wait until I get back to the States.



LAZY!



"C'MON!"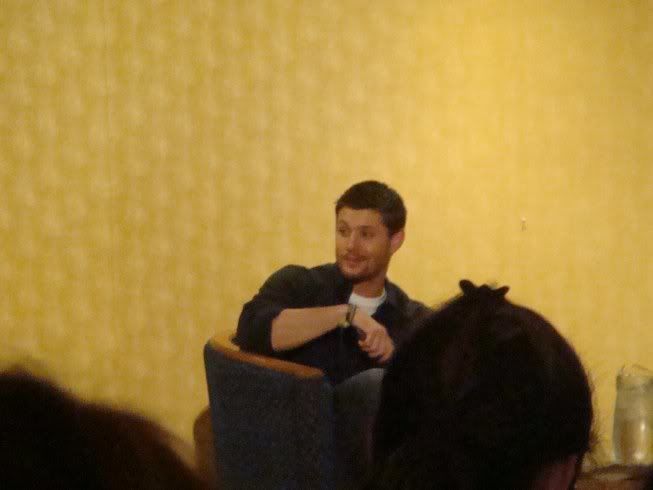 EYEBROW!




And after that was the closing ceremony where they all came back out and said their thank yous. They were an AMAZING cast to come over and hang with us for the weekend. I'm so glad I got to meet them all and they are seriously, the BEST (not including the Firefly cast).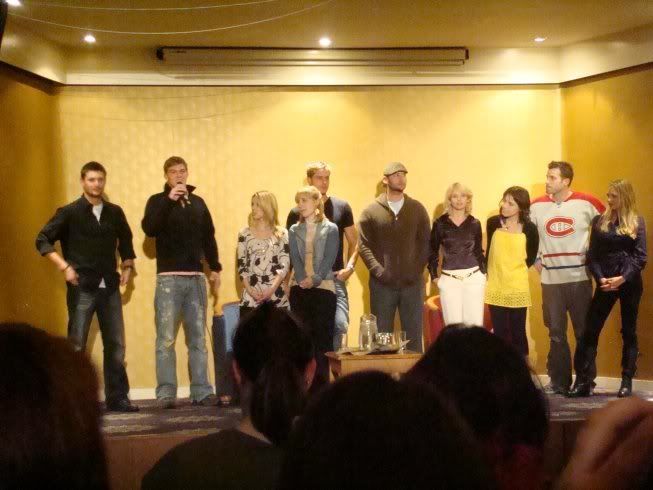 And HI TO ALL OF MY NEW LJ FRIENDS! WOW! SO many new buddies!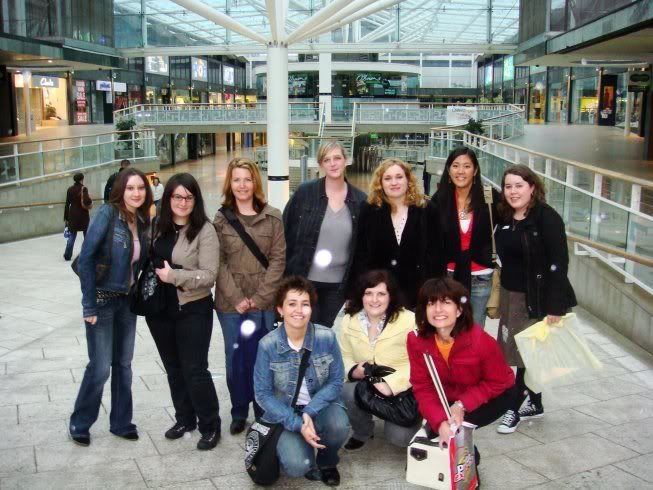 HI
ckll! *waves* to
dullemarulle! The next time I am in Denmark (hahaha) we will have to hang!

OK, so that was it for the con! It was AMAZING and WOW. The US needs a SPN con, seriously.

I know I'm missing info and quotes from the actors, but I'm absolutely exhausted, so I will try to add all of that soon. And I promise I will try to get the clips online somehow - that is, if you don't mind my stupid laughter/a sneeze/and talky talk in the background? Let me know?

Oh! And P.S. Jared is a blonde.