SO! THE day of all days! 700 fangirls, 7 actors. Endless ways for everything to go wrong. (Ahem…)

Surprisingly, things went rather smooth the entire day (*sigh* with the exception of one thing...see my post for more). It was chaos at the very beginning of the day but once people started catching on to where they were supposed to go when, it got a lot better.

OK, so the convention started with Jensen on stage saying HOWDY. And then he had to leave b/c he had a photo session right away. DEAR GOD. I was waiting to get into the main hall and he walked RIGHT by me and I was awestruck. He was wearing the same jacket that he wore to the Ten Inch Hero viewing, and this yummy collared shirt/sweater thing. YUM.




So, the first panel was with Justin and Alan. And they're funny. They're nice. Alan likes to play chess and Justin loves his family and they're both so adorable guys. They were joking about having both played Aquaman and Justin said "And I was the best one. Alan said it himself, I was the best." They both said that their costumes were a bit confining ;) and I think I have something recorded, I'll have to check.




And then it was JENSEN TIME. OK, here's what happened. Apparently, Jensen was on his way to the panel when a fan - get this - jumped off a flight of stairs, like landed on him, and then proceeded to wrap her arms AND legs around the man, before he threw himself to the floor and had to jump over her to keep going. He was shaken and didn't come for the panel for a good 15 minutes. The girl was thrown out of the con and Jensen probably looked like this: o_O x a bajilionty

OMG YOU GUYS. Jensen was practically attacked at the con. YOU GUYS. Like, REALLY?!

But then he came out and it was AMAZING. Absolutely amazing. I have a bit of video and a lot of audio I'm going to upload. Including...prank wars (he and Jared have learned that it's better to work together than try and prank each other), filming, and the mega- "director's cut" edition of "The Bee Story." HAHA, I love how a fangirl specifically asked for him to tell us the tale because it has become THAT memorable in fandom. Seriously, and I heard stuff from this telling that I had never heard before. Apparently on the second take a bee flew down Jensen's jeans and literally stung him in the ass. And they were shaking a tarp to get the bees to fly up and there was a part where Jensen had to knock down a poll, and it was crawling with bees and he was all "I'm a smart boy!" and kicked the poll right before he grabbed it. They had to get tested if they were allergic to bees and he was explaining how the crew was getting in the bee suits. OH JENSEN. Thank you for telling the story like a pro. Good times. I'll definitely get that uploaded.

Haha, we all know WAY too much about that scene.

And he is VERY nervous about the play. He hasn't done stage acting in 11 years, and he's definitely nervous. He's not 100% of how he will portray the character but he's excited and nervous...and didn't mention anything about stage door events. But I see him tomorrow for my photo and to get all my stuff signed so I will ask him then!

One prank he did mention was when he and Jared were getting new trailers, there was a huge water leak on Jared's trailer….like 5 inches? I don't remember. Anyway, Jensen toilet papered his ENTIRE trailer and then one of the crew guys had a can of "fart spray" and Jensen sprayed it all over Jared's couch, furniture, and stuff in his trailer. OH BOYS.

I was surprised that when he was asked about his favorite episode, he still says "Dead in the Water" - shouldn't there be something new by now? I figured he would have said something from this second half of season 2, but there were some loose rules about spoilers since this is the UK and they're only up to BUABS.

And he prefers the funny and stunt scenes over emotional. And He LOVES the Metallicar. He was explaining the different models they have and that he wants one after the series is over.

Even he doesn't know about 3rd season, but he says it looks good and that he hopes the show will go for 3 or 4 more years, I think that's the number he said.

And he said "Dude, you fugly." HEE!

But he was clearly very thankful of the fans, and said several times "I love you guys, I wouldn't be here if it wasn't for you."

And I was actually talking to Andy, one of the senior staff members, and he said that Jensen's publicity team actually wanted to pull him from the con a week before the start date because they didn't think it was the best image for Jensen to put himself in. And Jensen himself said "no" he was contracted and there was no reason for him not to appear and he was interested in it. So, you guys, he could have bailed, but he didn't.

And after the panel, Jensen actually felt bad that the girl got kicked out of the con. See, the man is PERFECT.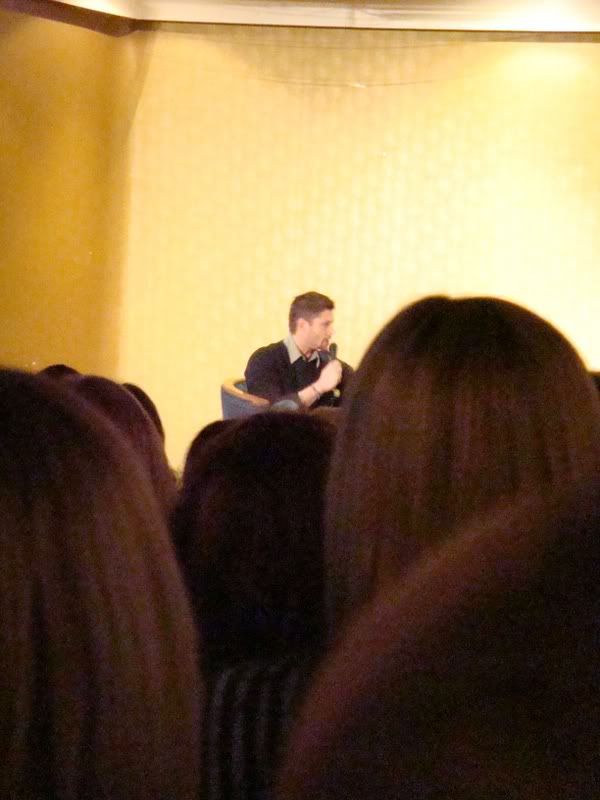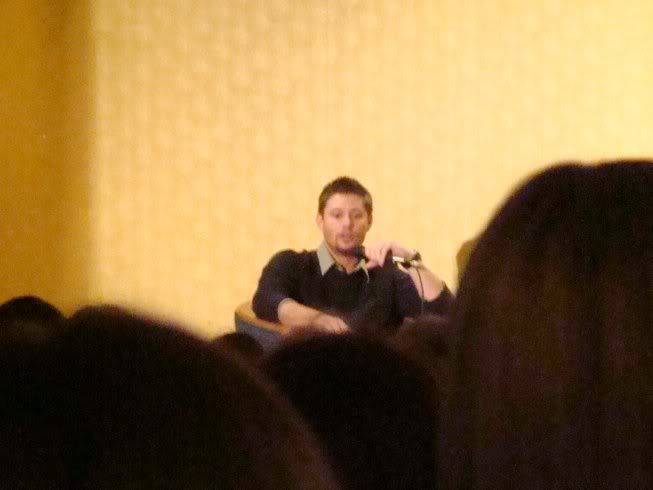 So, after Jensen I got autographs from Nicki, Alona, and Brooke. All who I LOVE now. OMG these girls are so sweet, Alona especially. She was the coolest of the three and makes me feel like I should like Jo. She and I talked about Veronica Mars, because I didn't really want to ask about SPN, and she's just sweet.

Haha.

So, after lunch I got autographs from Justin and Alan and they are a hoot. Heee! And I picked up my photo with Justin…I'm being a dork and getting photos with all of the actors, because I figure I'm never really going to meet them again in life.

And then we had the panel for Allison Mack, who I think is the sweetest, most enjoyable actress ever. She was really interacting with the people in the panel, moreso than many actors, and she was just a hoot. She was making sure that everyone got to ask their questions and she was cute and sassy. She had some great dirt on Tom....OMG I have to remember what it was.

One thing she said was that while Tom is running around to film the super-speed scenes, he makes his own sound effects for fun. Like "WOOOOSH!" and "Shhhhhhhzzzzpppp!" OMG TOM.

And one day while filming she and Tom were doing a scene and Tom shoved her into a desk, since he's like twice her size. And the next day she had this HUGE bruise on her bum, and when someone asked her about it, she said "oh, Tom just bruised my bum." HEEE.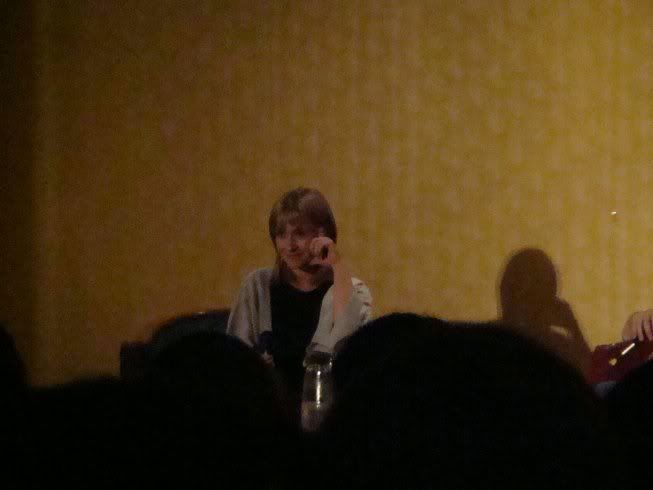 The final panel for the day was with Nicki (Meg), Brooke (um....chick from "Asylum"), and Alona (Jo), and they were great. Brooke's best story was that one day of filming the episode "Asylum," Jared and Jensen both showed up in women's dresses. BOYS.

Alona wouldn't even mention the pranks, apparently they were that GOOD. Hmmm, I definitely have something else to say about her for the panel, but can't think of it.

And Nicki was sweet...she seemed like she didn't really want to answer the questions, she was very quick to answer and didn't elaborate much. Hmmmm. But Alona and Brooke were both very nice, and the entire day of events was very enjoyable. I loved how they handled the photos/autographs/panels - very nice how you can get up and leave but keep your seat. I know that would NEVER happen at big cons like DragonCon.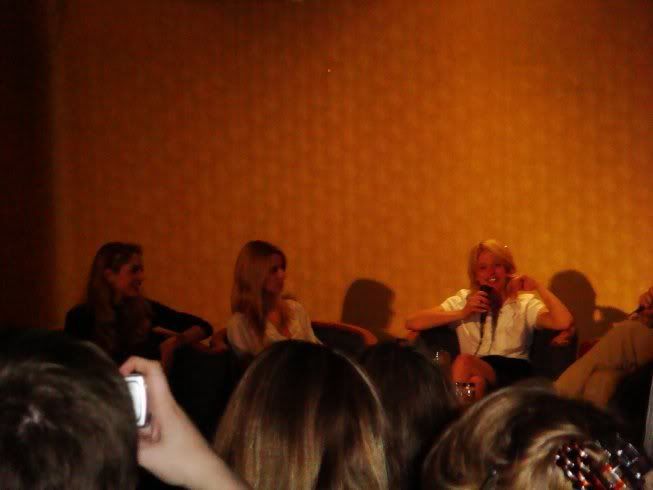 Tonight is the concert with Jason Manns and he did verbally invite Jensen to come jam with him tonight. After the events from this afternoon I doubt he will because DUDE THE GUY WAS JUMPED, but who knows! I'm looking forward to Jason and we'll see what happens!

Tomorrow I get my photo with Jensen, Alona, and Brooke, and autographs from Jensen and Allison.

So! That was day one of the con! Success and fun throughout. I'm hoping that tomorrow will be ten times smoother because people will know the flow of things.

Feel free to share this post with others who might be interested in the con! It's not f-locked!