It's finally here: a brand new legacy. I included some pics of the ill-fated Orange legacy that I started before re-installing the game, and I tweaked Lola to create the new legacy founder.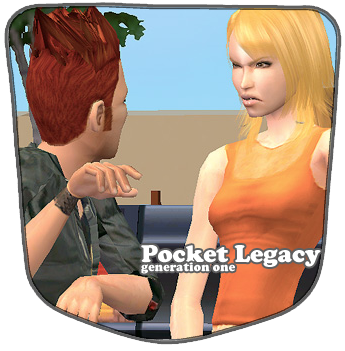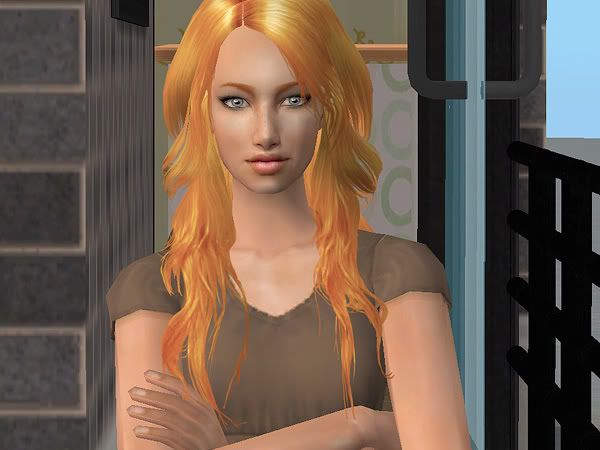 Lola was going to go places, man. She had it all...



She had looks..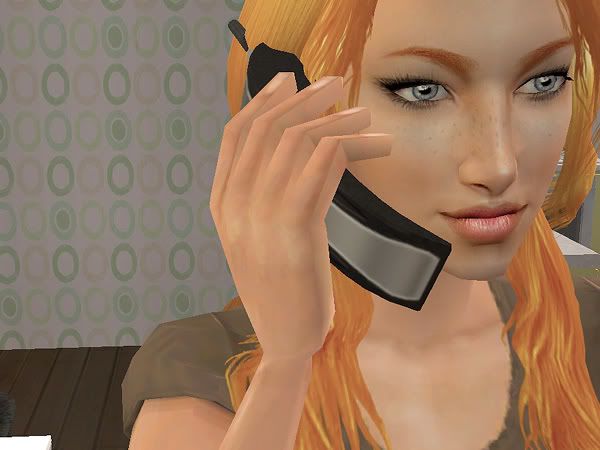 ..she had charisma...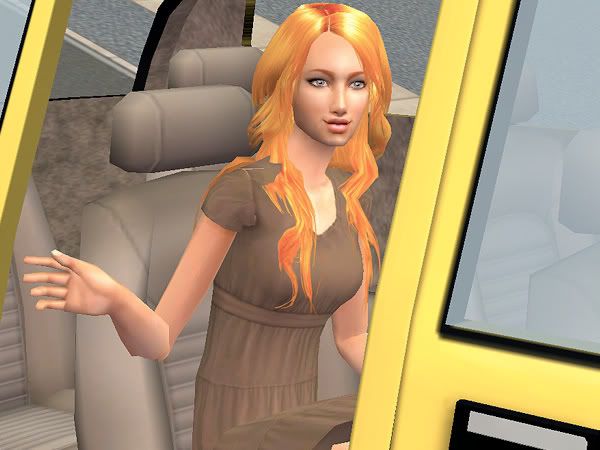 .. she even had money for taxi fare...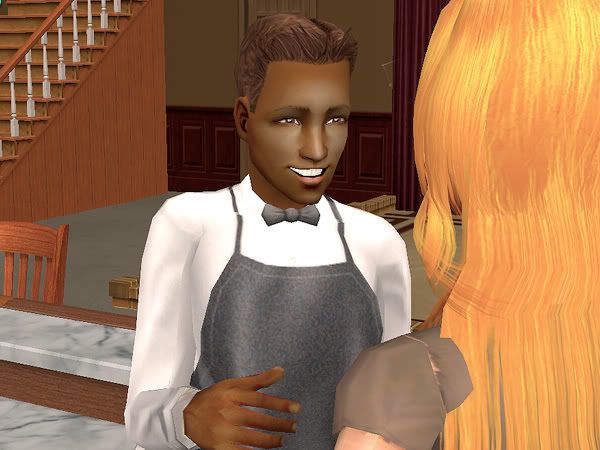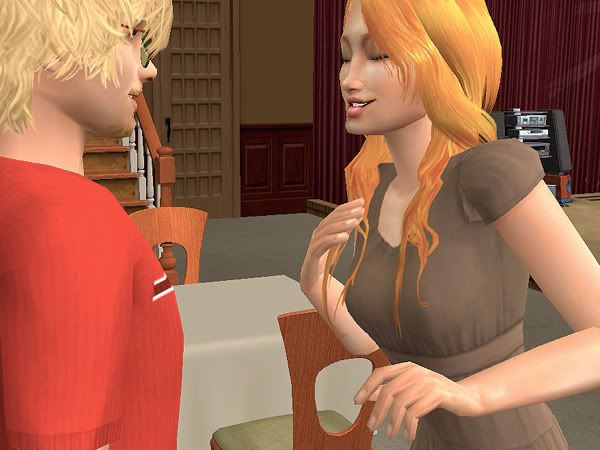 ..and she even drove the men wild, or something like that.



I was totally recycling prospective males, but I could not resist. Until the game crashed. Again. And then I did.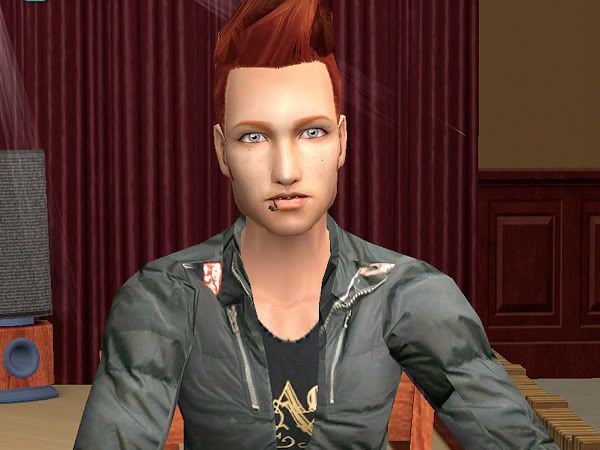 Now meet Hudson Pocket, the new legacy founder.

Hudson Pocket
Knowledge- LTW of being Chief of Staff
Capricorn
Neat- 7
Shy- 4
Lazy- 1
Playful- 8
Nice- 5

I triple checked him before starting: I changed genders and ages to determine if he's founder material, and he is. He's really great looking without being a Maxis cookie-cutter face. Besides, there's rarity in male founders, so that's a plus too.
I'm not directly following legacy rules. He's not a starvin' Marvin (meaning motherlode-ing a lot) but everything else I'm pretty much following.



I'm not kidding when I say I planned this beforehand. Even after making a custom neighborhood and deleting the old Townies/NPCs and respawning new ones, I put all the teen Townies into college so I could respawn new ones and I looked through the ones I liked best and gave them a makeover. Willow Cameron, seen here, was the top of my list. Unfortunately, they could. NOT. get along.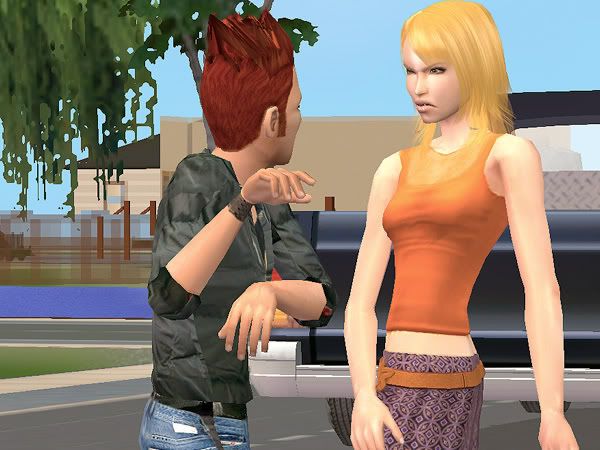 Backrub? HELL NO.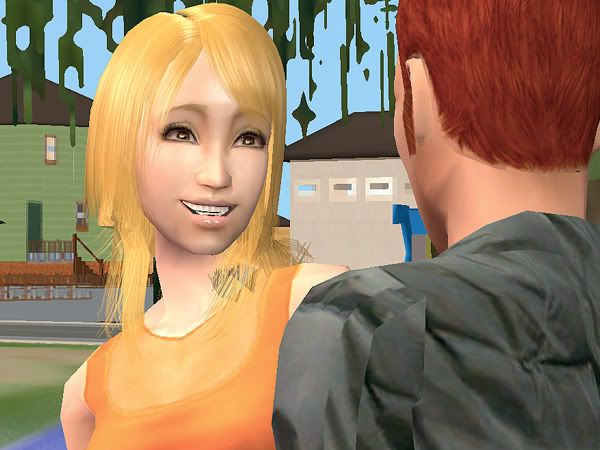 Yet she likes being told how hot she was. Stroke my ego, but don't stroke me :|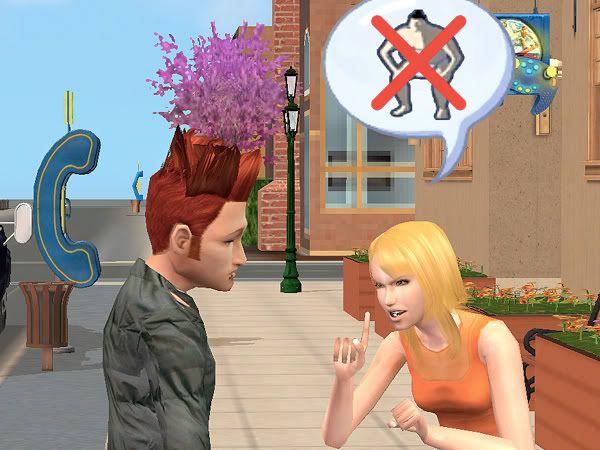 Even his love for sumo wrestlers was shot down by her. She was just negative, negative, negative.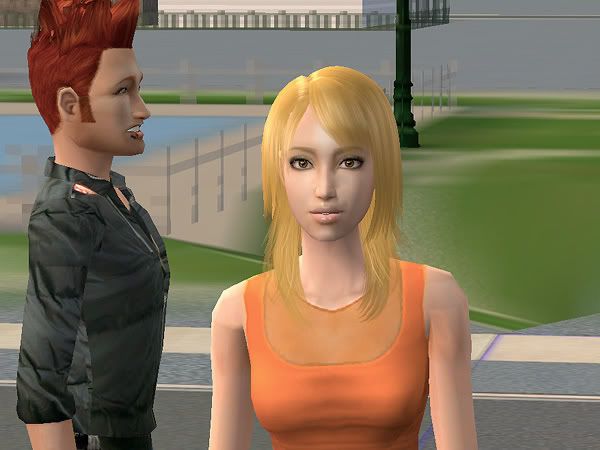 Yeah, they weren't getting along at all.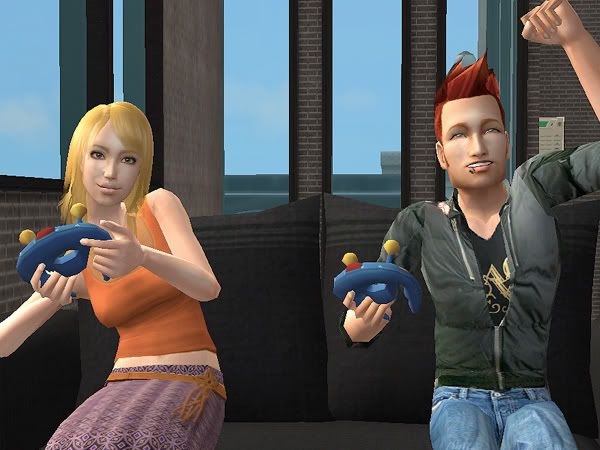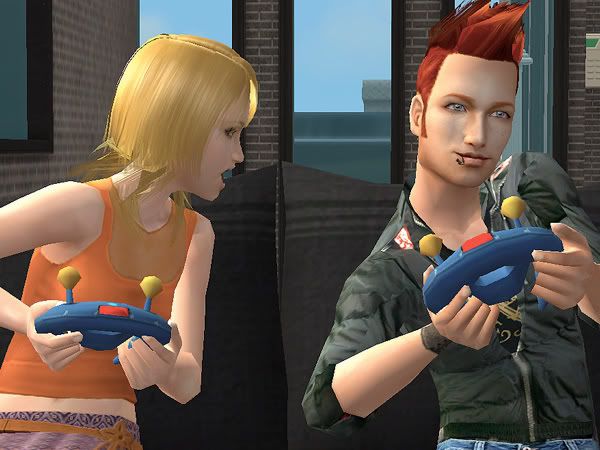 I gave Willow a second chance though because all of his wants were Willow-related (good going, knowledge sim). Probably my fault he's turned on to makeup and blond hair, and hates stinky people. She was pretty hot to him (but it wasn't vise versa- she likes black haired people with glasses). So same old, same old Willow being Debbie Downer.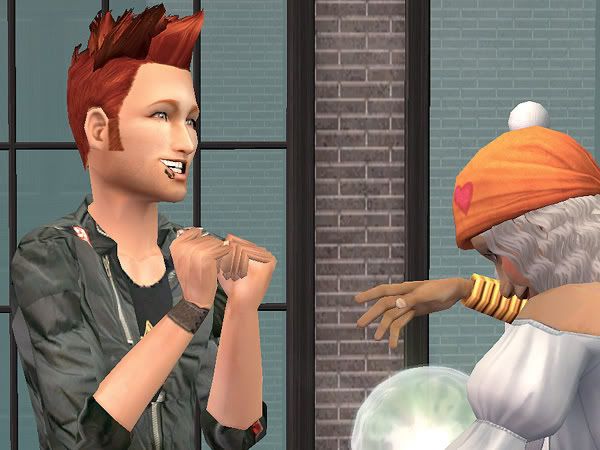 So screw her. I went to the Matchmaker, paid her the full amount... and she gave me an elder. Thanks.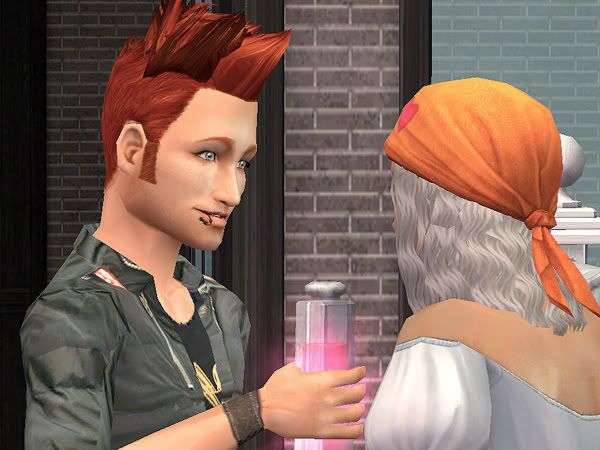 When in doubt, buy love potion.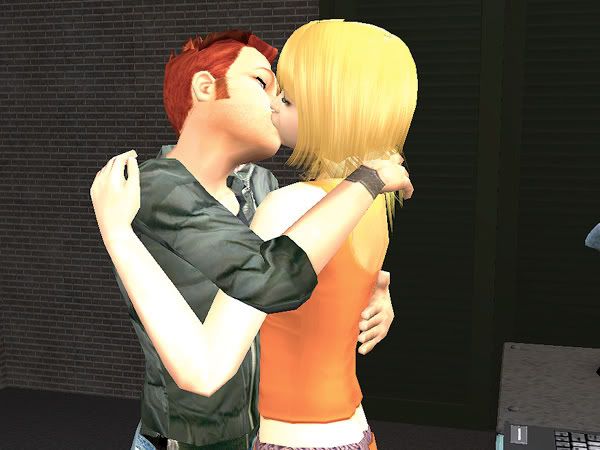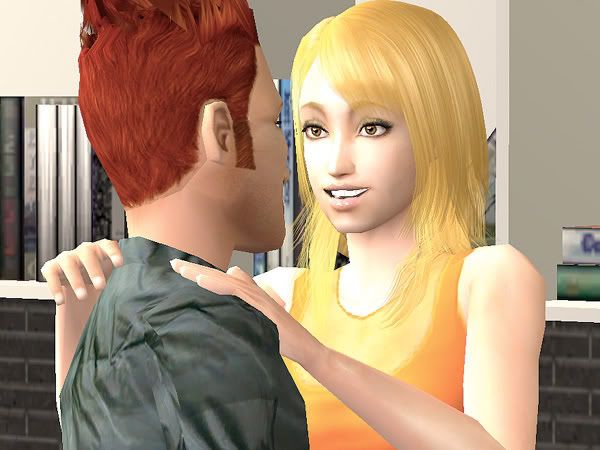 She didn't completely suck anymore, hooray! I thought it was too easy how the Love Potion worked.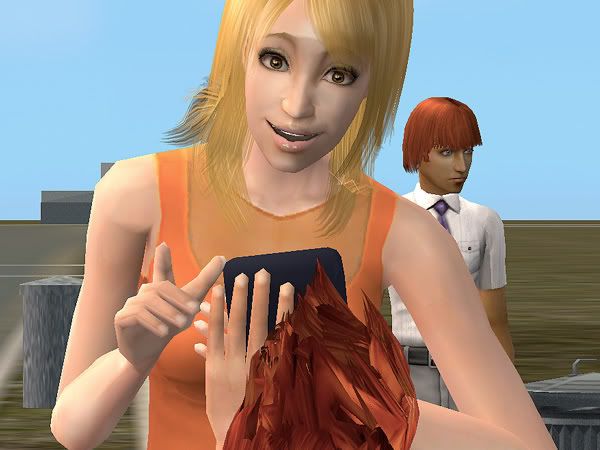 Eventually they got engaged and married pretty quickly.
Willow Cameron-Pocket
Popularity (UGH)- LTW of being Celebrity Chef
Aries
Neat- 5
Outgoing- 7
Lazy- 4
Playful- 6
Grouchy- 3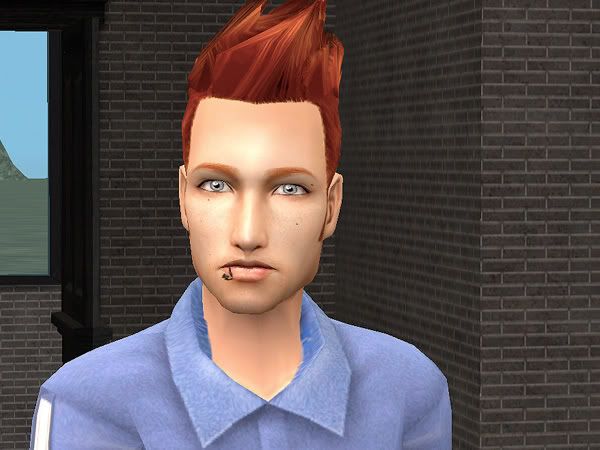 I put him in the medicine career, and her in the culinary one, repsectively.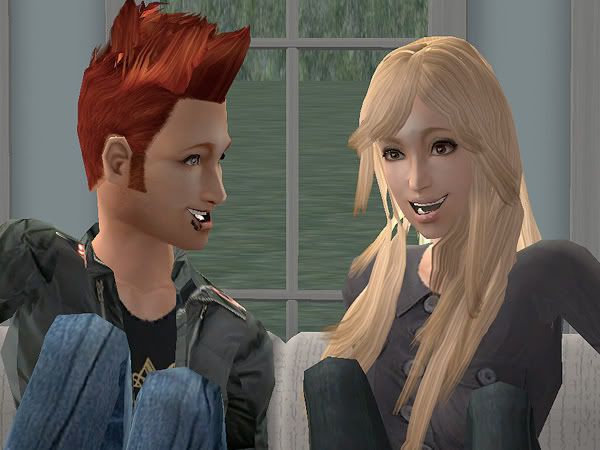 First thing to do? Make some babies.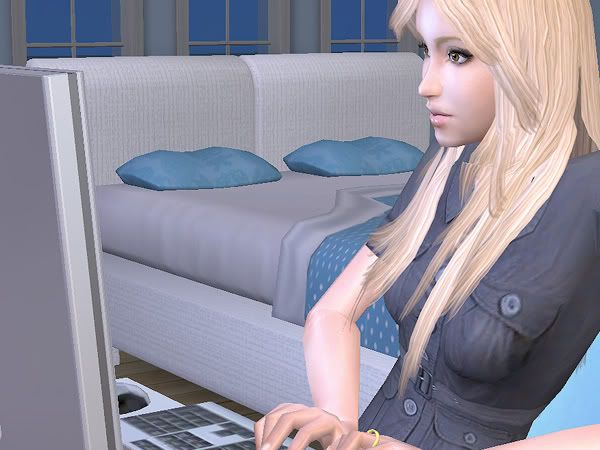 Hera Branch was an awesome Popularity sim. Willow Pocket? Not so much. I hate Popularity sims.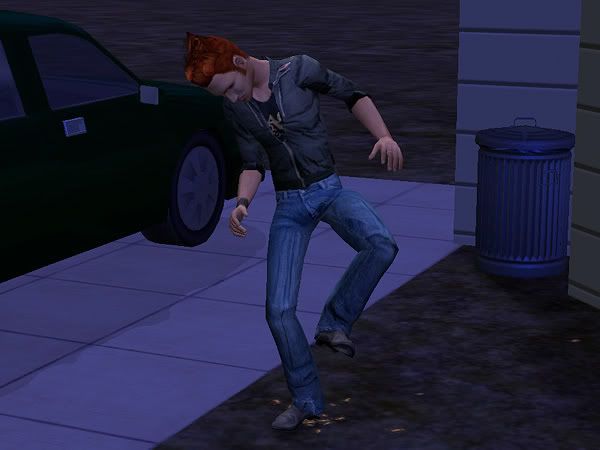 I don't remember when the trash can was knocked over, but it did and it gave Hudson the flu.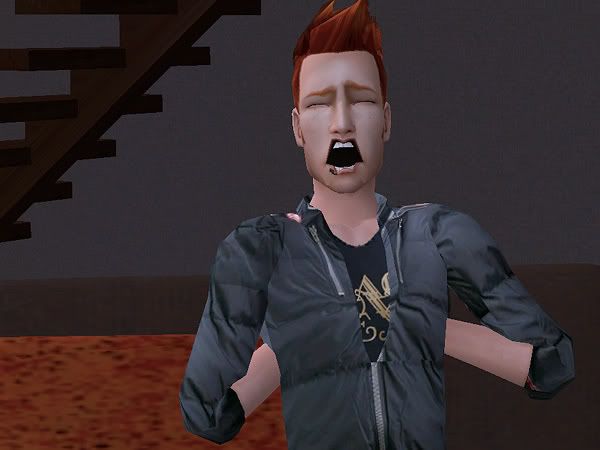 He cried so hard over it, it was stretched out of control.



When in doubt, try to make more babies. This time it worked.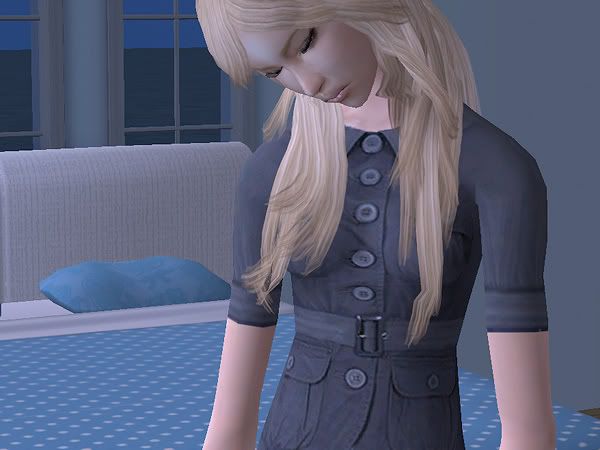 Willow was pretty good as being pregnant (even though she fell asleep in front of the freaking bed, and she lost points for that).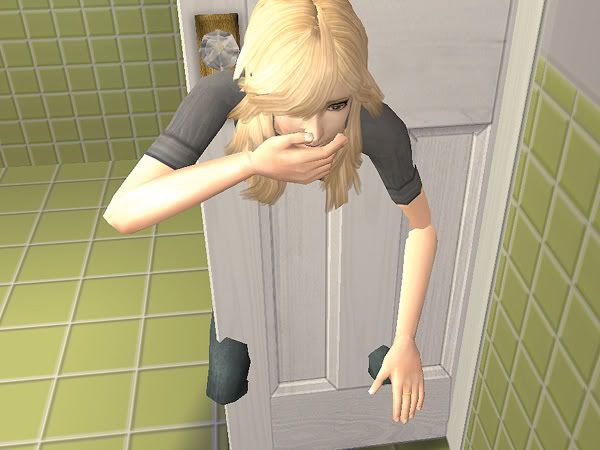 Hey, when you gotta blow you gotta blow.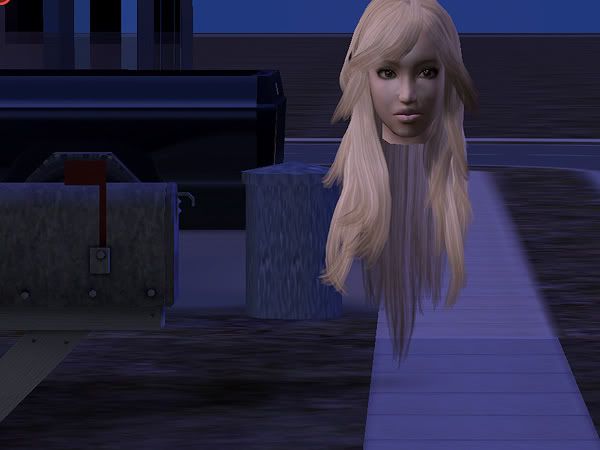 I did have that glitch because a default maternity outfit wasn't working (and it probably still doesn't, woe) so she was bodyless with the maternity outfit on.



She looked normal, I thought.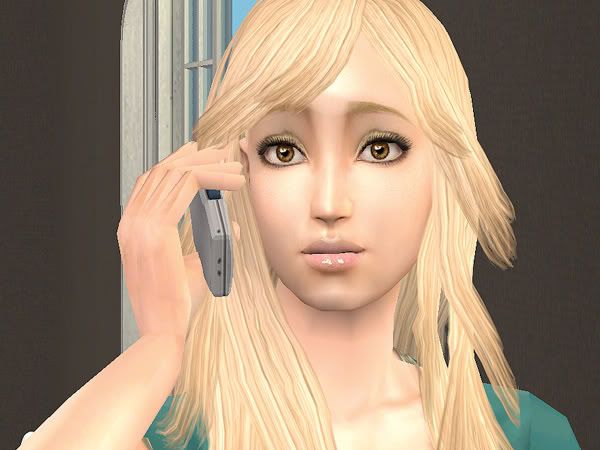 I still hate Popularity sims though.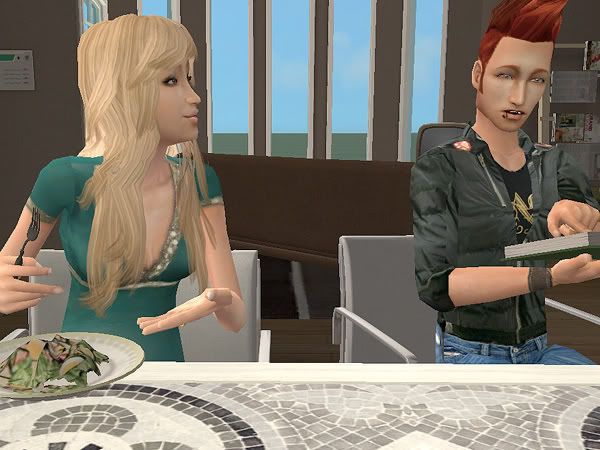 One thing that annoyed me is that she would eat while Hudson was studying, and she tries to talk to him no matter how many times he didn't answer back. Then again, all she did talk about was herself and makeup. No wonder he ignored her.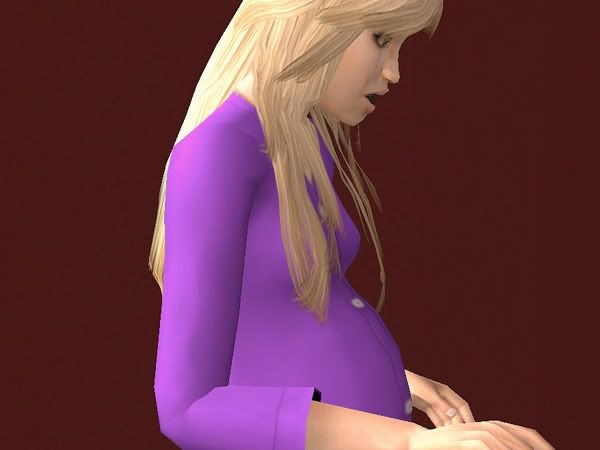 Pop again. Again, I thought she was normal-sized.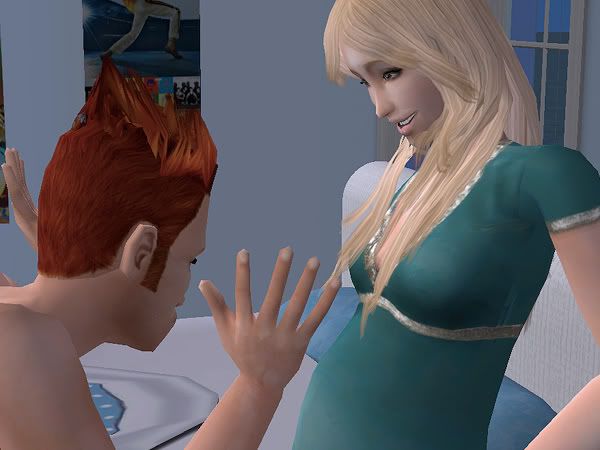 Hudson was excited to be a dad.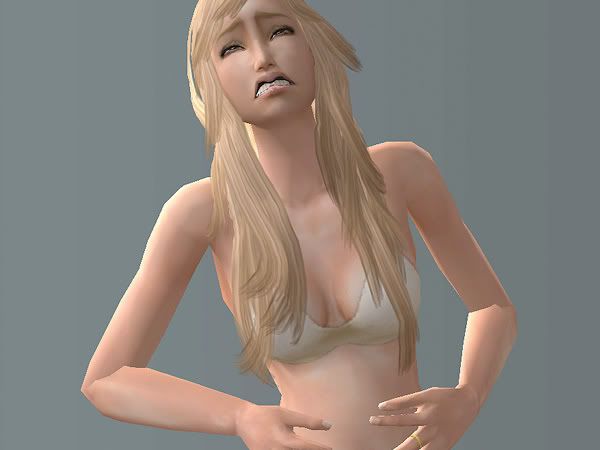 Fast forward to the birth. What was Hudson doing during this?



The spaghetti wasn't going to eat itself, you know.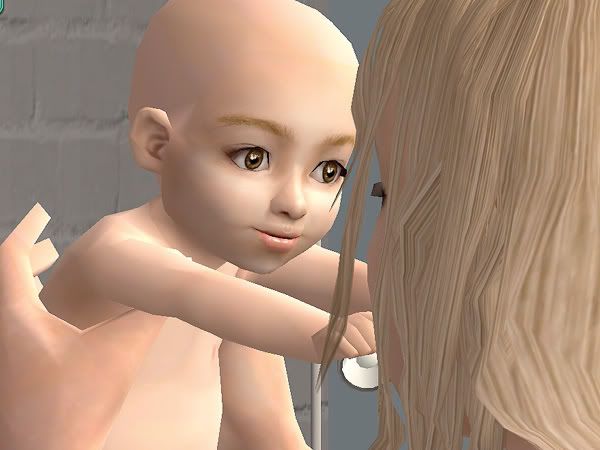 A little girl named Gracie (as mentioned, I was watching "Big Trouble in Little China", so hence the name).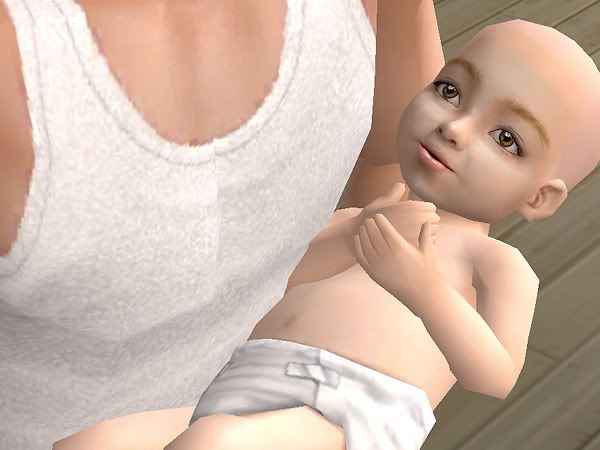 Willow gives Gracie to Hudson because... yes.... natural twins.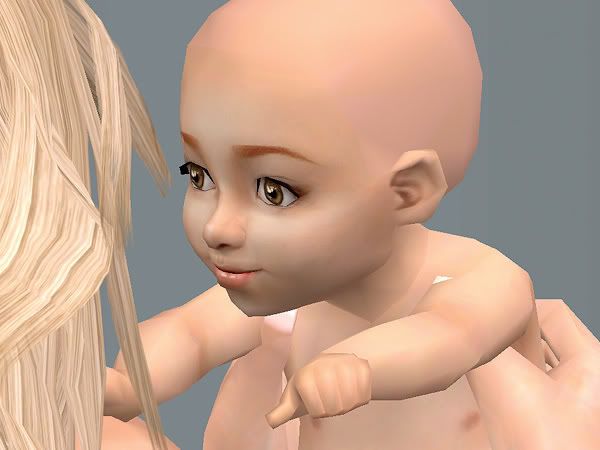 Another little girl named Margot (I thought Gracie's friend was Margot, but it's Margo but I like Margot better). Both girls have their mother's brown eyes and light skin, but Gracie has blond hair and Margot red.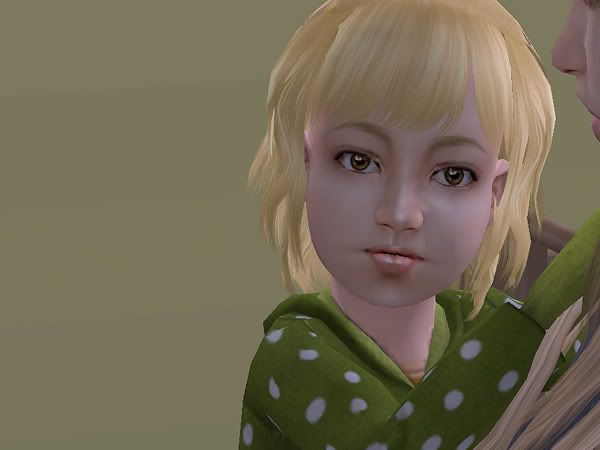 Gracie Pocket
Taurus
Neat- 8
Outgoing- 8
Lazy- 2
Playful- 8
Grouchy- 3
Total- 29 points
Gracie has her mother's chin, nose, and eye shape, and she has her father's lips.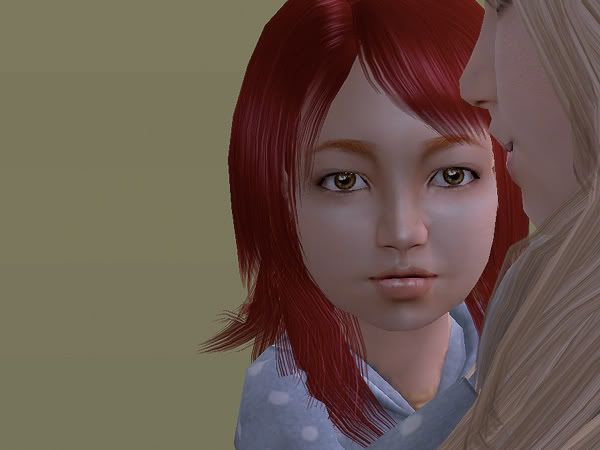 Margot Pocket
Capricorn
Neat- 10
Outgoing- 7
Lazy- 1
Playful- 10
Nice- 7
Total- 35 points(!)
Despite having her mother's nose as well (I HATE Willow's nose, I much prefer Hudson's), she also inherited her mother's lips. She has her father's chin and eyeshape, which makes her a better choice of heir. They're going to have more kids, because I hope I can get that perfect combo.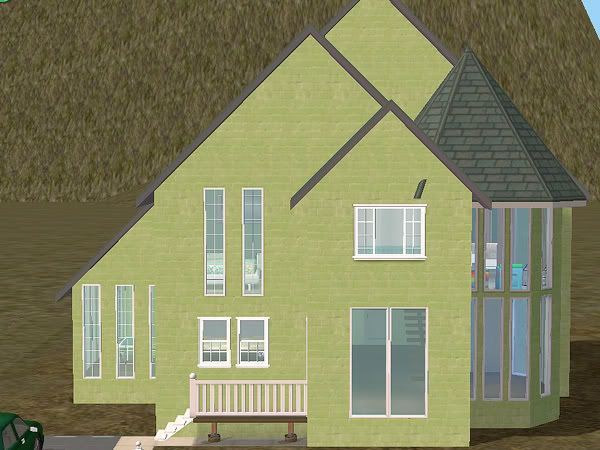 I'm lazy with making houses at the moment, so I'm just editing the Maxis-made ones. Besides the fact that the octagonal-roof thing is sticking into the house, I like it a lot :D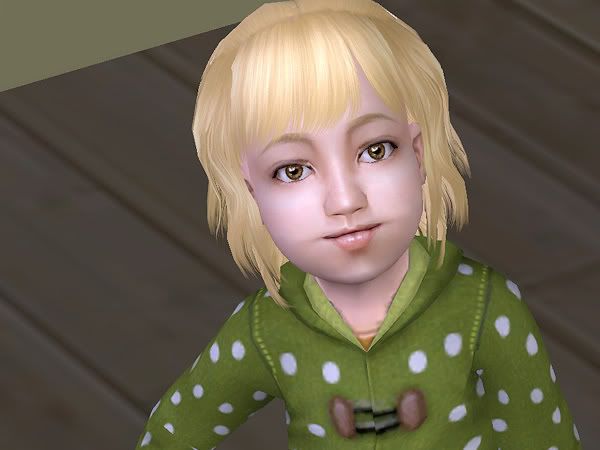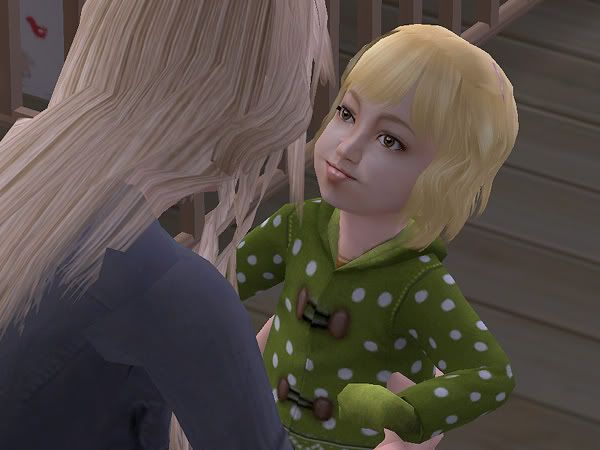 The more I look at Gracie, the weirder I think she looks. I did take a chance using Willow as genetic material, but with default face templetes... and Hudson I doubt it'd backfire on me.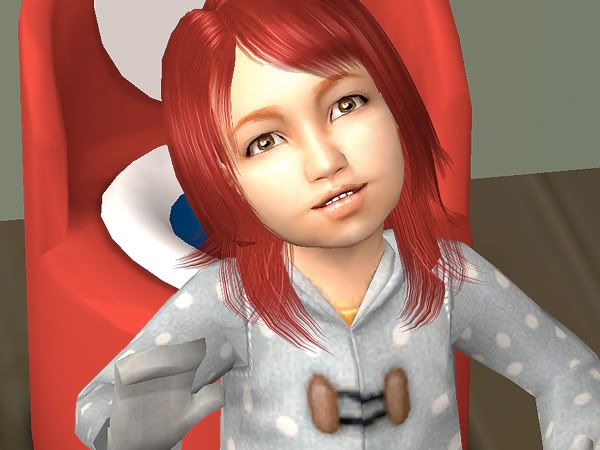 Besides, Margot is probably THE cutest toddler I've had. I get attached pretty easily, so half of me wants a kid with Willow's lips and everything else Hudson's, but the other likes Margot so much.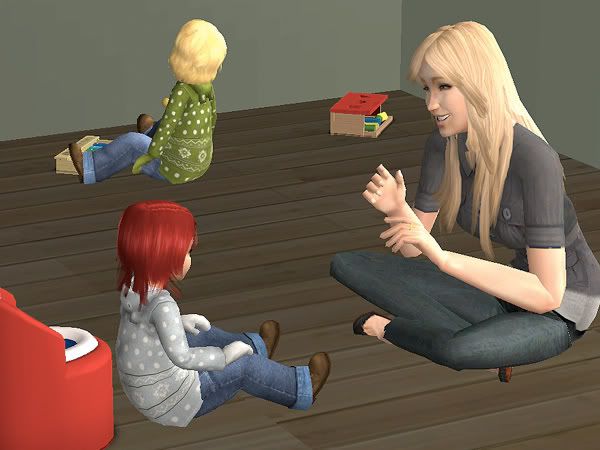 Yeah at the moment, I'm playing favorites. Oh well, hopefully we'll have more kids to determine who'll be the first heir.. and it won't be random-out of the blue as the Branches were at the end.

Once a generation two heir is crowned, I'm putting Hudson up for download. I'm curious about what kind of kids he'd make :0