It is a sad day indeed. Joss has proclaimed ME no more. I can cry into my foamy drink or I can let go and just let it all hang out. Here I am, letting it all hang out.
In memoriam of one of the greatest production companies, ever, I post a sad little tale. I'll never see my Spike again but he lives on in my heart and in my fic. Now, back to the foamy drink.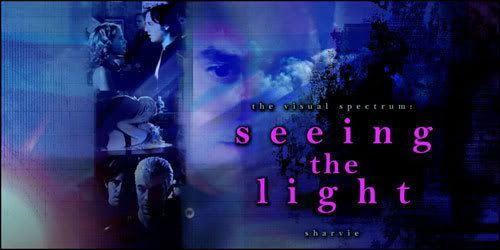 Banner by the wonderful
selene2
from
banner_grab
Title
: The Visual Spectrum: Seeing the Light
Rating
: Soft R
Summary
: Xander makes a deadly error in judgment and only pieces the puzzle together when it is much too late.
Timeline
: Post LMPTM, goes AU after that.
Pairings
: Allusions to Xander/Anya romance and Xander&Spike friendship
Warnings
: Major character death, abstract stream of consciousness, and allusions of rape and/or possible non-con.
*This is not a happy fic!*Disclaimer
: Not mine, wish they were
Beta
:
crazydiamondsue
, who somehow managed to boost my ego, in part insightful wisdom and keep me on track, all in the same sentence.
A/N
: This is a stand alone piece but one day I'd like to explore the story further.
A/N 2
: This is not at all a shipper fic of any kind although it does deal with Xander's feelings towards Anya and his budding friendship with Spike.
(
Collapse
)