An experiment in Tribal...

Intro
Empusae - Misere (Empusae vs This Morn Omina) [Funestus, Divine Comedy 2002]
Tzolk' in - Zotz (Flint Glass Mix) [Circumsounds, Tympanik 2008]
Geomatic - Turn of the Coil [Blue Beam, M Tronic 2008]
This Morn Omina - Taliesin [Le Serpent Blanc ~ Le Serpent Rouge, Ant-Zen 2003]
Broken Fabiola - Japanese Call Girl (Manufactura Remix) [Her Awful Goodness, Auricle Media 2003]
Portishead - Machine Gun [Third, Universal Island Records 2009]
Ad.Ver.Sary - Just Spooks (Bone Music, Tympanik Audio 2008]
Hezzel - Intact [In Focus, Absetzer, 2010]
Monolith - Talisman [Talisman, Alfa Matrix 2006]
Outro





Five Points of Interest...an excursion into the sound of late night...enjoy.

Intro - Nicole Blackman "Christians Calling"
Ahnst Anders - Still Here [Many Ways, Ant-Zen 2009]
Seabound - Breathe (HECQ) [When Black Beats Blue, Metropolis 2009]
Millipede - Deepest Peace [All My Best Intentions, Hymen Records 2009]
Talvekoidik - Such A Perfect Day [Silent Reflections, Brume Records 2007]
Aphorism - Msect (Disected by Tapage) [Surge, Tympanik Audio 2009]
Outro - Nicole Blackman "Christians Calling"



Current Music:

Five Points of Interest

Stiffness aside, sometimes falling asleep on the couch has its advantages; being that our windows face the East to the rising sun which fills the room with its light and wakes me with it. I woke early enough to drive out to Lake Washington to walk along its shore, to sit and mediate to the sound of its gently lapping waves; to feel the warmth of the suns rays. To become centered and present in the day.

After spending some time looking out across the waters, I climbed back into the car and headed out to Best Buy in order to buy Sky a flash drive; can you believe that these are required in sixth grade now? While there I couldn't help but purchase one of the newly remastered Beatles CDs, Rubber Soul, which is probably one of my favorite of theirs. I was feeling nostalgic, what can I say? While listening to it on my trip back home, the convertible top down, I was visited by a remembrance. A memory of a time over which my mom and I actually bonded over something, the love of The Beatles. I remembered how we both used to look forward to waking up early enough on Sunday mornings so we could listen to "Breakfast with the Beatles" on the radio. It was worth a spontaneous $12.99 for such a good memory to return. I regret that she was a lost soul, but I cherish those moments that she was present and I was able to share in them with her.

Current Music:

Front242 - With the Fire
HEY LOS ANGELES PEOPLE! GO SHOW SOME LOVE!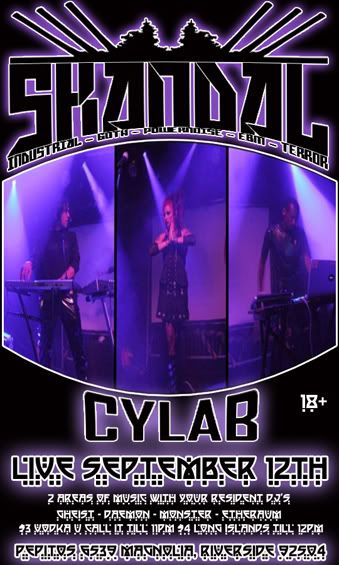 First Los Angeles show in over a year! SO Don't miss your chance to see them!
They'll be performing the songs you love plus some new ones from the up and coming album, "Cut & Coil".

CYLAB at Club Skandal
Saturday, September 12th at 9:00PM
Pepitos Nightclub & Cantina
6539 Magnolia Avenue, Riverside 92504

www.myspcae.com/cylabband
www.myspace.com/clubskandal

Current Music:

Millipede - All My Best Intentions

SO not fair! Where's our U.S. dates! I think I just might cry now.

"December 2009 sees the return of Public Image Limited for 5 very special live dates in the UK. Their first shows in 17 years.

The shows will mark the 30th Anniversary of the release of 'Metal Box' but PiL will NOT be limited to tracks from one album and the tour will showcase their whole career.

PiL founder John Lydon will be joined by former members Lu Edmonds (Guitar & Misc) and Bruce Smith (Drums), plus new recruit Scott Firth (Bass)."

Current Music:

Urceus Exit - Evenings Rush

Grey-white clouds crawl across a darkening blue sky as I write this, I watch them from where I sit downstairs in the studio, the small window an eye upon them. A day that's been heavy with rain has given way to a wind that rustles the tops of the trees. Summer is blending into Autumn, I passed a tree that had already started to show it's fiery colors; a tell-tale sign. Autumn and Fall, my favorite times of the year. A time of quiet introspection. Of nights spent around fires. Of long conversations. Of days spent lingering in bed, entwined. There's something peaceful and calming about Autumn and Fall.

Rightly so then it is also a time of endings...of transitions...

...I think I am coming to the end of my journey with Heather, my therapist; not because she is herself moving on to private practice, but because it's feeling right to do so. Come December when she leaves, I don't think I'll pursue obtaining another therapist. I have worked out much with her by opening doors, looking in and clearing away debris. I find that I am at peace and when she plays the devils advocate in attempts to find something wrong, there isn't. I am different, I see the world differently and where I once worried over that, I have come to truly realize that that's o.k. and it is me and it is enough. During my last session with Heather, she said I should write a book of my life. I just sort of smiled about that, as it really wouldn't be an interesting read. I haven't done much. I haven't traveled nor seen sights of interest. I've just lived a life the best I could and dealt with things that came up the best way I could. The trials I've come across haven't been any harder than those that anyone else might face in their own lives. If she meant it in such a way that it could be inspirational to some, then the best I could offer is that you always seek to better enrich yourself from the inside out. To never allow any negative circumstances to dictate who you are or who you'll become. You never have to be a product of your environment.

SeVerina has been away all weekend. Her along with Valentina and a few others are on their own journey, one after reading more about, I am touched with a bit of sadness that I didn't partake in. Though in honesty, now would not be the time for me to do so. This journey is for her. One that she can (and should) take with no worries as to my well-being during it; as it is very intense. Perhaps another time we can share in it together. While time apart is good, I do miss her and am ready for her to be home. I miss her intensity and spark. I miss her physically being here, even though in soul she hasn't left my side.

The sun has long since set, now only the trees are illuminated by the yellow glow of the street lights.

Last week I received an email that my night, PROTOTYPE, is in danger of being closed due to it not meeting it's bar quota. The news is bittersweet. I do like the night and I do believe that musically it offers a lot, but it's been disheartening over the past few months to see the numbers dwindle as they have. It's hard playing music that you believe in to a less than full room. I've never been one to be status quo, so perhaps it closing wouldn't be such a bad thing. I honestly don't know how much heart I have left to put into it. I'll just miss spinning music.



Soundscape: Dead World Echo "Revelations"



Current Music:

Cities Last Broadcast - Architecton

When you die, only three things will remain of you, since you will abandon all material things on the threshold of the Otherworld: what you have taught to others, what you have created with your hands, and how much love you have spread. So learn more and more in order to teach wise, long-lasting values. Work more and more to leave to the world things of great beauty. And Love, love, love people around you for the light of Love heals everything.

-French Druid Triad, Francois Bourillon





Shows I want to go to:



09/29 : Hocico w/ The Peoples Republic Of Europe : The El Corazon
10/07 : New Model Army w/ Meisce : The El Corazon
10/18 : Covenant : The El Corazon
11/04 : Skinny Puppy : The Showbox

Current Music:

Hocico - Untold Blasphemies (Aslan Faction Remix)


HAPPY BIRTHDAY HEATHER!


May today bring you happiness, joy and presents (of course) :p
We love and miss you guys!