For
sorrelchestnut's fic, Marriage a Trois.
By
hikaru.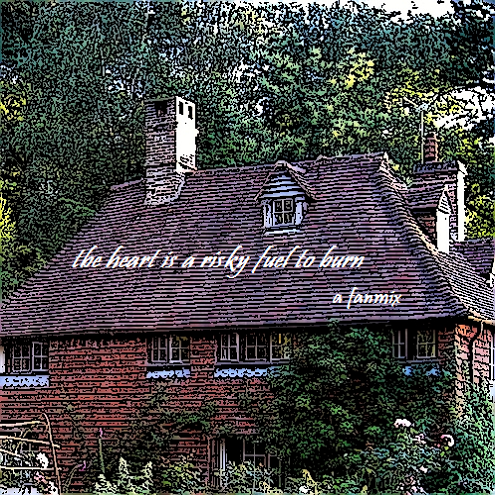 The Heart is a Risky Fuel to Burn
(Zip file, 15 songs, 83 mb)
00. andred bird - unfolding fans

instrumental
01. st. vincent - marry me
marry me, john
marry me, john, I'll be so good to you

02. the xx - islands
i don't have to leave anymore
what i have is right here
spend my nights and days before
searching the world for what's right here
03. joan as police woman - anyone
so hold me now, you who came in pieces
'cause i like whole pies underdone a little
but i feel how you burn inside.
04. jason mraz - if it kills me
this double life i lead isn't healthy for me
in fact it makes me nervous
if i get caught i could be risking it all
05. augie march - asleep in perfection
maybe i don't think right,
or maybe i lack that insight
and only the numb or the peaceful might
sleep in perfection

06. acceptance - so contagious
oh no, this couldn't be more unexpected
and i can tell that i've been moving in so slow
07. aqualung - something to believe in

we stumble into our lives
without a hand to hold
any wonder we need to find
a certain something certain
08. the swell season - when your mind's made up

so, if you want something
and you call, call, then i'll come running
to fight, and I'll be at your door
when there's something worth running for
09. kaki king - 2 o'clock

there's no need to be so terrible when you know i would do anything for you
10. regina spektor - fidelity

i never loved nobody fully, always one foot on the ground
and by protecting my heart truly, i got lost in the sounds
11. dayna kurtz - love gets in the way

and so what if everything's changed
and so what if i've held out for more
i'm all wild in places i wasn't before
i'm wild in places where i wasn't before
12. eels - i want to protect you
i say some stupid shit, don't mean a word of it
you know i got a lot of love inside me.
this world's an ugly place for such a pretty face
they're comin' at you from all sides, but they gotta get through me
13. songs:ohia - being in love

being in love means you are completely broken, then put back together
the one piece that was yours is beating in your lovers breast
she says the same thing about hers
14. gentleman reg - untouchable

all that i thought about for the longest time
all that i thought about for the longest time
but he's untouchable, untouchable, untouchable for me
15. over the rhine - rhapsodie

and i couldn't love you any more than i do right now
and the furies that i feared were eumenides to lead me here, here i linger
Photo by
UGArdner
, manipulated and used under Creative Commons licensing.