Finally all caught up with rl and work after getting back from Infinitus. I see many people already making their plans for Aeternitas, and as much as I would love to go I'm not sure if I'll have the funds or the time to make it. Maybe I'll win the lottery or something. But I do plan on making it to Ascendio in '12 and maybe heading down for Leaky Con even if it might be for just a couple of days or so.
I signed up for
samhain_smut
since I haven't drawn any nekkid people in a while, and I'm pretty much positive I'll end up doing the
hp_darkfest
also, the prompts there have given me so many ideas.
Bellydance classes have been going very well, I've added on an extra class to meet the demand. Some of my students already are interested in performing, and since we try to put on an annual show for students and our troupe, I think it will work out well. There is a lot of interest for the show this year, we've even been approached by other dancers and teachers including my old teacher who I first learned from, about performing. I think it could shape up to be a great show if it all works out.
Hey, and look! I've even got art! I've literally been sitting on this for months. I did the drawing ages ago, but didn't want to post it without coloring it. Coloring usually takes me forever, since it can be tedious and I get distracted easily, so I've been working off and on trying to finish it. Last night I finally buckled down and made myself finish the damn thing already. So here you go..
Subject: Luna and the Thestral
Rating: G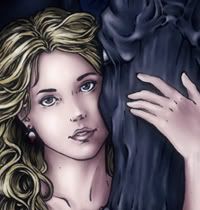 (
Collapse
)