Title:
Keeper of Nobody
Author:
Kagome
Series:
Kingdom Hearts (358/2 Days, KH II)
Word Count:
558
Rating:
G
Characters/Pairings:
Axel, Roxas (main)
Summary:
He's not sure he knows how to keep anything safe anymore.
Warnings:
It might jerk at your heartstrings a little. Otherwise, no warnings.
Notes:
Written for the KH Drabble challenge 291: Safekeeping, and it won. I was and am both grateful and quite surprised. :) Also,
obabascribbler
made me this beautiful banner~!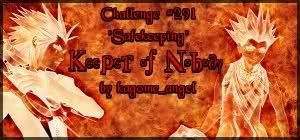 (
Collapse
)