I'VE BEEN WORKING ON THIS ENTRY ALL DAMN DAY.
So, oh crap, sfcon is this weekend. I am very excited about sfcon, despite its glaring lack of Misha, Matt, and Rob because it's being held at the Westin St. Francis, aka one of the most beautiful hotels in San Francisco, and also, it's IN San Francisco, my favorite city in the world. And it's actually IN the city, right on Union Square, not out at the airport like cons usually are.
I've got a silver pass, but I'm really only excited about Sunday. I have a solo photo op with Jensen (dasfjashdfasf) and a duo op with J2 (dsfsladifasfsaklj) and then I get to look Brock Kelly RIGHT IN THE FACE. And I'm sharing a room with a ton of cool people and on Saturday night I'm playing follow the leader and leading everyone to the Castro where we can people watch in the neighborhood full of rainbow flags and glitter and boys that like boys and it will be AWESOME. We can get pizza at The Sausage Factory and swing by Hot Cookie for dessert and those are both legit eateries in the Castro. Anyone that wants to come along is more than welcome!
ALSO, LOOK WHAT I GOT IN THE MAIL!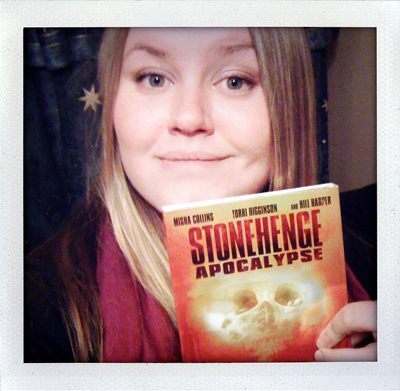 wtf is up with my fingers? herp derp.
So this is what I'm suggesting. On Friday night, since they moved the concert to Saturday and there will be a big ol' empty chunk of time before the karaoke party, I say we gather together for a STONEHENGE APOCALYPSE viewing combined with some sort of drinking game type situation. A drink whenever the phrases "robot head" and "electromagnetic" are uttered and a shot whenever you actually see Stonehenge, etc etc. I THINK IT WOULD BE FUN and it'd be a great way to get us warmed up for karaoke. :P
ANYWAY ANYWAY, FILL OUT THIS POLL: