I know - I am so bad at keeping anything updated. I am sorry - recently I have felt tired again, but I am not letting myself sleep in the day to try and beat it. Summer should help, as today I felt a little better to see the sun.
Today the weather has been so good. In the morning my mum, sister and I took my dad to work before we went shopping. I saw in the paper an advert for flip flops so I had to go and get them. I got two pairs, black and white, of flip flops which are so similar to the Haviana ones, and they were only £2 for two pairs. I have had these before and they are comfy, and the last time I bought them I paid £7 for one pair. I wore them today when we took a walk along a sea front and they were pretty comfy. We also went walked around a gardens, and had a drink at the bar there.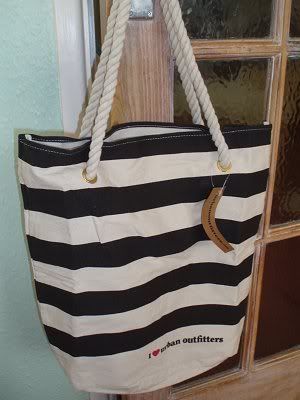 I also went to the newsagents and got Elle magazine. I don't read magazines, purely because of the cost, this one was £3.60 and I can buy a new book at ASDA for £3.86 or something, and I much prefer books. Anyway I got this magazine for the free bag. I saw it online and thought that it looked great for a freebie, plus it can be my summer bag for college. It is black and white striped with rope handles.
My DVD player broke the other day, so I asked my mum to buy me a new one. I thought that the old one was about 3-4 years old but it was 7. It wouldn't play DVDs and before that it used to buzz really loudly. So we got a new one, just a cheap one, but it seems to work alright and I am going through the Doris Day boxset I have had for ages.
Anyway, have a good weekend everyone. I am not ready with the new domain but I am working on it.