I just realized that it's not so smart to write up a post of Spuffy fic recs because it means you spend days lost in fic. I've re-read a few on the list and a few I've edited into the post. And I have a bunch more to re-read and even some new fic to check out.
I have managed to procrastinate even more by watching the entire run of Hex (which is
being released on region 2 DVD on January 10th
, by the way). I liked the show, but about the only thing I've been able to think about since watching it is this: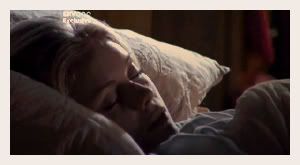 Cassie sleeps on her back.
(cap by
wickedripeplum
)
Why is it that on TV shows most people sleep on their backs and use an average of about five pillows, thus virtually insuring they'll wake up with a crick in their neck? I never sleep on my back and I use one pillow (well, I have several, but only so I can alternate and have a cool pillow at all times). An issue as important as this calls for my first ever poll! Yes, it really is my first poll ever. I am a very sad LJ-er.
How do you sleep?
Alternate between side and stomach
Alternate between back, side and stomach
Other (specify in comments)
How many pillows do you use?
Other (specify in comments)
puppetoflove
asked for baby pictures a while back, so of course I comply. This is one I had scanned and ready, but I'm much too lazy to open up Photoshop to resize it, so I'm putting it behind the cut tag because of its size.
(
Collapse
)