Moffat hasn't been as close to RTDavies in years, although the problem might be he didn't actually write this extremely disappointing episode. And I hadn't even been expecting anything! But to never feel in the least suspicious of Sherlock, nor the terror of the press hounding, because a) we're still always with him and b) we're still always WITH HIM, that was a huge let down. I kept waiting for something, and all I got was a rip-off of the fantastic Scissor Sisters - Master scene; Bee Gees on the rooftop aren't the same. Katherine Parkinson was like Kitty in the last Torchwood season. M would never ever forget Molly! I'm so bitterly disappointed now, and I can't even talk about it because I bet I'm the only one.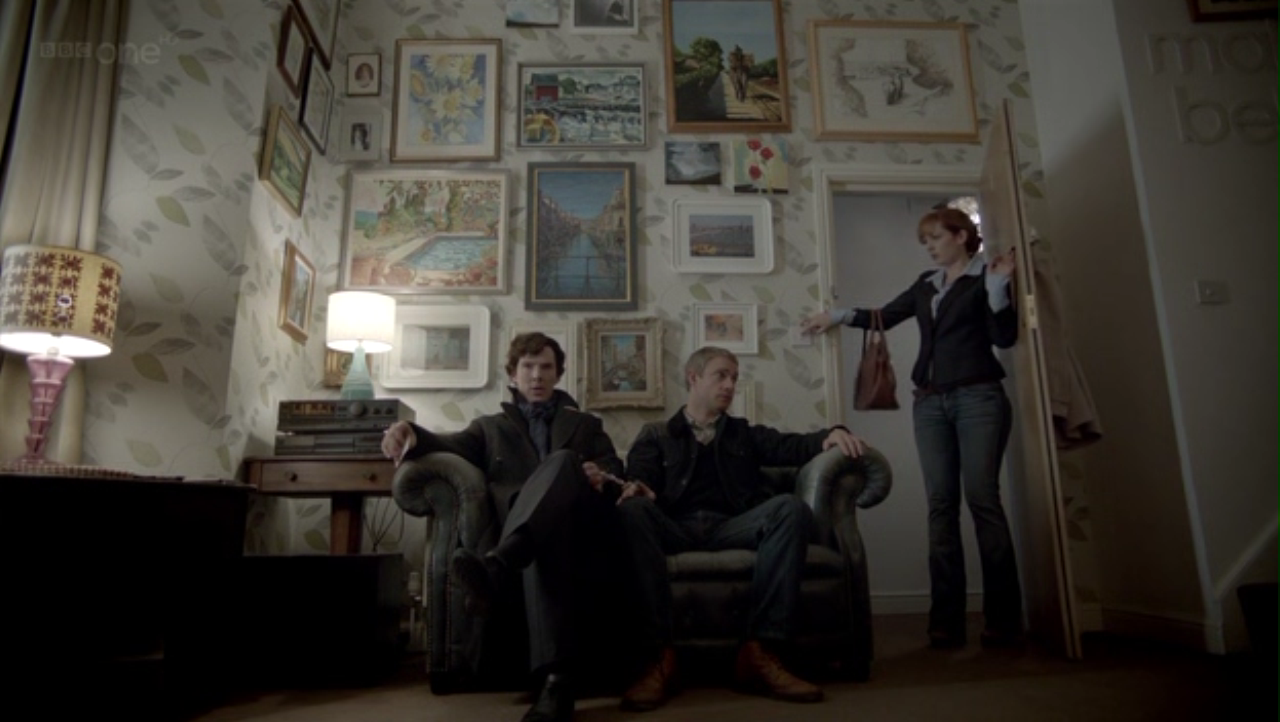 click

Moriarty is vaguely interesting; precisely because he's not someone I fall and root for like the villains played by Jason Isaacs or their ilk, yet with the same underlying existential crisis and ennui as the Master. The problem is that he really does make Sherlock boring. If it needs such boring sop to repeat the obvious about S, again, it's not true. The best line was his as well:
SH: "You're insane."
M: "You're just getting that now?"

The pilot was convincing with Sherlock*s own suicidal tendencies. This one isn't, and no string orchestra can make me feel anything, let alone believe Sherlock is in the least danger. The final problem, how to keep on living, is interesting, but not if instead of answering they just spout platitudes and stage a bland body switch. This time, imagining them chuckling over the headline containing the words "fake", "genius" and "suicide" didn't amuse me. Even David Mitchell*s twitter exchange disappoints now.

Oh, just one more thing:
Slash:
None.
This is 2012. And I'm just annoyed at cheap exploitation. ETA: explaining essay to follow.





PS: I suddenly have gigantic caps. Not betterised though.


****

eta-to-self: Nina, the author of Death and the Maiden, just announced that she will never draw again. She was in the middle of the second "season", and now 3 volumes will all there ever is of her published works. I kept comparing her ( and her gradual stop) to Sandra of BMB, FH and OPB. My head hurts. I*d not have believed you if you told me Moffat could depress me (so).

eta-2: 10 o'clock Live returns on WEDNESDAY, Feb. 8th, finally some good news (see what I did there?) Now please don't let me down.

eta-3: heeee, semi-spoilery cross-over manip of my cap from above! For IT Crowd fen.