Tuesday, August 3rd, 2010
---
2:54 pm
Friday, June 19th, 2009
---
8:33 pm
Well, the Method Cell launch is proving to be something of a resounding success! LOTS of interest from DJs, a couple of record labels and people discovering and liking the music. I think the boys have even picked up a few *very* enthusiastic number one fans already as well :p

One of their tracks, 'Call It Cutting', has even gone up to number 35 in the industrial chart on soundclick.com!
Check it out here!
(feel free to rate the track while you're there, hehe)

I'm amazed at how fast things are moving, even though there was no doubt they'd be well received. A personal thanks to everyone who has been so supportive of the lads.

I'm so sooo proud =D

current mood:
bouncy
Thursday, June 18th, 2009
---
1:57 pm
- Jumping the gun a tad...
...but I can't wait any longer, and today is officially Method Cell's launch day, so balls to it.

Very proudly presenting the new industrial synthcore project from the incredibly talented (and annoyingly beautiful) Method Cell duo: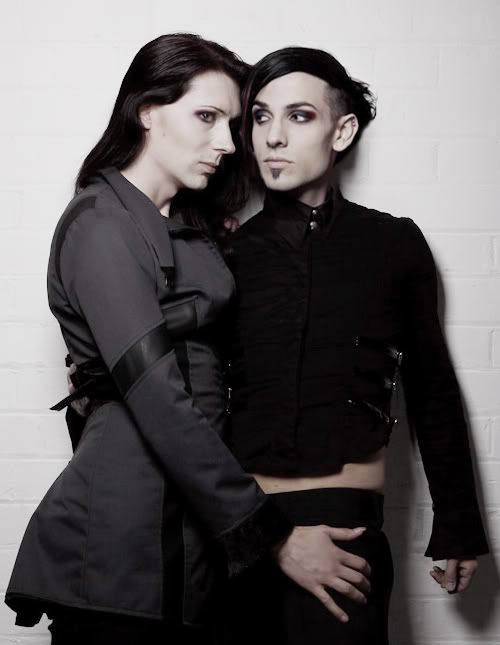 Method Cell's Myspace profile...

So there you go, a naughty first look/listen!

This is all part of gearing up to their first live performance at August's Nightmare supporting Goteki :)

current mood:
ecstatic
11:19 am
- Exciting times
Saturday night's Ghoul Garden was yet another resounding success and one hell of a good night out! It went some way towards making up for my lack of partying at WGT, and being in a room full of beautiful people and wonderful music never fails to lift my spirits. So yeah, I'm feeling pretty good this week as a result.

We're also poised for the launch of
_apollos_ and
fyta's band Method Cell this evening, which is so intensely exciting that I actually have butterflies in my stomach. The boys have put in so much hard work over the past year to get to this point, and now things are about to become very very real. I truly am so excited I'm finding it hard to sit and do anything right now.

It's also worth mentioning the new(ish) Church Of Nightbreed online community which is growing rapidly, and proving to be a terrific Goth/Alternative forum. I'm not usually so enthusiastic about such things, but this one has huge potential as a worldwide net based community and is actually a lot of fun as well as being helpful for finding out about events, gigs, bands etc. I spent over an hour the other night watching music videos, so there are loads of things to keep folks amused on there (and Buddypoke, which is way too cute to ignore).


Take a look!

I really should try to get on with work now, but focusing is kinda tricky right now!

current mood:
excited
Thursday, June 4th, 2009
---
1:37 pm
- Return of Batcave...
I'm sincerely hoping we can make it to this, although this year's Batcave is made a little more complicated by being on a Sunday. Still, could be the weekend of gothy partying I so annoyingly missed out on at WGT!

In the mean time there is Ghoul Garden to look forward to soon, Nightmare and hopefully Kreepers this weekend if I'm feeling better by then.


Thursday, May 7th, 2009
---
11:05 am
- Couple of things to sell...
I received these two items recently, but they don't fit so looking to sell them on.

Prices include fees and P&P (second class). I will consider sensible offers.

'Catwalk Collection' turquoise bustier (one size, best suit UK 8-12)


Absolutely GORGEOUS colour, it's just too short for my long body :( Bought on Niceboots, but it's obviously hardly been worn. These things cost a fortune new (I remember drooling at them in the Black Rose, Camden). Looking for around £30


(

More this way...Collapse

)
Wednesday, April 29th, 2009
---
7:07 pm
A couple of the Silent-View photos have appeared online already, so I may as well show them here now that they are out in the public domain (I'm saving the rest for possible magazine publication).

Firstly, a group shot with the enviably beautiful Morrigan Hel, a gorgeous chick whose name unforgivably escapes me right now, and one very well behaved pup we stole off a nice lady:


...and a solo one (there are better ones from the shoot, in my opinion, but this gives a taste):


Photographer: Silent-View
MUA: Krystle Gohel
Wardrobe & Styling: Jane Doe Latex

current mood:
cheerful
Wednesday, February 4th, 2009
---
7:57 pm
So, cinema tomorrow (Thursday)? I don't mind either way as I'm still shattered from the Brighton tattoo convention (which incidentally was great).
Thursday, January 29th, 2009
---
10:30 pm
SHIT...I just made an urgent purchase on ebay for an ink cartridge only to find I'm a fraction short in my Paypal account to cover the payment! Teaches me for not taking postage into account.

Can anyone, preferably in Nottingham so I can easily pay them back, pay £1 into my Paypal account so I can complete the transaction tonight? If you can then leave a comment and I'll give you my Paypal ID. - sorted now, thanks Em!

I think I'm almost ready for the Brighton tattoo convention now. Three days of printing though...I just hope people buy my flash and prints now I've gone to all this effort!! I'm probably going to have my 'hawk up the whole weekend too. Might as well, since I'll be playing assistant this weekend (big stupid hair and tattooing don't mix, as I once found out, so the 'hawk is reserved for non-tattooing functions).

current mood:
busy
Wednesday, January 28th, 2009
---
5:51 pm
- Cinema tomorrow...
Showings for Underworld 3 tomorrow (Thursday) are 19:05 and 21:30. The first will be a push for me because I have a tricky tattoo in last thing that could potentially go over time slightly, so are people ok with 21:30?

Alternative is to put cinema going on hold until next week so more people can attend and just go for food and drink. I hate organising stuff, so I'm happy to do whatever is best for everyone else!
Sunday, January 25th, 2009
---
8:14 pm
Just a quick note; could people keep tattoo related messages restricted to my studio email address (rachael@rampantink.com) and not text me, please? It's only because I'd like to keep work and home life separate, and getting texts about tattoo stuff snaps me back into work-mode.

It also makes more sense to deal with tattoo queries at the studio when I've got my appointment book and information close by. I am really crap at replying to texts too :p

Thanks :)
Sunday, January 18th, 2009
---
2:44 pm
I just read that my childhood hero, Tony Hart, has died :(

He really helped to accelerate and focus my love of art when I was a kid with his genuine enthusiasm and creative nurturing way. He invariably had a massive impact on what I am and what I do today, and I distinctly remember writing letters at around the age of nine to Jim'll Fix It to meet and draw with him, but alas that never happened.

I truly thought he was a wonderful, gifted, sweet man, and always will.

current mood:
sad
Friday, January 9th, 2009
---
10:12 pm
Oh, and Polo is DJing at the Ghoul Garden which incidentally is TOMORROW NIGHT. I hadn't realised he was down for a couple of sets. Ooops.

Not that you need another excuse to come out to the opening night of a much anticipated goth/batcave/deathrock night, but if you do then you can now add supporting Polo while he spins his tunes to the list :p

Can't WAIT!!!!

current mood:
bouncy
Thursday, January 8th, 2009
---
5:10 pm
It's only taken a year, but Nottingham FINALLY gets a goth/deathrock night again!!

This Saturday is the eagerly anticipated opening night of Ghoul Garden, and I can't freakin' wait!




Before then I need to decide if I like the pink hair that I'm currently sporting, or whether to shave my undercut off and neatly side-step the hassle of deciding what colour to go :p I was trying for girlie, but I'm not convinced it's me...

current mood:
excited
Thursday, November 27th, 2008
---
10:23 pm
Is there anything really cool going on in London tomorrow (Friday) night?
Wednesday, November 12th, 2008
---
2:15 pm
Do forgive the photographs...I did the best I could after a long six hour session, and my photography skills are ropey at the best of times!

So here is the cat girl I designed for a very lovely lady called Kat. Such a sweet story that she'd been buying my cards since I started selling them years ago, was sad when I disappeared off the radar for a few years after leaving Strange Ways, then thrilled to find I'd turned my hand to tattooing and was keen for me to do an exclusive piece on her :) She was a wonderful customer too...sat perfectly for both sessions (the lining session took about four hours, the colour session six) and was bubbly and enthusiastic through-out. As a result I enjoyed every moment of the tattoo, and I think the results show that:



...and I had to get a close-up of the boots as I was so chuffed with how they turned out (and I'd love a pair of those killer heels myself!)...



We'll be adding a background at some point soon too, including a full moon and clouds. I'm hoping Kat can get better photos that I can send out to magazines. I have a few pin-up/character tattoo work lined up so it's all rather exciting, and the lovely Nina Kate (Jane Doe latex) in next week for the next session of her sexy evil queen.

It's amazing how much I learn with each tattoo, and now that I'm relaxing it's coming a bit more naturally. I didn't stop once and agonise over any part of the cat girl...I just let it flow. I'm not saying it's perfect by any stretch, but to feel an improvement taking place is wonderful and encouraging. It helps being constantly influenced by the incredibly talented Gray Silva too. I still stop to watch him working when I get the chance, and hopefully his superb techniques are filtering down into my work. I do wish he hadn't laid down such a crazy standard with the epic amounts of detail we put into such pieces though. Not that you can see it but the spider in the photo (which must only be a few millimetres) even has a black widow red stripe :p Not hard to see why she took ten hours now! Hehe

current mood:
ecstatic
11:08 am
- WGT/ Leipzig next year...
To wash away the winter blues (although today is looking like a bright crisp day, which is lovely) I'm looking into flights to Berlin for WGT next year. So, which days are people planning on getting there and leaving? I was initially thinking about flying out on Wednesday 27th May and coming back Tuesday 2nd June but if anyone can foresee a reason for going out earlier or coming back later I'm open to suggestions.

On another note I think I did my best tattoo to date yesterday...a cute and VERY gothy cat girl. Lots of reds, purples, roses, bats and even a spider. I don't think I could pack any more detail in if I tried (well, not without making poor Kat sit there for longer than 10 hours, which is how long it took in total over two sessions) and I was unbelievably chuffed with the sexy boots I gave her, although they alone took an hour to shade. Photos to come :)

current mood:
chipper
Thursday, August 28th, 2008
---
5:53 pm
I'm loving this photo so much that I just had to share (I believe it has appeared in the latest issue of Alternative Magazine in the Batcave review, but I haven't picked up a copy yet):




Me and
moistpuffin having a drunkentender moment at the Specimen/Batcave event a few months back :p

current mood:
amused
Monday, August 4th, 2008
---
12:42 pm
Well, I'm back, and despite all my fears and worrying I ended up loving tattooing in such a public environment, for the most part.

I could feel my inner attention-seeking side flourish and blossom once I'd let go of the fact that I was being closely watched by lots of people, and my one regret is that I didn't have more of my pinup show pieces booked in for the weekend. However, it was lovely to do smaller designs that people wanted me to do, and I did a cute bow and crossbones on the adorable Cam (the girl behind Bows & Crossbones: http://www.bowandcrossbones.com) followed by some cherry blossoms on a great guy from Australia. It was a fun challenge too, balancing out concentrating on my tattooing with chatting to people who were hanging around watching me work, and I think the interaction helped to relax me.

It was also a valuable lesson that things do and will go wrong, especially in tattooing, and to just let go if things outside my control happen. My ultimate nightmare scenario occured at one point on the Saturday, but knowing when to stop and the realisation that everything can be corrected dawned on me, so myself and my customer decided to call it a day part way through outlining. At the time it felt like admitting defeat, and I was desperately wishing everyone would fuck off rather than be witnessing a tattoo car-crash, but upon reflection we did everything right and it's certainly not the first time someone found being tattooed at a convention too much to cope with. I'm looking forward to getting back on with that tattoo though, in the comfort of the studio, as it was a rocking design (if I do say so myself, hehe) and will look great once it's done. So even that traumatic half hour was enlightening, and I didn't completely fall to pieces, which in itself proves something.

Rampant Ink also won an award (the Tattoo Jam trophies were AMAZING!) but that was for best fancy dress costumes on the Friday night. Gray went as 'Fat Von G' and terrorised everyone with his hairy chest barely covered by a tiny gold bikini top, and I went as a zombie sailor and took great pleasure in making people very uncomfortable by talking to them while wearing my zombie contact lenses. I was lingering around Bob Tyrell (famous portrait tattooist: http://www.bobtyrrell.com) at one point, doing my fan-girl thing and waiting for an opportunity to tell him how amazing his lecture was earlier that day when he swung around, saw me and insisted on taking my picture as he thought it was such a cool outfit (he loves doing horror portraits) which was a funny moment. I have a feeling some of the photos will be in the Tattoo Jam issue of Skin Deep, so they should be good for a laugh.

So yes, it was an incredible convention that has really boosted my confidence. I had people wanting photos of me with them as they knew of me and my work, which was embarrassing at the time but rather cool, and I had loads of queries from people wanting to book in with me for pinup work! Even the lovely Dawnii was insisting I tattoo her in November, so that'll be both fun and terrifying!

I can really see myself getting into the tattoo convention scene. It appears I'm a bit of an adrenaline junky at heart...

current mood:
ecstatic
Tuesday, July 29th, 2008
---
9:57 pm
I'm absolutely shattered from two really packed and busy days at work mixed with various birthday celebrations, but I wanted to thank everyone who made my birthday such a wonderful occasion over the weekend and last night :)

Dead and Buried on Saturday was fantastic, as usual, and last night was a fabulous evening in Revolutions with the majority of my friends. I appreciated so many people being there (it was really touching), and all the lovely gifts, cards, text messages and thoughtful gestures.

I'm lucky to have so many incredible people around me.

You all rock so very much

xx

current mood:
loved