Sunday, August 5th, 2007
---
4:31 pm
i have a new livejournal. comment here and i will add you from my new one!
Monday, November 20th, 2006
---
7:55 pm
Note to self: I will not get the winter blues this year!
Friday, September 15th, 2006
---
4:30 am
- Biggest Life Decision....
Last night I had the most amazing worship experience I have ever encountered. It really gave me peace and understanding about a lot of things happening in my life.

Most of you who have a signifigant role in my life know that I have been dealing with, not only some difficult situations lately, but also one of the hardest life decisions I have ever had to make..

After months of contemplation and countless numbers of friends pursuading me to stay... I finally decided lastnight that it is in my best interest to go ahead and make the move to California in December.

I have prayed about this many times. I have cried. I have begged and pleaded for an easier path.. But I truly feel this is the right thing for me to do. This is going to be one of the hardest things I have ever done.

I dont know how else to explain it other than this: God is leading me there for a reason unknown... I have family there. And after 21 years, I feel its time I get to know them.

I have met the most amazing people here in Tulsa.. (Oklahoma, for that matter.) And whether we talk every day or every other week or month even... I cherish our friendship.

If you are reading this, I will miss you more than you'll ever know.

For the One who gave me life, and breathes fresh air into my lungs on a daily basis... Thank you for this opportunity. Thank you for making me feel new, whole and alive.



With Love,
Danielle
Tuesday, September 12th, 2006
---
3:16 am
- him..
He's so great to me.
He's there for me.
He's beautiful, lovely, patient, kind...
He's fun to be around.
He's intelligent..
He's very talented.. in many ways.
He is wonderful and the funny thing is.. he doesn't even realize it.


oh.
my.
goodness.


dang.
Tuesday, August 29th, 2006
---
12:41 am
- THF & Western Heritage in Norman....
Saturday, August 19th, 2006
---
4:22 am
- une nuit d'amusement merveilleux!
i work at quiznos part time as a cashier now.
it's the one on 71st and lewis. so all you tulsa peepsies come see me!

i heart roadtrips.
last weekend i went to dallas.
this weekend it was arkansas.
the drives were good times.
the shows were even better times.
those boys are beautiful, im telling you what...

it's a shame they dont play more original shows in tulsa. [for those of you who aren't familiar with thf - www.myspace.com/theherofactor]

so.... it's 4:00am, and i just got back from fayetteville, arkansas. i smell like mango. [not nate's pitsweat. so ha nathan!] i am watching scary movie 4, and it is pretty ignorant. although the myspace part was funny.

thursday nights have been being spent at suede...
i saw aaron there... again. sigh.

nathandanielprice and i took photobooth pictures at suede lastnight. [they turned out pretty much nerdy and amazingly good!]

i told him that if he didn't start smiling more while playing drums, then i wasn't going to be his bffl anymore. so he smiled a lot at suede on thursday. but back to his intense drummer's scowl on friday. dang.

im glad we're hanging out more. he's a good friend. im serious. one of the best guys i have ever known.


things to be excited about [i know i am]:

western heritage [mr lashley's band] play with thf in normanies on the 29th.
all you beautiful people should come. its going to be fantastic! good hangs after the show.

the chad gets back on tuesday! finally, gosh.

um... copeland in tulsa on september 11th. with jack's mannequin, daphne loves derby and the hust sound.... dang! that's gunna be awesome.

ok, im seriously pooped. its sleep time.

godbless & sweet dreams, lovely and lovely-er.


-danielle <3

ps: come to full moon tomorrow evening? free & fun for the masses.

current mood:
awake
Sunday, July 23rd, 2006
---
6:44 am
- <3
Dear Diary,

Mood: Apathetic.

If you got that, I love you.

I just wanted to post and say that I am so thankful for all of the wonderful friends I have in my life.

I care about you all so much, even if I dont ever say it...

I love you all.

<3
Danielle
Thursday, July 20th, 2006
---
6:53 pm
- The Academy Is.....
Tuesday, May 9th, 2006
---
10:53 am
Yesterday was a long day. I survived the whole day at work without my cell phone....... It was horrible.

Me and the roommate went grocery shopping lastnight at the superwalmart by our house. Have I ever mentioned how much I love superwalmarts? They have everything!!! We spent like $100 bucks on groceries together, but we should be good on food for a while... As long as a pack of hungry stoners don't come over and clear us out. (Which is sometimes known to happen?)

I actually fell asleep before 2am lastnight... I got a text message from Donald about 2:09am and I was apparently already asleep, cause I didn't get it until this morning. I dont remember the last time I have gone to sleep before 2am.

Jesse woke me up at 7:50 this morning... He took me to work on his way to his dentist appointment. I wanted to die.

So, its 11am. I have been at work this morning since 8:30, completely bored, and all i want to do is go home and sleep!

I dont have any plans tonight, so I think that's what I'll do!

<3
Danielle
Monday, May 8th, 2006
---
6:46 pm
Saturday, May 6th, 2006
---
1:25 pm
- peanut butter jelly time!
Thursday, May 4th, 2006
---
2:05 am
- snails see the benefits, the beauty in every inch!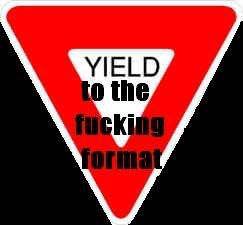 went to little rock lastnight.
the format owns me.
i love roadtrips.
i do not love chickens, however.


why did the chicken cross the road?
it didn't.
i ran over that bitch.

current mood:
bored
Tuesday, May 2nd, 2006
---
11:09 am
- the weather today is slightly sarcastic, with a good chance of rain.
i never update this thing anymore (xanga pwns lj). but jerry inspires me.

lately all i do is work... i dont have a car. so i cant do much else, unless its at the mercy of others.

i have hung out and had ice cream at riverwalk a few times. it's freaking beautiful and romantic there at night. too bad i was with other vaginas...

i went to a good punk show lastnight. all decent bands. one night scam played and i danced around, as usual. the queers impressed me and reminded me of very old school blink. sigh gave me a ride home. i really miss hanging out with everyone all of the time. this summer better include good hangs with my crew.

im going to little rock, arkansas tonight with angela to see THE FORMAT!!! i havent seen them since april of LAST year in oklahoma city. how depressing! so, needless to say, im excited.

2 months and 1 day until my 21st birthday.

i have a new bandboy crush. but i wont tell you who it is because you'd laugh.

love,
danielle

ps. donaldinbarstow is gayyyyyyyyy!!!!!!!!!

current mood:
awake
Saturday, April 15th, 2006
---
12:47 pm
- Saturday nights alright for fighting!!!
Ohhhhhhhhh, life!

Thursday was my day off and I woke up to calls from the bank in Edmond, OK telling me my car payment (for the car that is totaled, by the way) didn't go through. I became very stressed out. I called my mom in tears and I told her that I was having a hard day. She asked if I wanted her to come up here. I said yes. It was nice.

In the two years I have been living on my own, I have never once asked my mom to drive 2 hours to Tulsa to come and comfort me. I am always the one comforting her.. It was nice to have her come here and just spend time with me.

I cooked us dinner (italian salad, porkchops, baked potatoes and corn on the cob) and we watched American Inventor together. Then we made a quick trip run for sweet tea and spent the rest of the night lounging.

We had lunch at El Chico's on Friday, and then I worked the rest of the day.

Lastnight my roomie came up to the mall when I got off work and we looked at Sidekicks at the T-mobile store. I think we're both getting one soon... She already has T-mobile, and I am just going to do a pay as you go data plan. I am asking for one for my birthday, and she is going to save up. Does the fact that I want a T-Mobile Sidekick make me a bad Cingular employee? Probably. But I dont care. Haha.

We also got a great deal at Bath and Body Works. Spend $10 and get anything from the "True Blue Spa" collection for free! Not that I had any money to be spending, but I sacraficed eating lunch today and I got a $15 dollar bottle of the new "Tahiti, sweetie" lotion for FREE because I bought a $10 bottle of body spray. That's what I call a deal!!!

After we left the mall, we rushed home and got ready and then left and headed to the Westside to pick Elliot up. Elliot is our amazingly adorable punk rocker gay friend. I love him with all of my being, to say the least.

We tried to make it to the The Venue to see Abuelo En Fuego play.... but didn't make it. In fact, we missed AEF and Amsterband! What a shame. I did get good hugs from Brett and Luke. So that made my night. Said hi to Joel. Ran into a few more people in the parking lot. ;) Then we left to go to hang out with the AEF boys in Sand Springs.

That party was fun. Full of punk rocker boys. I spotted a cute boy with shaggy hair and girl jeans, and eye-flirted with him all night. Then a friend introduced us. His name is Ryan. <3

Devo cut his beautiful afro into a Fro-Hawk. It was awesome! I took pictures on my phone.

We left that party early (because we still had 2 others to make an appearance at) and headed to Berryhill to visit some friends who had just got home from prom and were partying at Clint's house. Mal and Shelby looked pretty! Clint was drunk when we got there. Again I spotted the cutest, most emo boy in the room... of course a highschooler.. I was like "We have to leave now. I am being pedophilistic again!" Haha.

Then we left to drop by the 3rd party. It was at the Coppermill Apartments. Oh the memories. This party was completely different. Full of chads and strippers (?).... beer chugging, bad dancing... etc. I felt like I was in the middle of some Fraternity/Sorority party. It wasn't neccessarily bad, just weird! Ryan, Jesse and Elliot were there to keep me entertained.

I had a fun night... But by 3am, I was ready to go home and sleep in my bed. Mind you, I was one of the only sober ones at any of these parties. If I had been drinking, I probably would have stayed up all night. But responsibility comes first. I had to be at work at 9am, and having a hangover all day didn't sound like a good idea!

Jesse and Ryan picked me up and took me to work this morning on thier way to work. Carpool love! We jammed to classic rock on the way.. Guns n Roses, Journey and Elton John! Heck yes!

Tonight I may or may not be going to Promcore. I want to see Dance The Night Away's last show though!

Get together for my crew tonight at my place. Be there

<3
Danielle

current mood:
contemplative
Thursday, April 6th, 2006
---
10:34 am
- "you are the song i know..."
I am seeing Panic! in June. I just got my tickets and I couldn't be more excited.

I will probably end up working at this show for Fueled By Ramen, but either way... I GET TO SEE THEM! and the dresden dolls, hush sound & okgo are playing with them. what a great lineup. eeeee!

Now if wentz and his freaking band would just make it back around here again... i'd be a happy girl.



Ah, lately I have been thinking about my future a lot.

I am going to copy & paste an entry I wrote in my OTHER livejournal the other night.

I think it perfectly explains what I am thinking in my head constantly these days...

-------------------------------------------

Well, I just created a new journal. It's more private this way.
I have been writing in my xanga more than livejournal,
but I have come to realize something....
Livejournal > Xanga

I am so ready to just DO something with my life....

The only thing I have ever REALLY wanted in life was to be involved in the music business.
I dont have passion for just ONE thing, I want it all.
I want experience everything.
I want to know everything there is to know.
I want to be the big wig.
And I want to be the friend who just tags along on tour just because.

I want to wake up in a different city every day.
I want to meet new people every night.
I want to not only be at the shows for the music, but for the people.

My life basically consists of working a mediocre job just to make enough money to keep the electric on and support my lifestyle....
music.
concerts.
friends.
roadtrips.
good hangs.

Some people say I have no future.
I say "Fuck You."
These are the things that make me most happy.

I decided long ago that I was going to live my life to make MYSELF happy, not others. And that is what I am trying to do.

Call me a groupie because I hang out with & date musicians.
That just so happens to be the kind of people I am always around.
Call me a fan because I fell in love with music...
Call me whatever you want.
I dont care.
I know what makes me happy.

I am tired of just being a fan of that life.
I want to live that life.
I will make it happen.

I need to get out of Tulsa, Oklahoma.

Half of me wants to stay here forever, because I love it.
But the other half says "Get out while you can"....

I decided I will be making a huge move at the end of this year.

New York City?
Los Angeles?
Chicago?

I have to follow my heart.

This is hard...


-------------------------------------------


That was posted a few nights ago.

I think I have made my decision.
And I am actually kind of excited.

I have a plan on getting my old car paid off.
I have a plan on getting a new car.
I have a plan on saving up money.

It's time to start a new chapter in this book....




"It's good to see everyone out in the real world, and off the fucking livejournal."
-Pete

current mood:
content
Wednesday, April 5th, 2006
---
10:25 am
- "used to dream until i stopped writing fiction..."
I'm listening to a few Hush Sound demos that xPeterxWentzx recorded/mixed. I like, I like.

I am at work... Where else would I be right?

I dont feel good though.

My ucler is back.
It makes me sick to my stomach.

And me being stressed out constantly lately is not helping at all either.

I have some kind of infection on my eye too.
The same eye that I already had the blood clot in... Ugh.
And it hurts! Even to blink.

On top of all of that, my sinuses are killing me.
I'm all stopped up and everything.

I just want to sleep for days....

But I can't miss work.
I can't afford it.


DO you know that I miss you?
I wish you were around to talk to like before...
And not just our silly online conversations we have throughout the day.
(Not saying that those don't mean everything in the world to me...)
I really do love that we're both internet nerds, and aren't afraid to admit it.

But sometimes I just wish you weren't too busy to pick up your phone and call,
just so I could hear your voice on the the other end of the phone.

I know something is wrong with you lately.
You've been acting strange.
Let me know what's up, I want to be there for you.
Just tell me what you're feeling.

You've been my best friend here lately,
Just know that I would do anything to make you smile.

current mood:
restless
Friday, June 25th, 2004
---
5:30 pm
- Friends-only..
this journal is FRIENDS-ONLY!!!!!!!!!!


If you wanna read what's going on, comment, and I will add you. If you dont have a livejournal, go sign up for one... It's free.


NOTE I cleaned out some of my friends list... If you were deleted and want to be back, let me know.

Tootles.

--Danielle
Monday, December 8th, 2003
---
11:04 pm
- RIP Emily!
RIP Emily Kristen Fields
April 1, 1986 to December 8, 2001
RIP <3

"Her last breath here, was her first breath somewhere else"

-Matt Wright







Today was a sad day. I cried a lot at work... I don't know why, but it seems like it gets HARDER not having her here, not easier.....

If any of you didn't know... It was two years today since one of my very good childhood/teenage friends, Emily, commited suicide.

In the past she was a Hanson fan, and we went to one of the Tulsa concerts together in 1998. She was a year younger than me, and when I went off to highschool, we didnt hang out as much. You know how the story goes... She started hanging with the wrong crowd.. Blah blah.

By the time she got to highschool, she wasn't a Hanson fan anymore... Needless to say, she wasn't even the same person I knew just one year before. She began using drugs, and she drank. She moved out of her parents house at 15 to live with some her brother and some friends, and apparently she became highly depressed around that time too, but I wasn't aware of that.... I still tried to be her friend for the next 3 or 4 months, but being two totally different people, with totally different friends, it was really hard. So, we lost touch.

On the night of December 8th, 2001, I was with two of my friends.. rocking out to some music, just entering the turnpike in Tulsa to go to a local show there... One of the girls with us, called home to say that we were in Tulsa, and she started to cry, hysterically... telling us to pull over.. only to learn that all of our good friend, Emily, had passed away a few hours before. She had shot her self in the head earlier in the day and our friend Jason (her boyfriend) had been the one to walk in her bedroom and find her.

I can honestly say that this was the worst night of my life. I can remember it clearly, like it was yesterday. I was in shock, and in so much pain at the same time. I was supposed to be meeting some friends at Curly's for the show. So we went there, and I remember just curling into a ball and crying into some of their arms. I didn't know what to do or think. I didn't want to go on because I was SO confused and angry.

Her memorial service and funeral were two of the hardest things I had ever had to deal with. Seeing her Mom and Dad and brothers be in so much pain was almost unbearable for me. I mean, I had grown up with Emily, and her family. I was supposed to be the Godmother to her children. We had plans to go and travel around and go to as many Hanson shows as we could on the next tour... When did all of that change? When did life become so difficult that she felt that she couldn't handle it anymore?! It just wasn't fair that her short life had to end after only 15 years.... I was so angry!!

I remember playing the song "With You In Your Dreams" and, for some strange reason, it was the only thing since I learned of her death, that have given me any sort of comfort at all. I guess I could relate to those lyrics, and the pain in the song a lot better.... now that I had something to relate it to...

Later I printed out the lyrics to that song and made a collage of many of Emily's pictures and hung it on the door in my bedroom. Since that day I see it every morning when I wake up, and everynight before I go to sleep.. and I thank God that he sent me an angel, in the form of music, to comfort me during my hard times.

I miss Emily. And I love all of you. <3 If you ever need to talk, call me.

-Danielle

P.S. I remember that night, Heather gave me a star bracelet. I still wear that everyday. <3

current mood:
sad
Monday, November 10th, 2003
---
12:15 am
- New Journal. New layout. NEW EVERYTHING!
This is my new journal.

I know that the layout is pretty lame, but I do not know how to make them, and this is the best I can do.


So, add me to your friend's list and comment if you want to be added to mine.

Ciao.

current mood:
annoyed