Anything for Eel.
I made this picture of sushi and a lemon in Adobe Illustrator for my Digital Illustration final (The project was Realism, and while it would have been easier to take on some kind of machinery, which was recommended by our teacher, and what most people did, I decided to be stupid and take on a harder, more organic object like food. Whatever we chose, the object of the assignment was to make a digital illustration that had photo realism). I planned on doing an entire composition, complete with four pieces of sushi, a lemon, chopsticks, fake grass, wasabi, ginger, and a big puddle of soy sauce. Unfortunately, after spending upwards of sixty hours on just one piece of sushi, doing loads of Adderall and zoning out in front of the computer, slaving over every single shape, blend, and change in color or tone tediously, it was the night before the picture was due and I didn't have another two hundred hours to spend on finishing the whole thing. So I settled on my beloved single Rock n' Roll and its lemon companion. I'd needed as much motivation as possible, so on Saturday we headed to Daly City to visit Paul, a longtime friend of Bob's from Palatine, Illinois, that somewhere within the course of his Jewish life had acquired a skill in sushi-making.
A couple weeks ago we'd made a wager that if I paid for all the fish, he'd pay for everything else and he'd cook us all up a practically orgasmic batch of sushi, complete with extra cream cheese in the Philadelphia rolls to satisfy mine and his love for cream cheese inherited through our Jewish genes. I'd grown sick and tired of sushi from slaving over this god damn picture, tracing every outline of every shape and every color with the pen tool and creating a minimum of a billion points on some eleven by eight-and-a-half inch Adobe Illustrator artboard. And sure enough, his as-far-from-Japanese-as-you-can-possibly-g
et-roots had somehow landed him with quite the talent in edible art, as Paul provided us with the meal us college kids constantly craved. It was like eating at I ♥ Teriyaki, our favorite sushi place in the Mission, only in the comfort of Paul's home on the border of Daly City and Colma, where I swear all the dead people in the entire state of California are buried. It was the exact nourishment I needed to get me back on track and motivated once again to tackle my never-ending love and nonstop daydreaming of sushi. Eventually, I was able to finish the necessary portion of the picture that I needed to merit an A on my final and a good amount of my own satisfaction. I'm happy with the way it came out, despite the buttload of work and stress it brought to my life for the past three weeks, but at least it's over now, and at least I climbing higher and higher on all of my teachers' lists in terms of cranking out consistently good work. I even got a high five from the head of Graphic Design.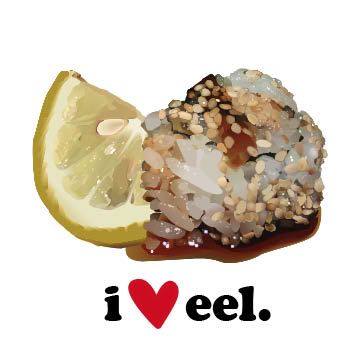 (Sorry this version's not bigger.)

Outline view: