"Do you know why today is going to be absolutely awesome?!" she yelled, like a motivational speaker shoving us out of bed with optimism. "Because last night was so fucking horrible that today has to be amazing by default! And we're gonna start it off right! With pancakes!"
Of course she meant pancakes. How else in the world could we recover from a night like our out-of-control Halloween party than by relaxing the next morning with a stack of pancakes to shove our faces with. And as the master of pancakes that Bunny is, she managed to get three pans going at once and fill the microwave with her homemade mountain before our stomachs even had the chance to rumble.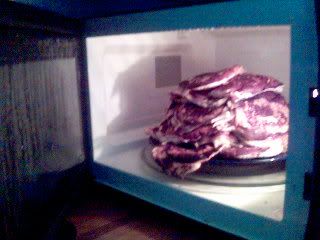 And after finishing Bunny's marvelous pancakes for which I swear she replaces cooking oil with her own touch of love, there was another issue to address: this massive cylinder of metal and foam taking up a corner of our kitchen and serving as a bizarre obstacle course for the cat. Sure could have chosen to stick a piece of wood on top of it and call it a bedside table, but we were more interested in getting our deposit back, even though the tap had fallen victim to the sticky fingers of the night before. Why anybody would only steal half the tap off a keg was beyond me, but then again, as was why anybody would steal a dirty, poor-quality hair straightener. While we'd had a car the night before to deliver the beast at its heaviest, we were without transportation this following morning, and therefore had to improvise how exactly we were going to get this empty keg of PBR from one end of the city to the other, and up some of the biggest, gnarliest hills in the country.
So what would a house of healthy skateboarders do with an empty keg? Well, we could call a friend with a car. We could carry it to the nearest bus stop and see if they let us get on. We could be lazy and just try and forget its existence. Of course! We can be so healthy it's almost idiotic by putting it on a skateboard and walking... the
whole way there
!

Up 4th street we rolled, spending the whole beginning of the ride trying to figure out the most comfortable, convenient, and logical way to maneuver a keg on a skateboard, but we soon realized that the only way it was going to work was to break our backs bending over it. Unfortunately the skateboard had little to no turning radius with the keg on it, and by the time we were half a mile into our two mile trek, we realized just how inconvenient this mission was going to be. Nevertheless we were well aware that even though this was to say the least a pain in the ass, we were headed toward the most beautiful part of the city; the richest and friendliest people walking down streets of the most expensive houses around. Everything is gorgeous up there, and we made sure not to spend the whole time looking down at the sidewalk for so long that we missed the sights of Pacific Heights.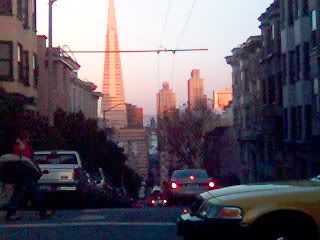 And when we got to the top, keg, skateboard, and all, after slaving up the brutality of the ups and the awkwardness of the downs, the recognition we got and the gratification we felt made the whole trek worth it. We were looking down the monster hill that was Pacific Avenue, into the belly of San Francisco that we'd just escaped by climbing up a famous hill and relaxing in an oasis. The day's exercise plan had not given us the ugly interior of a gym but the marvelous view from the hill. For that crazy party, that beautiful walk, and eighty bucks in cash back, that barrel of art-school beer was worth every struggle it burdened us with.