We decided to switch things up last night and instead of heading up to Union Square to brown-bag 40s, we went down to the Wharf with a bottle of whiskey and coke. New place, new ways to entertain ourselves...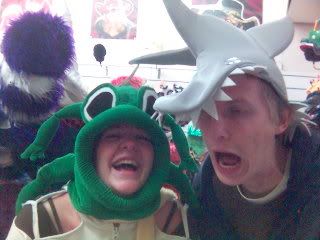 While we planned on drinking our usual beer on the pier amongst thousands of tourists, we hadn't realized just how much whiskey Bob had put in our container until we were too distracted by the blinking arrows of DDR Extreme and slight drunkenness to have any need for 40s. And somewhere in a late-night dance fest on the dance floor of four arrows, Bunny's contact flew from her eye and into the abyss of the arcade that was closing in five minutes.
She played a couple of games with one eye, but being legally blind in one eye and having perfect sight in the other tends to make Bunny's head feel like it might explode, so she disposed of her other contact and her ability to see completely. This meant that she was completely in the hands of Bob and I, as she was in a crowded place without even a hint of sight, and when she squinted her eyes tightly to see even the most obvious details in front of her, I was thouroughly disturbed by how bizarre she looked, so I told her to just keep her eyes closed and let us guide her.
Our trek home became nothing short of an adventure simply because of this little mishap and minor detail. Bunny couldn't see. At all. She walked with one arm linked around Bob and one arm in front of her, with her eyes completely closed. All around her people swarmed and she had no idea what was going on except for what she could hear, feel, smell, and taste (In n' Out's world-renowned burger; our main reason for going to the wharf in the first place). Unfortunately it is not true what they say about other senses being heightened when one cannot see, because Bunny was obviously having a hard time coping without sight. Although it provided us with an excellent source of entertainment, we were really only laughing at the fact that it had been one of the worst days we'd ever had.
Up and down curbs she went with tremendous caution as if this was the first time she'd ever been exposed to life outside. She spoke with the attitude of someone that wasn't plagued by the fact that she couldn't see, only let the complications give her something to make fun of; everybody but her could see just how hard of a time she was having. To add to how complicated Bunny's night already was, she had busted her ankle skateboarding a few days before and was full-throttle limping wherever she went. She hobbled about without any idea of what crack in the sidewalk could further her injuries or what people in her path could stop and point at her awkwardness. In a funny way, we were able to laugh at all of our misfortunes, and to top the cake, things got so awful that we found ourselves wheeling Bunny around while she sat in a deserted shopping cart we'd found on the side of the road that was equipped with a faulty wheel and less-than-perfect steering. The bus ride home consisted of Bunny trying to act as her normal conversational self with strangers on the bus that she couldn't see, and Bob and I sat opposite her trying to contain our laughter at the confused gestures she was getting from everyone around her and had no clue of. The only thing that could've made our night better was if the Apocalyptic earthquake hit the city during our attempt to bring our blind gimp home safely.