Ladies and Gents, you are currently reading the journal of someone with a drinking problem.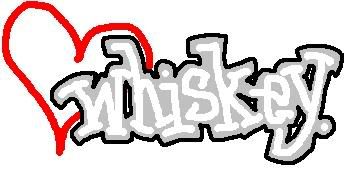 One of my first friends on livejournal was
pillowhead
. He was a twenty-something gorgeous artist with a tag he wanted to spread around the world and an absolutely tremendous alcohol problem. Pillowhead was great at keeping up a journal I later realized was perfect documentation of an alcoholic artist, and it interested the hell out of me. All his pictures were either of his manifested tag, or of his pretty face masking a completely wasted mind. Pillowhead had a problem, but it was amazing to read about.
I guess through the years, and my experiments with other drugs that I eventually found to be tiresome, I stumbled upon alcohol and continued Pillowhead's legacy. Completely unintentionally, I developed a tag that I slowly became obsessed with an wanted to print on every bulldozer and backhoe I saw. I started getting better at writing about my happenings in a way that justified their excellence, but were still a good read. I worked on my artistic style and developed a passion and found the things I wanted to persue. And I did it all while dipping into the liquor cabinet and carrying a leaky flask of whiskey with me at all times.
And I woke up this morning and realized that I had developed a good lifestyle and a bad problem. I had been drunk practically every night for the past couple of weeks, and thinking about whiskey was as appetizing as thinking about Tiramisu. Although I'd had fun, my every nights consisted of me and my best friends Audra, Ananda, Matt, Jack Daniels, and Jim Beam. Alcohol had never been a problem with me before. If I was going to get hooked on anything, I thought it was going to be ecstasy or percoset. But I soon realized that Pillowhead had something going when he hooked my interests so easily in his sloppy depictions of the night before.
So friends, I hope you have much appreciated my Pillowhead phase, just as I appreciated him before he fled the internet, met a pretty girl, and settled with his drinking habbits. As much as I'd love to invent a calorie free whiskey and a life of juicy written details of promiscuity, I must take my tags and my writing to a more sober place. I don't exactly know how to cut back on my drinking, because I've never been in a place like this before. If it's anything like quitting cigarettes, then I won't make it for more than four days. But I speeding down a dead end path, my inhibitions are low and my vision is altered and if I close my eyes I'll go off the road and get the spins, so I think I should slow down.