File this under Unusual...
If you take a left off Pine onto Flynn Avenue in the South end of Burlington, and follow it down to the railroad tracks, you might notice a fairly random structure placed conveniently on the right side of the road. Yes folks, the world's tallest file cabinet is haphazardly placed on my street. It's incredibly bizarre. As you're making your way down Flynn Ave., a road governed by backroad factories, moving truck companies, a storage facility, a set of railroad tracks, and potholes, you notice this gigantic metal structure that towers stories over your car. In fact, by the time your eyes reach the top of that structure, you're looking out the sunroof. And what is it? It's dozens of file cabinets stacked and glued on top of each other, all different colors, each with their handles still intact. Some are dented and bruised. Some are still solid-colored. Some are covered in underground grafiti tags. I have no idea how long it's been there, or even why it's there for that matter.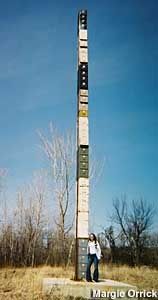 I wonder if maybe it really is "The World's" tallest file cabinet; if maybe it actually is a recognized landmark, and can be found on a map, perhaps. It really just doesn't make any sense. It's such a momentous and amazing structure that never gets seen because nobody ever drives the bottom of Flynn Ave. I want to know the history of this bizarre wonder of my street and shake the hand of the man who concocted this idea.
Click the picture to see more of the bizarre structures in and around Burlington that I drive by every day. And I can vouch that yes, Bizarre Memorial Park is indeed the most bizarre park ever created. It's about ten square yards, and bordered by this cement overhang that has these freaky looking monkey things that are screaming into the sky. What's even weirder about it is that it's placed on the corner of a strip mall that's got nothing but a giant TJMaxx, Bond Auto Parts, a TGI Fridays, and a 24 hour Price Chopper (which I thank god for on a daily basis, by the way.)
There's also a giant pink flamingo on Pine Street made completely out of recycled scraps of garbage, and sits in a garden of trash (seriously) outside the Harvest Bread Company, which happily serves free bread every day. And in Williston, there's a big army tank that is pointed directly at an elementary school. The world's tallest file cabinet is still my favorite, though.