How Wierd?
Very Weird.


Yesterday was just another San Francisco day. The sun was shining, the bums were bumming, and as usual, there was a massive swarm of people dressed like freaks and partying in the middle of the street. Having not attended the Folsom Street Fair a few months back due to going home for break, we decided it was a must to attend the How Weird Street Fair, one block up on Howard. We woke up hungover from the night before and barely able to move our hurting bodies, but we did whatever we had to; Bunny wore a corset along with pieces of a Halloween costume she'd made for a friend who wanted to dress up like one of the muppets, Bob wore a wig that still had pigtails from the last time Bunny wore it to Bondagagogo, Sloth wore a plastic bag on his head, giant Mickey Mouse hands, and a clock around his neck, Flava-Flav style, and I wore a pink polka-dotted dress with pink star ear-muffs, pink sunglasses, and a pink bandana (not too weird but weird enough). We got ourselves weirdified until we decided we were just weird enough to show our faces at How Weird.

And just how weird was the How Weird Street Fair? Well I couldn't possibly even start to describe in words just how weird, and how incredibly fucking cool it was, so I'll let the pictures speak for themselves. And keep in mind that among these twenty-some-odd pictures of maniacs, there were about a thousand more freaks swarming the streets in a fit of dance and excitement. We danced all through the afternoon with sunburns growing on our shoulders, condensation building and dripping inside the bags on our heads, and 40s flattening inside our gigantic paper cups. Nevertheless, it was pure San Francisco happiness at its best. Everyone was so friendly and happy to be around, but not so much in the "I'm on ecstasy" sense. And in all reality, the people there were your average people that just liked to go out on a beautiful day every once in a while to participate in something out of the ordinary. With or without their stilts, neon fishnets, or glitter suits, these people were typical San Franciscans, which you can interpret in any way you please.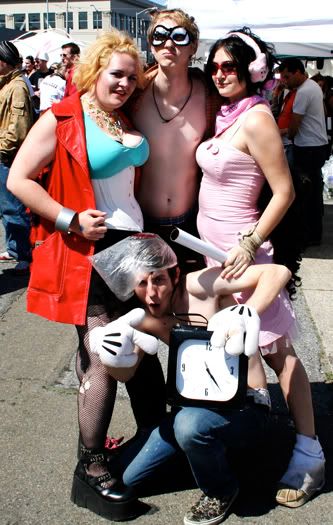 (The only flaw in this picture is the fact that I look like a fatty 'cause Bob pulled me into him and I was in the process of falling as Clayton took the picture. Otherwise, it's perfect. Wah.)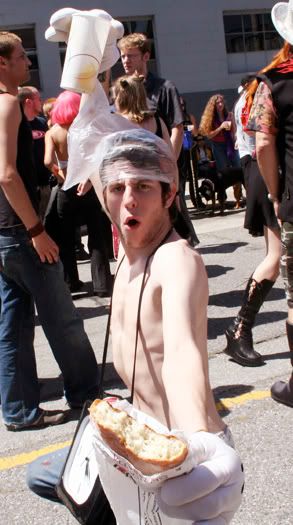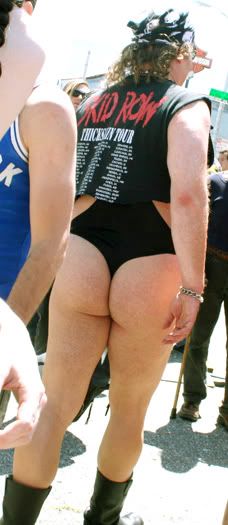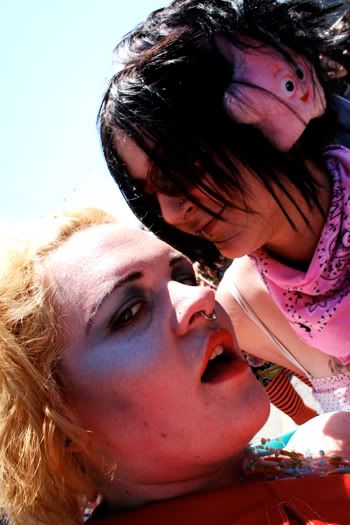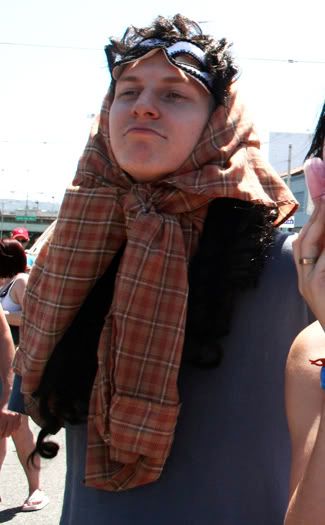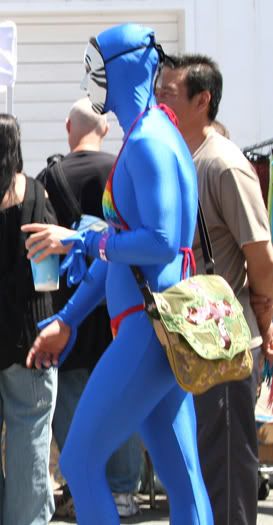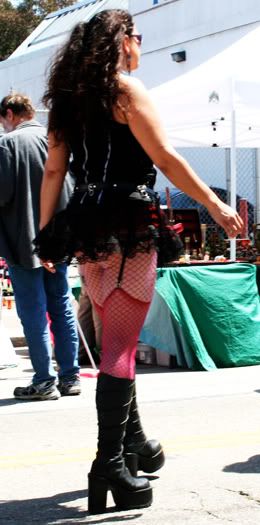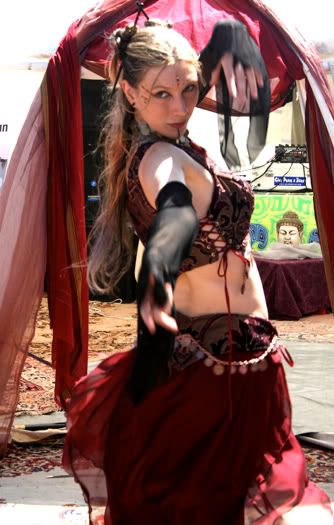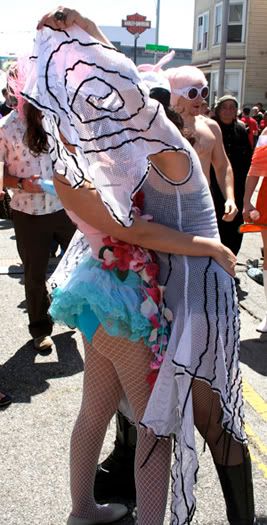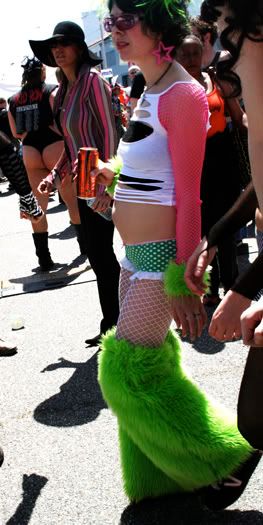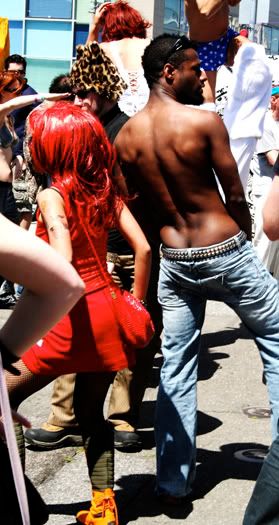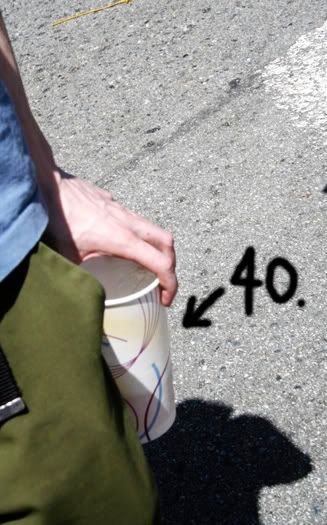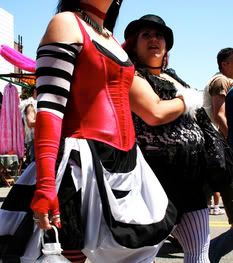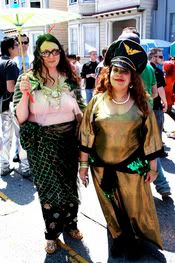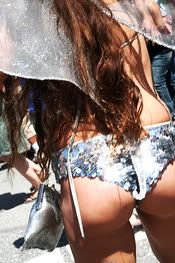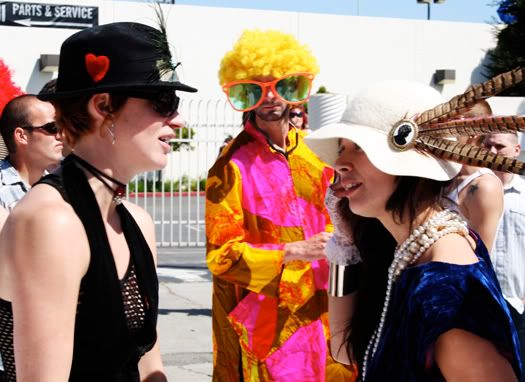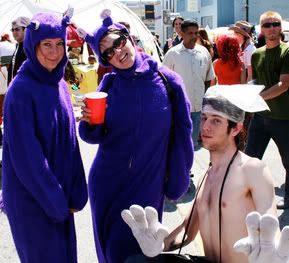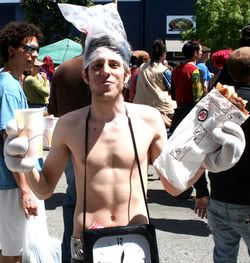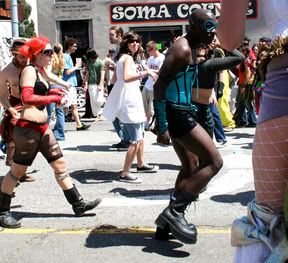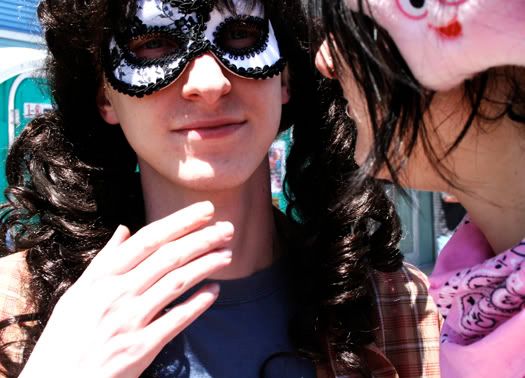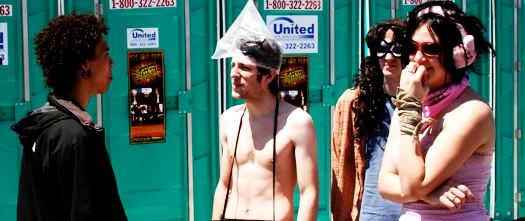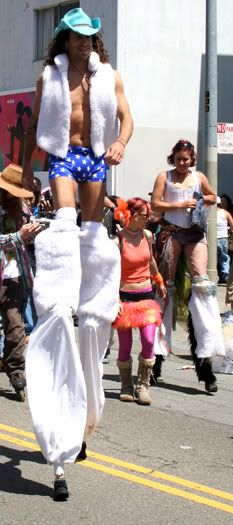 Fin.