Some rules to start out with:
-Don't post my tutorials anywhere without asking me.
-Don't claim as yours.
-Please credit me.
-Try to comment :D
We're going to be making the following: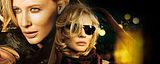 to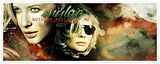 I'm going to use these two images:
one
and
two
. Try to use different images from mine but if you really have to use the same ones, then feel free to do so.
1. Open a new canvas. I made my canvas 500x200 pixels.
2. Resize your images. To resize, I usually click on the image that I want to resize in the layers palette, click on the 'Show Transform Controls' in the Options Menu. Then click on the dotted line that apears, this will create a solid line. When you click on that solid line, the Options menu will have
this
. To get an exact resizing and to prevent awekward faces, just type in by how much you want to downsize. I resized my largest image at 50% for Width and 50% for Height. It's very important to have the same value for the height and width.
3. Merge your images together (Layer > Merge Down) and Sharpen them (Filter> Sharpen > Sharpen)
Mine
.
4. Select All (ALT+A), Copy (ALT + C) and Paste (ALT+P). Delete your the original layer. We're doing this because when we merged the layer together, we still have all that residue of the images that lies outside of the canvas. So by copying and pasting, we're making sure that we have our base the same size as our canvas.
5. Duplicate your base again (Layer > Duplicate Layer). Set the second copy on
Soft Light 100%
. Select the first copy of your base in the Layers Palette, go to Filter > Blur > Surface Blur and put in these values:
Radius=3
levels and
Threshold=10
levels. You'll get
this
. Depending on types of images that you're using, your base might or might not look this orange.
6. If you're using the same images as me or the images you're using are similar to mine, you'll need to add a Hue/Saturation Adjustment Layer to done down the orange-ness of this. Go to Layer > New Adjustment Layer> Hue/Saturation.
Hue=136
and
Saturation=25
. Set this Hue/Sat layer on
Saturation 39%
.
So far
.
7.We're going to use
this
texture and
this
one as well from
babliz
. Take
this
and put it towards the side that has the least amount of images on it, the ones that is plain. I set mine on
Normal 100%
and erased some of the texture that is lying on Cate's face using a Drob Shadow eraser (Adobe Photoshop Preset), Diameter 189px and Hardness 0%.
So far
8. We're going to add a Selective Coloring Layer. Make a new group. Inside that group make a new layer. Fill that layer with color #c7c67c. Set that layer on
Soft Light 100%
.
Selective Coloring Layer #1: Normal, 100%
Red>Cyan:-100, Yellow:+100
Yellow>Cyan:-10, Yellow:-100
Greens> Cyan:-100, Yellow:-100


Selective Coloring Layer #2: Normal, 100%

If you put all the above layers in step 7 under one group, than that group should be set on
Pass Through
100%. Otherwise, you're good to go.
Mine
.
You can stop whenever you want, I'm going to keep going on until I feel that it's right. Usually thats the best way to tell, it's to just to go along and let your creative palette take over until your common sense tells you that you've got it down.
9. Now we'll add a Hue/Saturation Layer (Layer > New Adjustment Layer > Hue/Saturation Layer).
Hue=96
and
Saturation=15
. Set this adjustment layer on
Soft Light 100%
.
We're almost there....
.
10. We're going to use a texture from
Vert-Gazon
to put over our signature. Take
this
texture, don't modify it in any way, and lay it over all your previous layers. Set it on
Soft Light 100%
. The texture does a wonderful job of adding a bit more texture and contrast to the signature to make the colors vibrant and standing out.
Mine
.
11. Flatten your image. Duplicate it. Go to the
fx
button at the bottom of your Layers Palette and click on
Stroke
. We're going to add three strokes to get my type of border effect. Stroke 1) Add a 10px
Inside
border with white (#ffffff). Flatten that layer. Duplicate it. Delete the older layer. Click on the newest one. Stroke 2) Add a 5px
Inside
border in grey. Doesn't matter which grey, just pick a hue that you look. I usually pick light ones, nothing too dark. Flatten that. Duplciate it. Delete older base. Click on newest copy and click on stroke again. Stroke 3)Add a 4px
inside
border in white color. That's it!
Here's
mine.
12. Text. I used the font
Orator
Std (slanted, 18pt, strong, all uppercase) to write 'nothing will stop me...' I wrote the text in color #90250d. You should use whatever color is in your signature. Then click on the little
fx
icon on the bottom of your Layers Palette and click on 'Gradient Overlay.' Put in the following values: Blend Mode: Soft Light. Opacity:100%. Style: Linear, check the Align with Layer box. Angle:90 degrees. Scale:94%. Make sure that you ahve it set on the
black and white
gradient.
13. For the 'my love' text I used the font
Alexbrush
(regular, 72pt, Strong, -100
spacing
.) in color #799a54. You should choose colors that will contrast each other that's why I chose the green for this text. Now we're going to add some effects.
Drop Shadow
,
Inner Shadow
,
Outer Glow
, and
Gradient Overlay
. And you're done!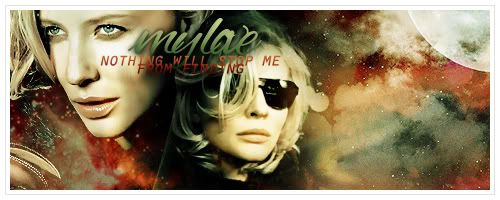 Feel free to ask questions and points of clarification. Also, let me know if something isn't working. Enjoy .
FRIEND
for future updates.