TV channel to broadcast assisted suicide of terminally ill patient.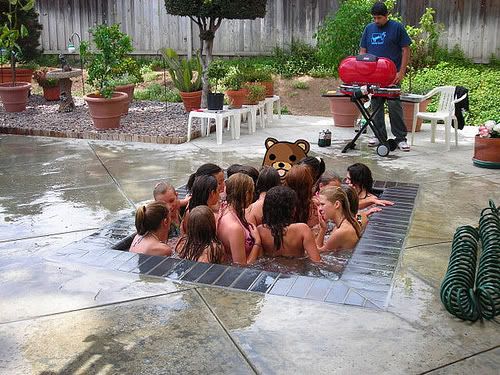 Legally speaking, one third of teen boys and one quarter of teen girls are technically pedophiles.

Girls working at KFC find out why it was a bad idea for stripping and having a bath in a restaurant sink used for cleaning dishes, taking pictures of the whole thing and posting them on Myspace.
Papua New Guinea has been hit by massive tidal waves.
About a bowling alley in Antarctica.
By
mananath
, an employee at McMurdo Station, Antarctica.
A woman has been convicted of smuggling charges after getting on a plane with a sedated monkey hidden under her shirt.
Scientists have confirmed the long held suspicion that there is a massive black hole in the center of our galaxy.
Man holds up gas station, gets pulled over later, flees cops by running into police academy.
Teenagers attempt to steal occupied police car.
Woman's hair stolen at shopping mall.
A Chinese woman who had not cut her hair for ten years called police to report that it had been stolen... In the past she had been offered the equivalent of £300 for her hair but had refused to sell it.
Man goes on rampage at car dealership, causes $5,000 in damage, urinates on cars, drinks champaigne once done, all for no reason anyone can figure out.
AIG just lost $10 billion.
American International Group, once the world's largest insurer, owes around $10 billion to other financial services firms for trades that have gone sour, the Wall Street Journal reported in its online edition on Tuesday. The report, citing people familiar with the matter, says the trades have not been explicitly disclosed before, and are not covered by terms of a current $150 billion U.S. government rescue package.
Now that the banks and the car makers are getting bailouts, there's talk that the U.S. airline industry may also kind of ask for a bailout.
The chief executive of American Airlines says any federal plan to boost the economy should include help for the aviation industry, including more spending on runways and a better air traffic control system, but not necessarily direct aid to the carriers themselves. "The airline industry should be certainly at the top of the list of industries that are deserving of economic stimulus as it relates to infrastructure because we have let the infrastructure in aviation deteriorate," Gerard Arpey said.
Ontario Liquor Control Board recalling Italian wine that turned out to be tapwater.
"I guess someone was waiting for Jesus to turn it into wine," he joked.
GROAN
The man whose wife, mother and daughter were all killed when a jet fighter crashed into his home, has said he doesn't blame the pilot and has asked people to pray for said pilot.
A third of passengers on a German cruise have gotten sick with diarrhea inducing nonovirus.

Epic logo fail.
Via Fark.
About a San Fransisco couple whose home was burglarized, motorbike was stolen and recovered totaled, and finally, their Honda Civic was crushed by a suicidal, drunk, AIDS infected naked man. Oh, and the insurance isn't covering it either.
Yemeni pirates attempt to hijack German cruise ship being escorted by German navy frigate, hilarity ensues.
Man forces his wife to strip and run around the yard so he can use her as target practice.
Environmentalists call cops on illegal logging in nature reserve, only to discover the culprits were local beavers.
Australian town under attack from caterpillars.
Pilots complain that the Airbus A-380 is so quiet they can't sleep.
In case you didn't know, long flights usually have two flight crews, so one crew flies the plane while the other sleeps, and then they trade places.