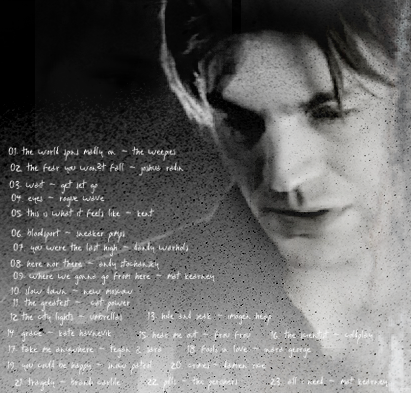 I really,
really
hope you all love and enjoy this mix. I spent roughly on and off
two months
choosing the perfect songs to best capture each specific scene and emotion involving Brian and Justin; and then another two days on the artwork. :p And I am so pleased with the results!!! I love how this mix came out, so I really hope you all enjoy it as well.
It strange to me that I chose to do an s5 mix, seeing how I loathe this season more than any other one. But for some reason the songs I heard just reminded me of all these different facial expressions and emotions within season five, and I wanted to be able to show a different side of Justin and Brian, revealing feelings that were not voiced in that season, with songs.
Please give each song a chance; and listen to them all -- I really think you'll be pleased with the ending. Yes, there are songs that are utterly devastating, but they are completely worth it.
Click on the images to download the songs.
And comment please! Comments are ♥


There really isn't that much to be said, words passed to one another as careless bits of afterthoughts, non-committal responses to his own incisive prattle. Justin
wishes
the low voice touching his ear would peak and rise with interest, that perhaps Brian may even release one of those rare chuckles of his.
A long pause stretches between them and the tiny metal phone in his hand feels empty and useless.
I miss you
, he says, and somehow even
that
feels like a worn out phrase.


There are things that want to be said. Things like
i wish you wouldn't go
and things like
i wish that you weren't moving so fast and leaving me behind
--
unspoken words trapped in throats hoarse with guilt and regret.


There is a split second, a fractured moment in time that hangs and stills before breaking into all chaos once again, that Brian is absolutely terrified.
It's the kind of fear that squeezes deep in his throat, robbing him of all breath until he has to gasp desperately for it -- for
deargod
let him be
alive
.
Something rank fills his nostrils.
And for a terrifying moment, everything stops.

Brian smiles against Justin's ear; long arms winding across the front of his chest, nimble fingers skirting down the buttons of Justin's finely pressed suit.
It's a teasing smile, and Justin's eyes flicker in amusement to the curve of Brian's mouth as he whispers wonderful words of silly nonsense.
Brian thinks, silently to himself, that this is perfect.
So, it's alright with you then?
Justin asks, the soft raise of his brow subtle in the warm light of the loft.
Brian looks away, but not before his face betrays that small wave of anguish -- a twist of his mouth, the tiny lines that form
and vanish at the corners of his dark eyes.
Yeah
, he says,
it's alright with me.


I thought you said you didn't want to live a life filled with regret.
The words settle between them, and for a moment Justin is hesitant. But then he crosses the distance, filling the gap between them because it is clear that Brian will not; and he touches his shoulder, feels that silent exuberance at the familiar sensation of warmth beneath his fingertips, that soft underlining scent of all that is
Brian
filling his senses.
I did,
he says.
Brian's eyes flicker for a moment, before dulling once again.
Then why are you here?
Justin's lips curve at the corners, and suddenly everything seems so simple. Then he is kissing Brian and
christ
it feels so good that -- after three months and twenty-seven days and
godtoomany
hours -- it is finally Brian's mouth, firm and sweet and
there
-- against his own.
Brian pulls away, and there are questions in his eyes, shrouded with dark secrets of pain unspoken and nights unslept.
Justin smiles, softly; and there is a tender reassurance in the way he threads his fingers through the edges of Brian's hair, traces his mouth with the underside of his thumb.
I'm making sure I never regret a single thing again.
songs + cd cover art zipfile
Credit for the origonal caps goes to
qaf-caps.com
and
kwaf
. All the above images were edited and created by me, so please give credit to
diet
if you take or use.
Current Mood:
accomplished