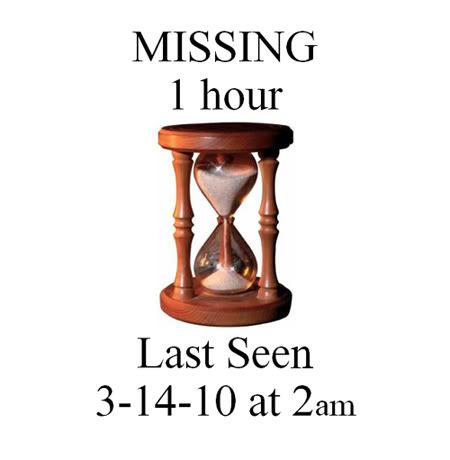 Have you seen my hour? It went missing last night. Please share the above image to spread awareness.
The space time continuum shouldn't be fiddled with. It's like some kind of government conspiracy. Oh wait, it is. They are unraveling the threads of the universe and I will not stand for it! Time was stolen, that isn't something that should even be *possible* let alone permitted.
I WANT MY HOUR BACK!!!
Well, I'm going to tug a few threads of my own by
linkng back to the growing wormhole to past displeasure
where I rail against daylight stupid time and outline
rant #1
. I just can't have a happy pi day knowing that part of the day has been stolen.