gakked from
tiffosis and
buffyaddict13

01. Anyone who looks at this entry has to post this meme and their current wallpaper at their LiveJournal.
02. Explain in five sentences why you're using that wallpaper!
03. Don't change your wallpaper before doing this! The point is to see what you had on!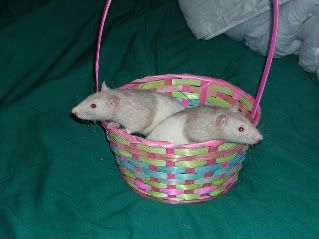 Abaddon (the destroyer) and Balthazar guard the desktop of my work computer. They are just frickin adorable in this picture. Every time I see it I think, "he went thataway" and I giggle a little inside. At this point the picture is nearly a tribute to my pet rats. Balthazar died a few months ago and Abaddon will probably soon succumb to his ever growing abdominal tumor, but that's one of the things rats do best, grow tumors.