(
Collapse
)
i'm back from fabulous las vegas, nevada.
las vegas is a weird place.
i've been to two deserts in the past month. southern isreal and southern USA. they have similar climates, but that's exactly where the similarities end.
where israel is easygoing, las vegas is high strung.
where there are quaint outdoor sidewalk cafes in israel, there are air conditioned artificial outdoor environments with sidewalk cafes in vegas (we even watched an artificial rainstorm while wandering through the shopping centre in the aladdin hotel and casino).
where israel is holy, las vegas is a city of sin.
where israel is conservative, las vegas is gluttonous.
where israel is calm and modest, las vegas is loud and obnoxious.
in every way possible, las vegas is the exact opposite of everything that i love about israel. so it goes without saying that i don't think that i'll ever go back again.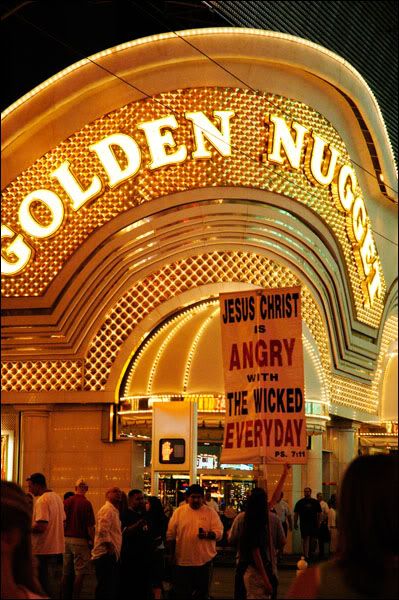 sidewalk preacher. freemont street, las vegas.
ps: as a sidebar, i think that i should mention that the reason i went to las vegas at all was because it was a family trip. my mom and her fiance got married at the bottom of the grand canyon on sunday afternoon!