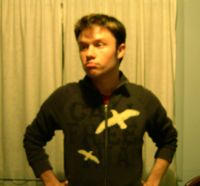 Looking 12 and feelin' okay.
Things I need to do this week:
*buy batteries for my keyboard, guitar, and for something else I can't seem to remember.
*work more on the new riff
*start on new art.
*excersize!
*excersize!
*hang out with Kelli at cathedral fallsies or just hang out with her in general.
*clean upstairs
*practice more with dreamweaver
*give ronj a bath
*call fairmont and ask some things.
*have a good laugh
oh shit, it's the 4th of July tomorrow. I totally forgot. Crap. :(