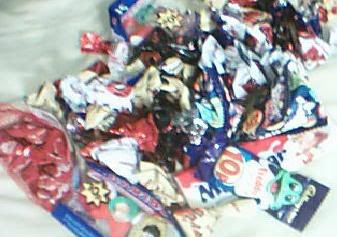 that is a huge pile of sweets. they're mine. james is better than anyone else ever. he's even sent my cat christmas presents.
speaking of which i got my cat this to help him get better. he actually got worse & couldnt pee for ages & it was awful & i cried when my mum made me shut him in the bathroom. but that's not the point. the point is that my cat is scene-cool.
my mum text me this photo. hahaha.
i went shopping for 2 hours today but i almost died & had to come home [seriously]. in the space of those two hours i bought a t-shirt for 99p & this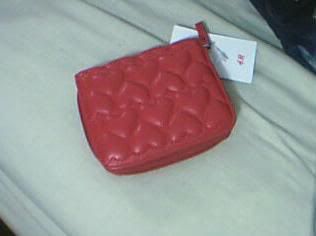 for £2.50. [& a jumper! but its not for me]
in other news i can cook the most amazing chili chicken & my housemates keep asking me for cooking advice even though i cant actually peel a potato.

oh yes! i can now afford to pay my tuition fees! thank you american ebay bidders. some ebay user left some go vegan! feedback. i don't know how he'd feel if i told him my favorite food is hot dogs. i love hot dogs.
i really did order panic! at the disco tickets! i managed to type my email address wrong twice & never got an email. chemical.exposion. fantastic.
what are you all asking for for christmas
?? i sent my mum 3 lists.