emma got us to write down why we were in this course, as a bit of a motivation for us to get our studying done.
i wrote a new one last night.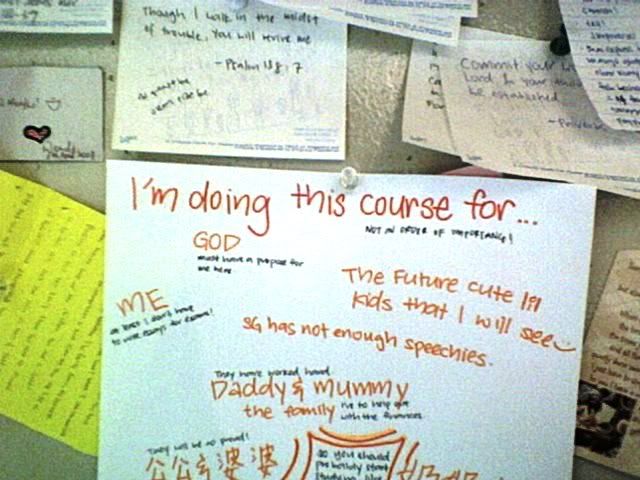 my list has about 13 reasons now. but i'm sure i'll add to these 13 reasons in the near & distant future.
may i never be motivated to wake up for work just for the salary. it's a bit idealistic. but i think it's possible.
and i realised that the same old stories and things can amuse me even if they are repeated like, 376452840 times. please don't ask me anything about floating pencilbox on pond, other speechies, or i might just start laughing again. that and many other things like, cardboards ETC. sigh. grow up me. but hey, at least now i manage to control my laughter if i hear some funny person burp during PBL. i don't find it funny at all. but i don't know why it just has this effect on me. sigh. classical conditioning. or whatever sort of conditioning that is. sigh. and exKercise also. i mean, how many times have i laughed about it. yet, i think if i were to go back and listen to the person say exKercise again, i will laugh, again.
but i really miss laughing till my sides split. which is probably more possible now, ever since i discovered the world of timtams. i just want to laugh Out Loud at stupid things that nobody else understands except for me and yousss.
and i've concluded, one can never share a side-splitting laugh with people that one is not close with. haha or maybe my definition of a friend is: one whom i can share manysss side-splitting laughs with.
it's thurs-hot-jam-donuts-day tomorrow. caaaaaan't wait. or make that /kant/. blah. really don't like /fənεtΙks/.