last saturday, my friends (jocy, joan, latie, tamie, karen, yingie) and i went to vancouver hotel for tea X3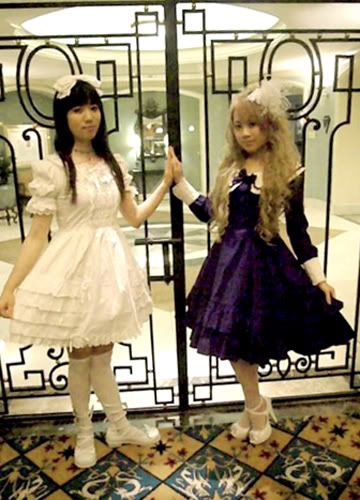 tamie picked me up and we drove to stanley park because our original plan was to go to the fish house
only to find out it was closed for a private function OTL ANNIE FAAAAAIL OTL this is my 2nd time it's closed for a private function!
so we drove to sutton place hotel...only to find out the afternoon tea was all sold out due to a private function FAIL AGAIN OTL
in the end, we walked over to hotel vancouver and ta-da XDDD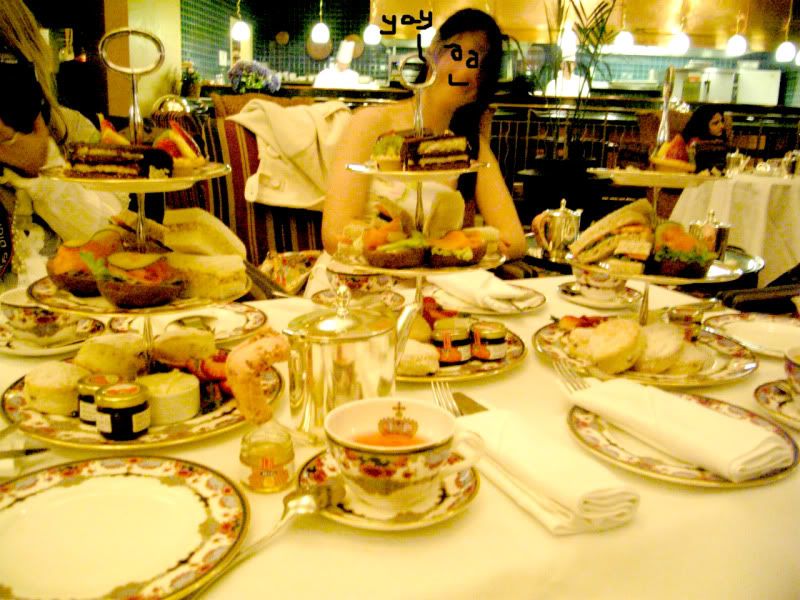 (sorry jocy, ur face blurred so here is my failed attempt XD;;;;;)
gorgeous and delicious as always---X3 i havent been here in awhile, but i love their scones!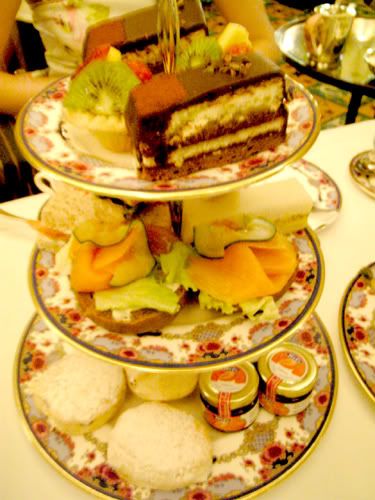 top sweets: fruit tart, chocolate cake
middle sandwiches: tomato & watercress, cucumber & smoked salmon, curried chicken salad
bottom scones: raisin scones, berry preservatives, fresh strawberries
as for the tea, i got angel falls mist as always X3 it is a pretty pink and tastes like strawberries!
(others got the same tea as me or versailles lavender earl grey and empress orange pekoe i think?)
the lighting is horrible XD;;; so im not going to post pics on egl comm :3
from left to right:
yingie (urasora), joan (liliorchid1023), tamie (tamulove), karen (hakukumo), me :3, latie (peachii), jocy (mikomichan)
we sipped tea and ate while chatting away---X3 it was really fun, esp since i havent seen latie dear in 3 years!!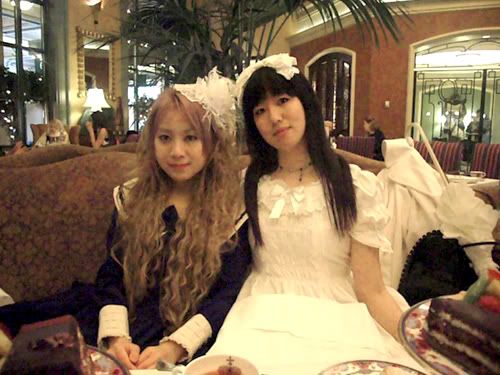 me and oneesama---(with my crap in the bkgrnd XD;;;;)
she's wearing mary magdalene with moitie headdress
and my dress is angelic pretty with a babyssb bow X3
(this is one of the rare angelic pretty pieces i like---prob cuz it's one of their older collections lol i hate their new decora-stuff XD;;;;)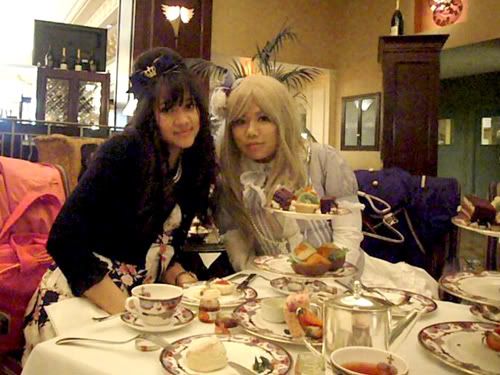 latie and yingie X3 it was so nice of latie to come all the way from victoria XDDD
latie in jesus diamante and yingie in alice and the pirates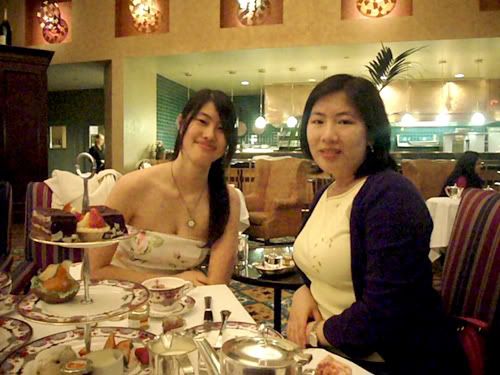 jocy and joan! we talked about cosplay 8DDD (hurhur houshin engi)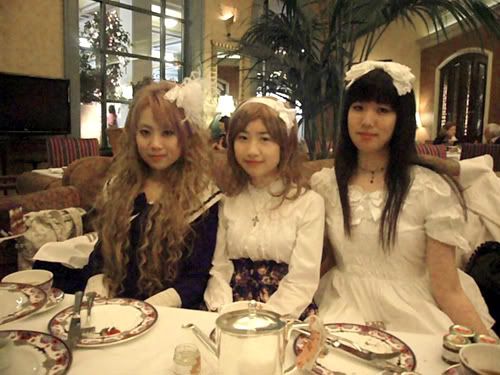 aaaand karen joined us later on X3 i was so happy she made it---thank u love X3
hime gyaru pair XDD next time latie comes, they can both wear JD---*sparkle*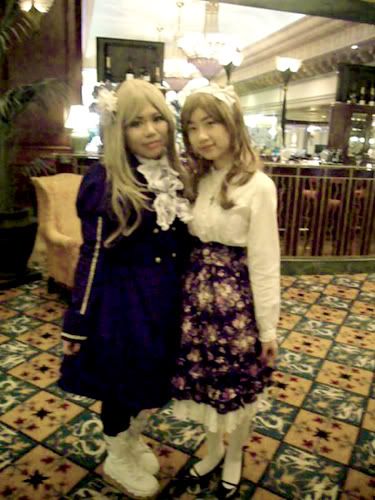 ugh, the color turned out so bad here (> <) but now u can see their whole outfits 8DDD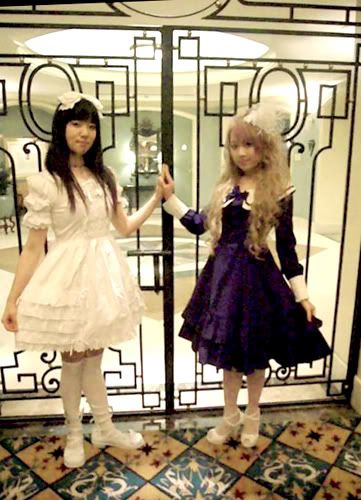 color OTL my theme was DOLL (mihara mitsukazu) so i came with my real hair instead of extensions lol
we had to wait for a bunch of business men to move away from the other side of the gate lol
they were starring at us cuz we looked funny, and we were starring at them cuz we wanted them to move XD;;;;
after tea, joan, jocy and yingie had to leave---but the rest of us took latie to richmond X3
we went to parker so she could buy some anna sui merchandise, then went to aberdeen for purikura
it was a very fun day X3 it'll be nice if we can do it again in june after ae and before tamie has to leave---:3
im half-done ranmao XD i went to michaels during lunch time to get her bells X3 im gonna jingle when i walk OTL
(my work has a michaels and dollar store right across the street 8DDDDD)
i think i'll finish everything except the wig this wknd---cuz i still need to get extensions and a tassle OTL
(if anyone is planning to go to dressew...please get me a long gold tassle OTL)
how far is everyone else on KS? 8D
my sister's friend got the swine flu...good job OTL i hope my sister doesnt have it or else i'll get it (0A0;;; )
i dont like how japan is over reacting over the swine flu OTL