Wow this took way longer than I anticipated. WHY DOES RESIZING PHOTOS TAKE SO LONG?
For your listening pleasure, I recommend
this song
.
Finally, behold my
She's So Hot She's Making Me Sexist:
A Surprisingly Time-Consuming Girl Crush Picspam!
Okay, first order of business: omg, what are the poses they make people do in photoshoots? I had such a hard time finding photos I deemed acceptable~ because with half of them I was going "TOO SHOPPED, TOO WEIRDLY POSED, TOO EXPLOITATIVE".
That said, I had fun and could not narrow myself down to five. People like Mindy Kaling and Catherine Tate, who made it on last time, are not on this list because I have decided wanting to
be
them is different. Maybe they will get their own spam later. That said, first:
Honourable MentionsKate Micucci and Riki Lindhome
Also known as the comedy songstresses
Garfunkel & Oates
. I find their songs hilarious and the two of them very charming. They should totally have been on an episode of Flight of the Conchords. I went through a phase a little while ago where I was very interested in them and even watched their short movie. However, I don't quite love Kate enough to watch
When in Rome
, so I guess they get relegated to the Honorary Mentions.
Sarah Chalke
Elliot isn't even my favourite person on Scrubs – her neuroses do get annoying – but idk, whenever she showed up on HIMYM I got all ":D :D" even though Stella was a relatively irritating character herself. I think it comes down to how adorable Sarah Chalke is. I mean, she used her Scrubs labcoat in HIMYM and talked about it as a security blanket. That's adorable. She speaks three or four languages and polyglots fascinate me because I can't even speak French. Also, she's from Ottawa. WHAT WHAT.
Freema Agyeman
Freema may have forsaken me by choosing to
further her career
abandon me and deprive me of the Martha Jones I was promised in Torchwood & could've had in SJA, but I will forgive her. She is completely gorgeous, even if the BBC did its best to hide that, and she seems like such a sweetheart. She and #5 are neck-at-neck. TBH they are probably interchangeable.
Top 55. Jenna Fischer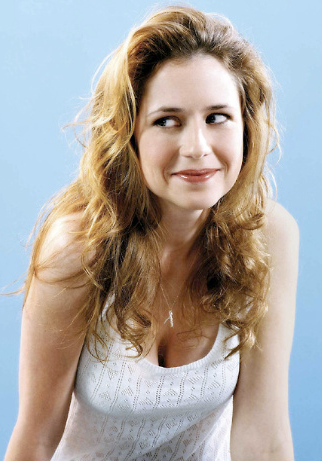 Oh, Jenna.
The Office
may be sinking into despair and failure, but you are still awesome. ONTD hates you, which I think is a sure sign of your success.
4. Christina Hendricks
I have never even seen Mad Men and I fangirl Christina Hendricks so hard. If I were to ever watch Mad Men, it would be for her. HAN SOLO RULE.
3. Sofia Vergara
GLORRRIA. Gloria is so awesome and Sofia Vergara is so fine, it is win-win. I saw Sofia Vergara on Ellen once and she was funny, too, which is an important characteristic in my opinion. Her accent doesn't hurt, either. Rock on, Sofia. You are the HBIC of Modern Family.
2. Karen Gillan
Omg Karen Gillan is so pretty and adorable and Scottish and enthusiastic. I love her a lot. She watches Summer Heights High! She has magical red hair that I covet! And I mean (as if you could watch series 5 and not notice) her legs are crazy. Amy Pond may not be my favourite companion, but I have nothing but love for Karen.
It's also possible I have a bit of a thing for redheads.
And of course…
1. Billie Piper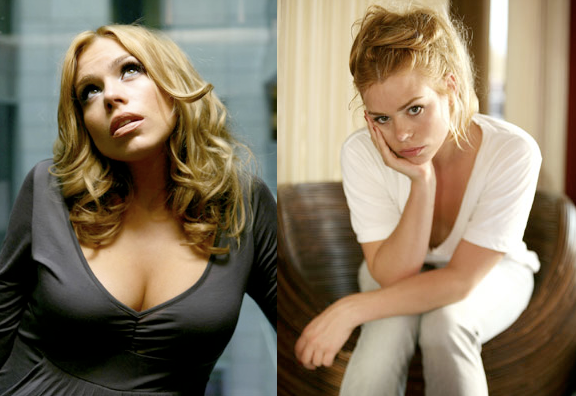 SURPRISE.
I know, you are shocked. Actually, I am a little shocked myself, because while I have always liked Billie Piper I did not anticipate the way
Secret Diary
would make my girlcrush on her increase exponentially.
For someone who's been in the media spotlight since she was so young, Billie always seems surprisingly down-to-earth, honest, open and… you know… normal in interviews. I also think she is a very talented actress who does crying scenes like nobody else. I mean, seriously.
Plus on a shallower note – since what is a "top 5 crushes" list without shallow notes – I think she is gorgeous (can you tell that is my favourite beauty-related adjective) and probably one of the best things about Secret Diary is that it is an excuse to watch Billie Piper walk around being gorgeous for 22-minutes. While I can objectively appreciate how she might not be everyone's type and while I acknowledge that she does not really fit the typical Hollywood mold of beauty, I reserve the right to think anyone who says she is "ugly" is flat-out wrong on the internet. Her smile is so wide and infectious! HOW CAN YOU HATE THAT FACE?