I. I am very bored, so I kept thinking, "I am bored! Maybe I'll post to lj!" And then I would realize I had nothing to say that would be of interest to anyone anywhere. I have my last boring history lecture tomorrow, but that is more exciting for me than it is for you. And THEN I realized I still had one last thing I could turn to.
His name is Loki. He is now six months old and weighs, idk, maybe 20 lbs, which is still tiny compared to our previous dog but huge compared to the 5 or so pounds he was when we got him.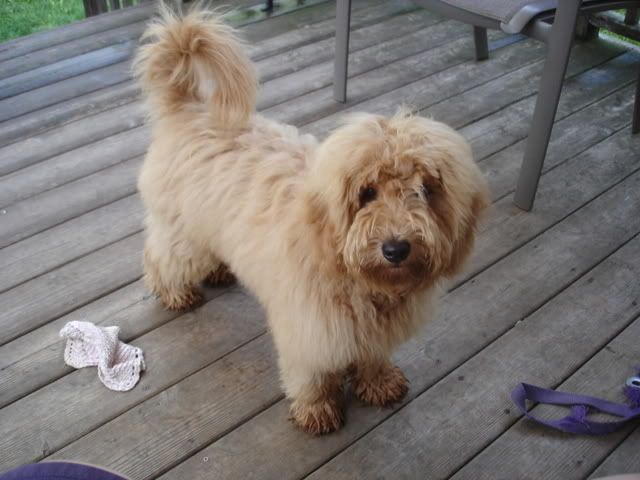 These photos are all after he was just brushed. His hair is usually more whacked out than that. You can't tell in these, but it's also turning red.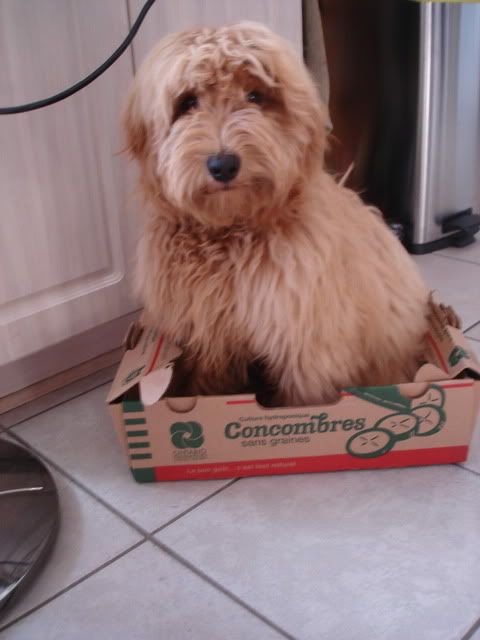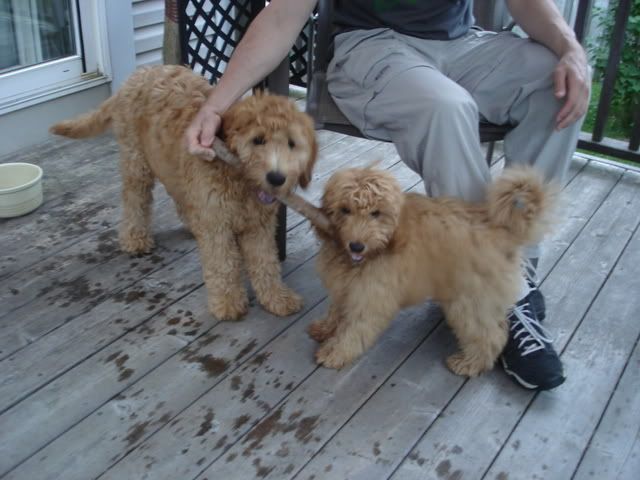 The bigger dog in this one belongs to someone in the neighbourhood. They are the same breed and they have ~playdates~ almost every night. Her name is Ruby and I generally refer to her as his girlfriend.

And here is one for the road: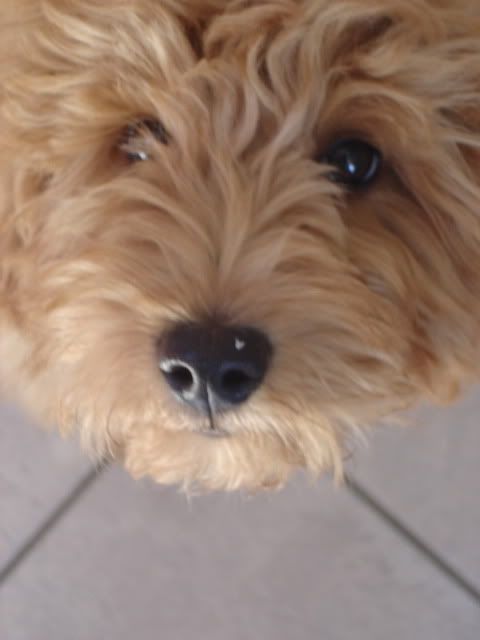 II. WASN'T THAT FUN. See how I distracted you temporarily from the fact that I am still doing that 30 Day meme and my answers today are really boring?
Day 22 – A Who-Related Fan-Site
I rarely if ever leave LJ for fandom-related things these days. I am going to recommend
Teaspoon
, simply because it has brought me more lulz than one can say.
Occasionally I also find a good fic, but more regularly I find lulz.
Day 23 – A Who-Related YouTube Video
So I deliberated over this for a while. SHOULD IT BE A FUNNY INTERVIEW? SOME KIND OF PARODY? A FANVIDEO? OMG SO MANY OPTIONS~
Unsurprisingly, fanvideo won. This one isn't from YouTube, but I DO WHAT I WANT:
Kudos to whoever made it because I love it. I think I've posted it here like 3 times. Too bad.
Day 01 - Your Favourite Quote
- An assortment of things (locked)
Day 02 - Your Favourite Classic Who Fandom
-- in which I revoke my membership card
Day 03 - Your Favourite New Who Episode
-- Waters of Mars
Day 04 - Your Favourite Doctor
-- Ten
Day 05 - Your Favourite Companion
-- Donna Noble
Day 06 -- Whatever Tickles Your Fancy
-- "Don't Stop Me Now" Fanvideo
Day 07 - Your Favourite Piece of Music
-- "Love Don't Roam", "Doomsday", "Song of Freedom" and "That One Song From Series 5"
Day 08 - A Who-Related Photo That Makes You Happy
-- Go Go Gadget Team TARDIS
Day 09 - A Who-Related Photo That Makes You Angry/Sad
-- The rueful fate of Donna Noble
Day 10 - A Who-Related Photo You Took
-- The Greatest Action Figure Ever
Day 11 – Your Favourite Series
-- Series 4
Day 12 - Whatever Tickles Your Fancy
-- John Barrowman sings "The Doctor and I"
Day 13 - Your Favourite Villain
-- The Master
Day 14 - The Villain That Scared You The Most
-- The Weeping Angels
Day 15 - Your Favourite Who-Related Tumblr
-- I posted a Martha fic because Tumblr sucks and I do what I want
Day 16 - Your Favourite Who-Related Fanfic
-- A selection of recs for each Martha, Rose and Donna
Day 17 - A Who-Related Piece of Fanart
-- "Girls' Night In"
Day 18 - Whatever Tickles Your Fancy
-- Matt Smith, Karen Gillan and Arthur Darvill being awesome
Day 19 – Episode That Made You Cry the Most
-- Journey's End
Day 20 – The Character Who Is Most Like You
-- ?????
Day 21 – Your Doctor Who OTP
-- Doctor/Rose
Day 24 – Whatever Tickles Your Fancy
Day 25 – Favourite Who Actor
Day 26 – Favourite Who Actress
Day 27 – An Episode You Wish Hadn't Been Made
Day 28 – An Episode Idea You Created Yourself
Day 29 – Who You Think Should Be the Next Doctor
Day 30 – Whatever Tickles Your Fancy