Medium:
Books and Roleplay
Fandom:
Harry Potter
Subject:
Paolo Matucci/Mischa Satine
Title:
Deadly Ennui
Notes:
I first introduced Mischa through
this mix
. Well now this mix brings to light her relationship with
Paolo Matucci
, an Italian soldier of fortune. The music in this mix reflects the couple's mysterious nature, a woman of Mischa's promiscuity and a man of Paolo's apathy coming together in what comes close to the most loving relationship either has had. Most songs fit the couple together, while some pertain to the individuals themselves. Artists include The Knife, Radiohead, Cream, and Muse. A larger picture of the front cover and two back covers are included in this post.
Extra note: The file entitled "Last Flowers" is really The Man With the Harmonica by Ennio Morricone.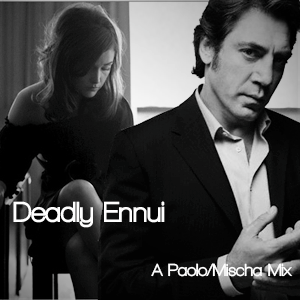 (
You are all I need.
Collapse
)