I've finally decided to face the fact that I'm really no longer interested in JE anymore, not even with the exception of Arashi. Ok I still love Sho Sakurai alot and a few other JE guys like Jin and Toma....but thats about it. And even if I love/like them, I'm not obsessed with them nor do I stalk fansites or clubbox for their stuff. I think I'm just bored of JE now. lol
Like I heard One Love by Arashi, and I actually didn't squeal like I always did before. I just simply went " Ok nice song." Put it on my i-pod, never listened to it once. Actually I feel like a really crap fan now but I just lost interest. *sigh*
Honestly speaking, I mostly listen to Hyori and F.T Island on my ipod these days. hahaha
And its like, you can't force yourself to be obsessed when you really aren't anymore, right?
So now that I've decided to face this fact... I want to sell some of my JE stuff. Not all, coz I still love Arashi crack, just not obsessed anymore. DOES ANYONE WANT JE MAGAZINES? I have ALOT. lol. Talking about magazines, I also have alot of JUNON ones from my w-inds. fandom back in the days. Does anyone want them too? I'll probably have to charge a bit though coz when I got those magazines, they were $$$! And also like...in order to fund my KPOP obsession. :P I mean srsly, look:
August 8th - Big Bang 3rd mini album!
(ALSO OLYMPICS OPEN DAY! I SWEAR TO GOD THAT HONG KONG SHOULD MAKE THIS DAY A PUBLIC HOLIDAY! It's special enough, no? I mean its in Beijing and Hong Kong is part of China. I don't want to go to work. kaka)
August 23rd - F.T Island 2nd album!
August 27th - DBSK 4th album!
Like..WHY ALL IN AUGUST? T_T And I'm really tempted in getting Hyori's Hyorish album coz its so darn good. Deary old dear.....
Anyway, saw this photo on soompi and it made my day: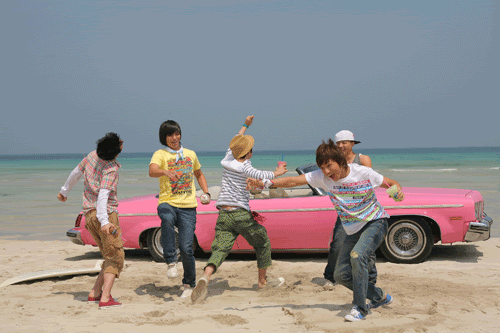 I enjoy dorky big bang. :)
and aww TOP so caring for Baby. XD
But srsly check out SeungRi's face when he falls. Its hilarious! God I'm such a bitch. XD
Ok back to work. lol
p.s. I think I might make my journal Friends Only soon. Just a feeling that some people are reading my journal and I don't know them. Don't get me wrong, I still want to make more friends
but no one wants to be friends with me. *goes emo*
And a new layout. I want a more summery (is there such word?) one!