DUAL POST
english speakers:
read above the pictures for comments.
________________________________________
para español...
leed debajo de las fotos los comentarios.
every year in madrid there's a carnival in madrid. ppl wear costumes anything goes halloween like and get drunk and crazy and what not. my date for this carnival thing, bunny ears sword girl.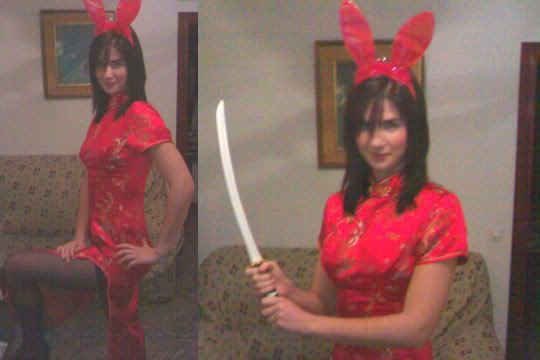 me fui de carnavales con esta bonita chinita playboy. esta es otra de las fotos por las cuales voy a morir colgado... o morir por haberla colgado. buah, es igual.
before you ask, yes... i did actually train some kung-fu/wushu when i was in highschool. where would i had learnt this wonderful pose if not??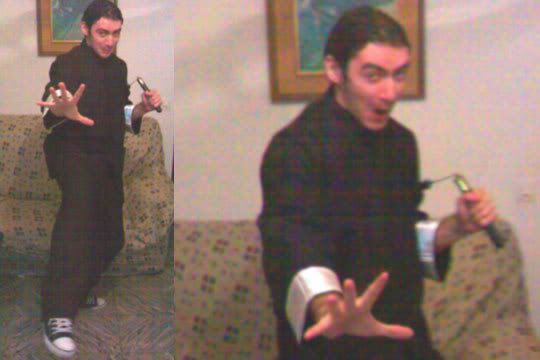 bruce lee no la palmó... el maestlo vive!! lo bueno de este traje es que te puedes hinchar a decirle a toda la gente lo de "bi gûoter mai fren". y al que se ponga tonto le das con el nunchaku.
in the gay neighbourhood in madrid everything seems to go backwards.... even the kanji/hanzi.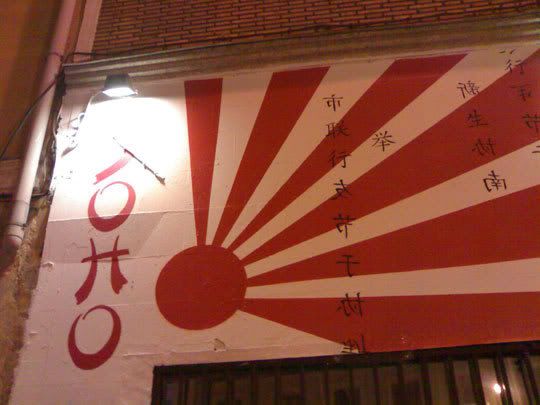 en un mundo desconocido... chueca. donde todo vá al reves... si no que se lo digan a estos kanji.
my friend the zombie nurse delivers a lethal injection on the queen's tit.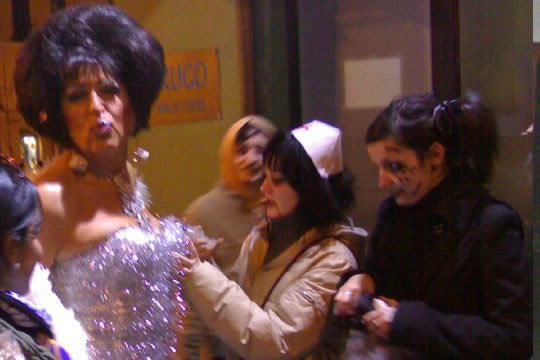 mi amiga la enfermera zombie se anima con un pinchazo en la teta falsa de la drag.
my group with another group... does it ring any bells? the
spice girls
! this is the mel connection. brown sugar spice (or whatever her name was) vastly touches sporty spice's boob with a grip.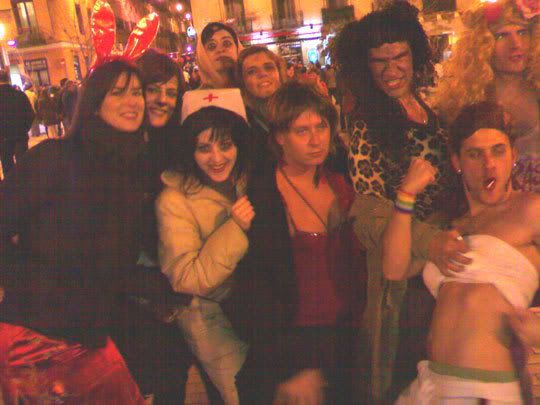 mi grupo con otro grupo... os suena? que no?? son las "spice girls"... se puede ver claramente como de forma descarada la spice morena le toca/agarra una teta a la sporty spice.... (pero que obsesión con las tetas).
we ended up in a pub full of lesbos. which wasn't potentially risky for me but a great view.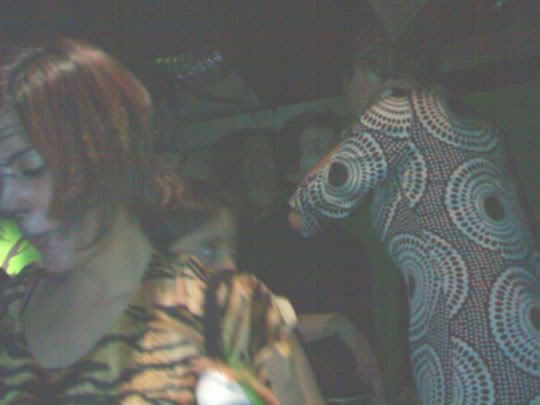 baste decir que terminamos en un garito de lesbis. lo cual no suponia ningún peligro para mi pero si unas grandes vistas.
Y, desde aqui hago un llamamiento a todos los hombres del mundo. Articulo 1º. Abogamos por nuestro derecho inalienable de ver a dos o más tias dándose el lote sin recibir collejas ni codazos ni ningúna lesión grave física o moral por parte del sector femenino heterosexual que se encuentre a nuestro lado.
nunca mais! se acabó!
Por último os dejo la gran sabiduria de las galletitas de la suerte chinas:
LITERAL translation(the typos and grammar mistakes are hilarious): 1.Success is a journey, not a distillation. 2.Be careful! Bees with honey on mouths have poisons on their tails. 3. A modest man never talks to himself.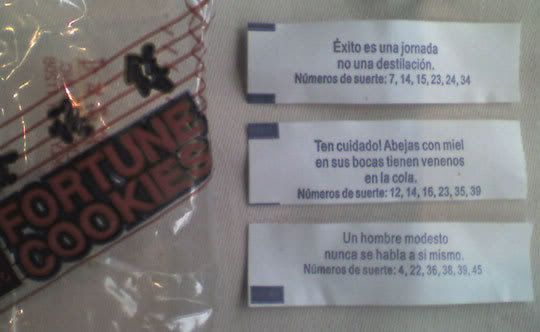 lo de 'be water my friend' se queda en una simple gilipollez al lado de esto...
and on popular demand, the infamous chincheta picture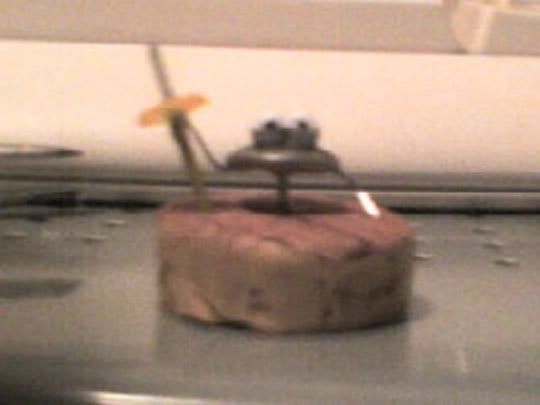 y a petición popular, una foto del kendoka chincheta.
en el próximo post... reseña de valencia y otras cosas... お楽しみに!