this week I've been cooking and baking up a storm! I recently purchased
appetite for reduction
and I haven't made too many recipes from it (the things I have made, I loved!) so I set out to explore this book more this week, basing all of my week night meals on recipes from the book.#
first up: lentil and aubergine chili mole
this one was fairly easy to make, though because I used tinned, cooked green lentils instead of the dried variety suggested in the recipe and I didn't reduce the amount of liquid I put in enough, the stew was a bit on the wet side. I served it over some basmati rice. even though I followed the recipe as it was written and found it to be a bit bland. when I had the leftovers for lunch the next day, I sprinkled some red chili flakes over the top and that improved it a bit.
verdict: 6/10 - I probably won't be making this again :/
second: tofu with chimichurri sauce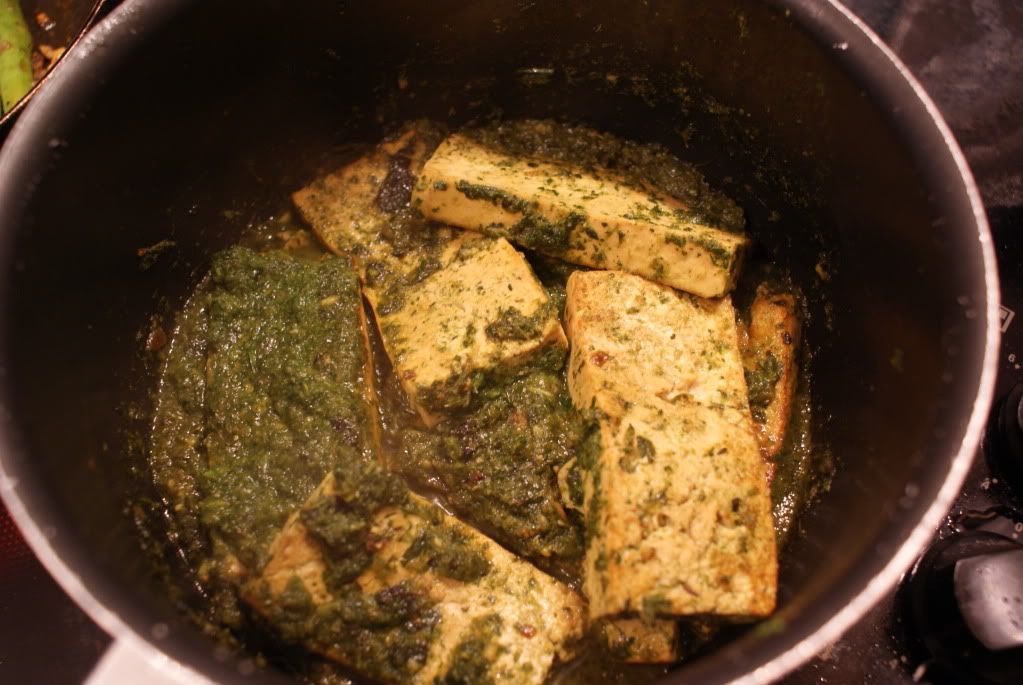 this was so tasty!! I really enjoyed the lovely green sauce (the texture of the sauce was reminiscent of saag paneer, though since there was no spinach involved it didn't taste anything like saag paneer.) basically, the chimichurri sauce was made up of a bunch of parsley and a bunch of coriander, some vinegar, soy sauce, garlic, onion and a couple other things. I marinated the tofu slices in the chimichurri sauce for about half an hour then removed the tofu, quickly browned it in a pan and added the sauce back in to cook off for a few minutes. the tofu was a bit crispy on the outside, and nice and soft and tangy on the inside. really delicious, fairly easy, stood up to being a part of a delicious lunch the next day.
verdict: 9/10 - so good! it was tangy and green and fresh tasting. the only complaint I have is that the vinegar was a bit unrefined tasting; a little bit harsh, so maybe next time I'd use lemon juice instead.
third: jerk asparagus
this was a really yummy way to cook asparagus. I didn't have any all spice and thought that the asparagus could use a little more pizazz to them, so I added in a pinch of curry powder and some old bay seasoning to the spices called for in the recipe. a 10-minute sautee in the pan with some garlic and ginger and it was delicious! the book says you can add water if you think the pan is getting too dry, I had to add probably a quarter of a cup of water overall to keep everything from burning. I let the asparagus get a bit browned and crispy - delicious! I finished them off with a squeeze of lemon to brighten everything up.
verdict: 9/10 - tasty, crispy, nicely spiced. I'd definitely make this again.
fourth: mango bbq baked beans
these beans were the absolute star of dinner. smoky, chewy, tangy, sweet - just perfect! I had bought some liquid smoke flavouring from amazon earlier this week and used some of it in these beans and it was SO good!! tasted as though they'd been cooked over a camp fire! the mango lent a really lovely tangy sweetness, the beans were chewy and cooked down, everything about these beans was amazing. you basically chuck everything in the pan and let it cook for 45 minutes and stir in the smoke and agave at the end and you're left with the most amazing bbq-flavoured baked beans you'll ever know.
verdict: 10/10 - these were perfect. everything you'd want in a bbq dish without coming from a tin. I'll definitely be making these again!!
my delicious lunch box!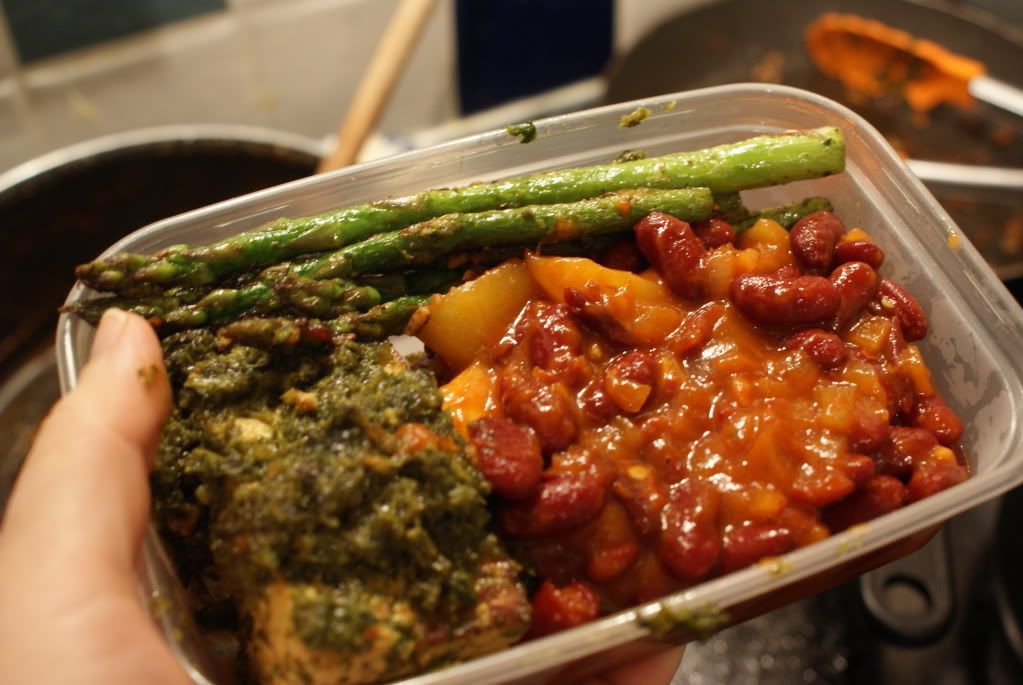 fifth: edamame linguine pesto
this was SUCH a tasty dinner!! for someone who can't usually partake in pesto (generally it's made with pine nuts/cashews/etc), this was such a treat! even though I don't have a food processor, I managed to whip this up in my (poor, struggling) blender. I think I would have added slightly less edamame than the amount called for in the recipe, but otherwise it was brilliant. it was nicely basil-y, not too oily, garlicky, just perfect! you know with some either restaurant pestos or ones from a jar when you get to the bottom of you bowl and you realise
woah. there's like 1/4 oil left down there...how much oil is in my belly??
there's no EVOO-overkill moment with this pesto! there's only a teaspoon of oil in the whole thing, so when I got to the bottom of my bowl it was empty - no noodles were left swimming in a ton of oil.
verdict: 9/10 - like I said above, I'd slightly change up the edamame to basil ratio in this recipe, but otherwise it was so yummy and easy! a perfect weeknight meal!!
so friends, get out there (or get online) and order this book! whether you're vegan or not these recipes make for fantastic mains or sides or whatever! all the meals were healthy, low in fat/calories, high in fibre and protein and oh so tasty!