my friend scott from england's here and since this is his first trip to north america we decided to check out new york city while he was here. we did a 4 day trip to the big apple, checked out lots of touristy things and explored a lot and had a great time :)
we left toronto and got to nyc with no trouble. we got to our hotel in the afternoon and checked in, only to find that the hotel had only booked us for 2 nights instead of the 3 we'd already paid for. the girl at the front desk was really quite rude and said we could call expedia and sort it out ourselves. after a long chat with expedia (well..short chat, long hold) it turned out that the front desk girl had made the mistake of checking in the wrong "L Clarke"..I went down and she apologized and we were sent to another room that we had booked for the full three nights.
after that little scare we grabbed some dinner at subway and went for a walk through times square!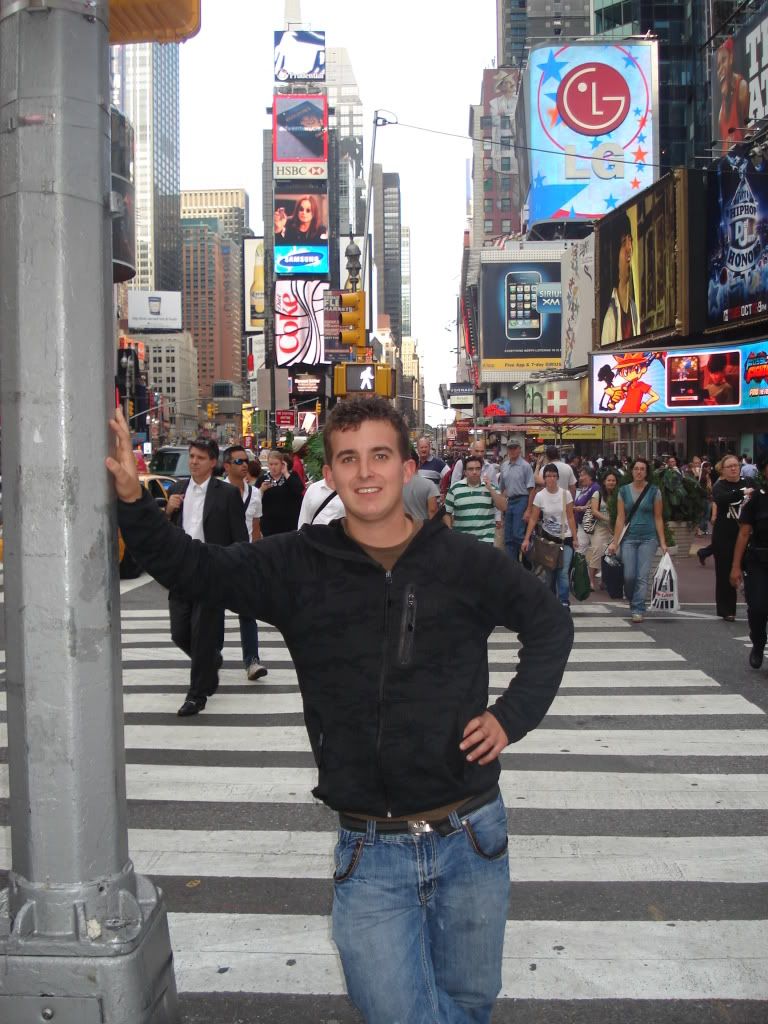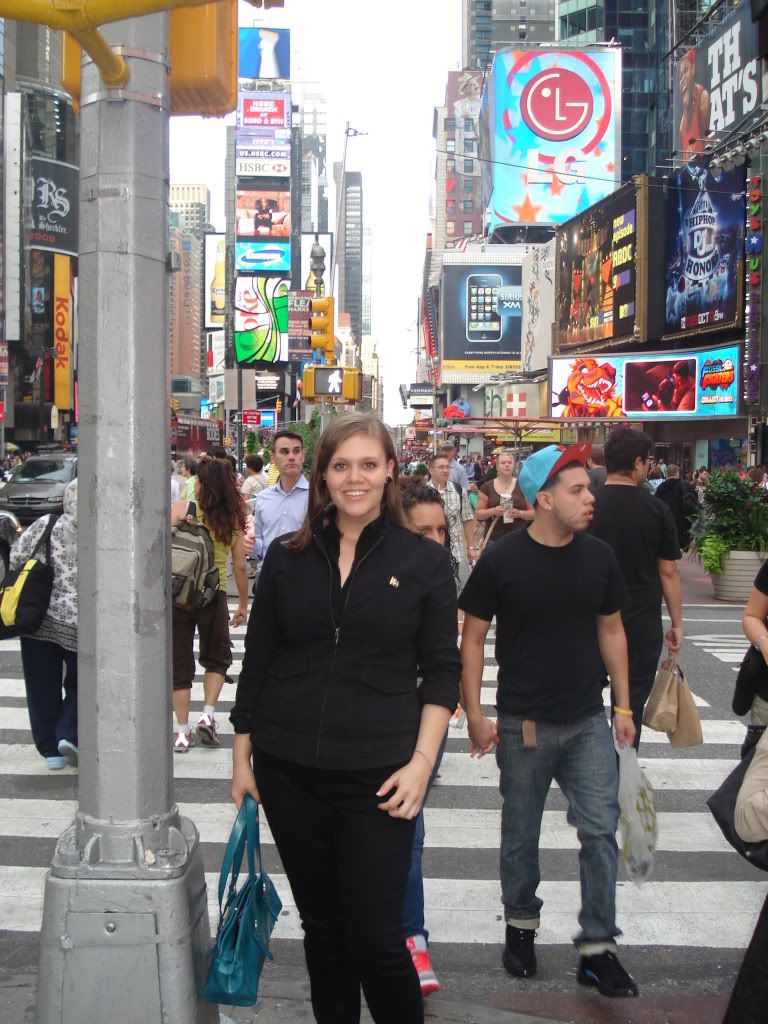 it was scott's first time being in such a big city but I think he liked it. after some shopping/browsing/exploring we walked to central park (this really nasty bike accident happened RIGHT in front of us and I got to put my first aid skills to the test..I saved the day, no big deal) and watched a local baseball game for a while (another first for him) and then meandered back to our hotel through times square, stopping a a grocery store to buy some fruit and water for the next day's adventures.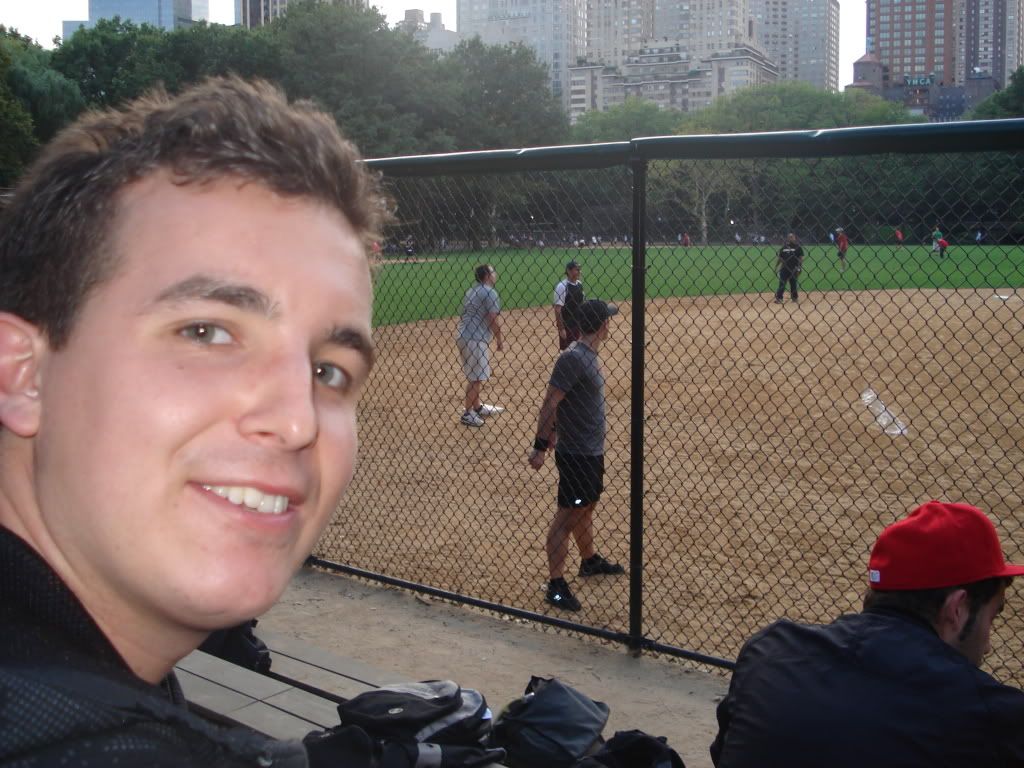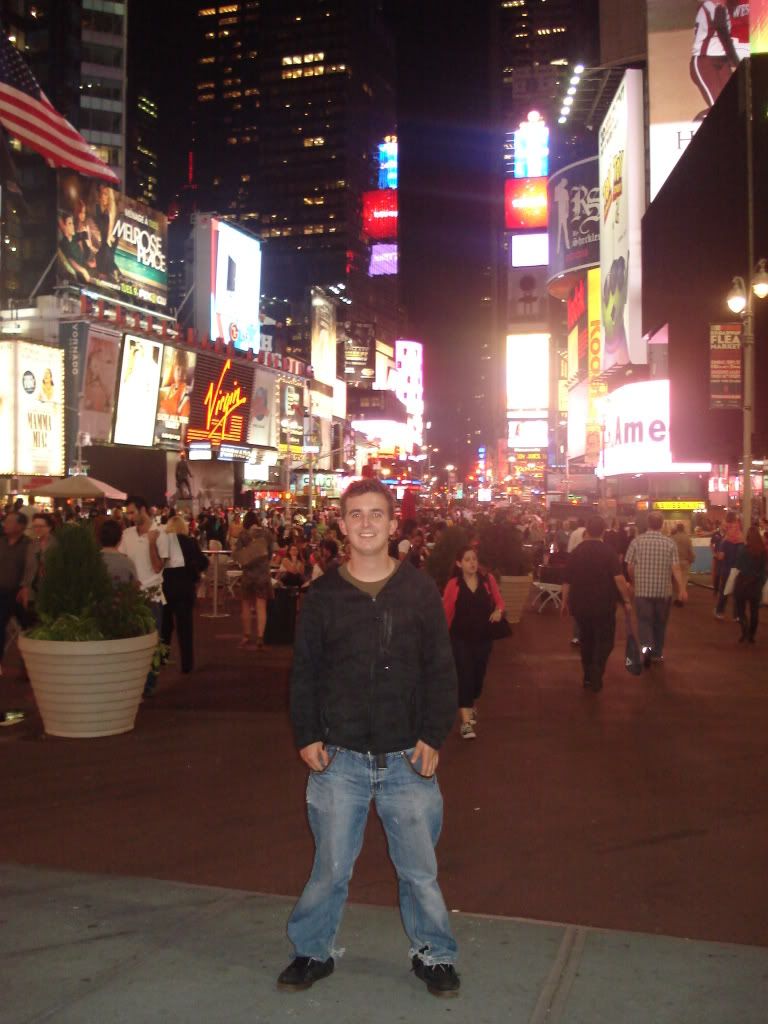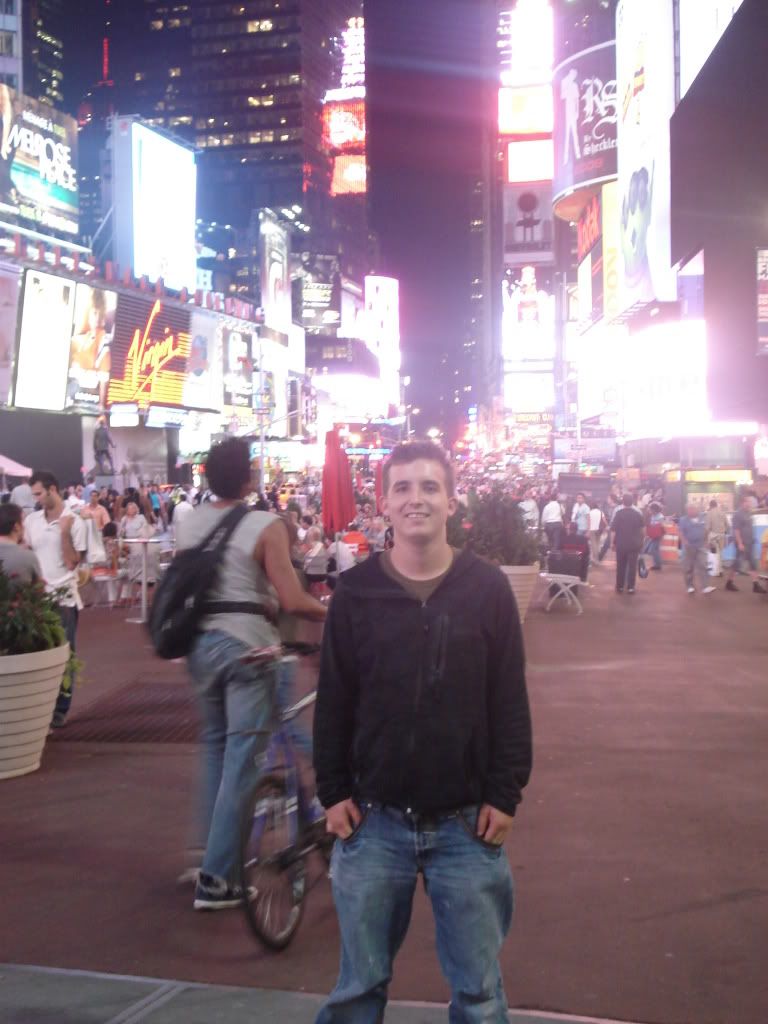 on friday we had our complimentary breakfast and then headed downtown to lower manhattan. we checked out ground zero (still pretty much just a hole in the ground) and then walked along the river to the staten island ferries.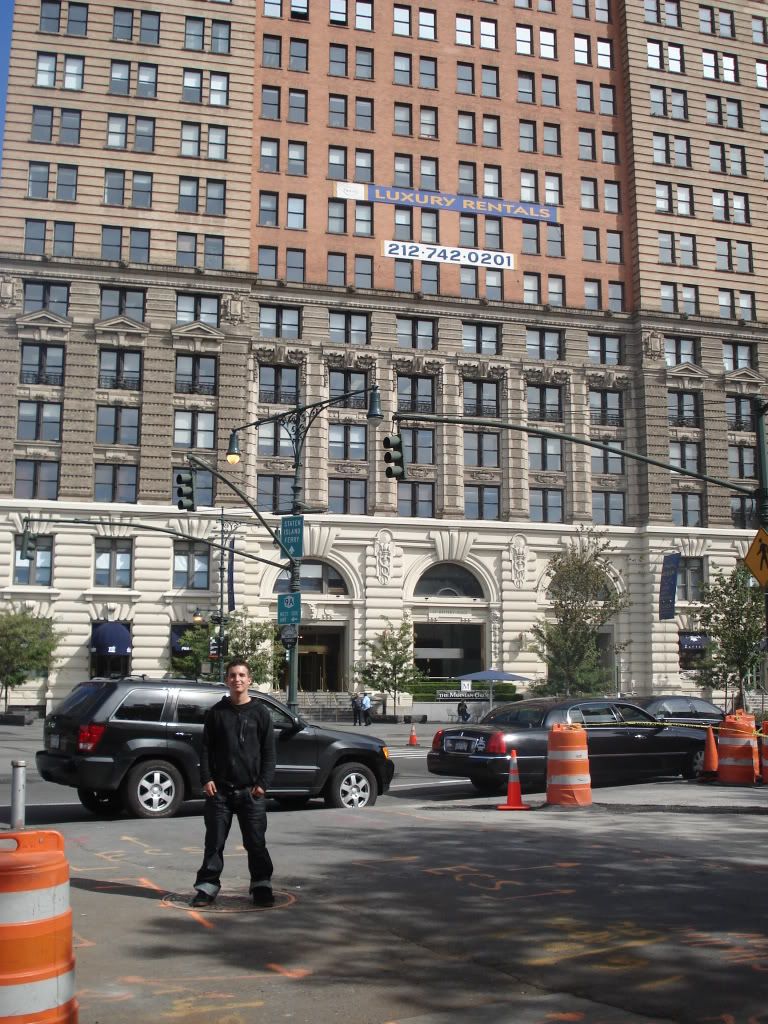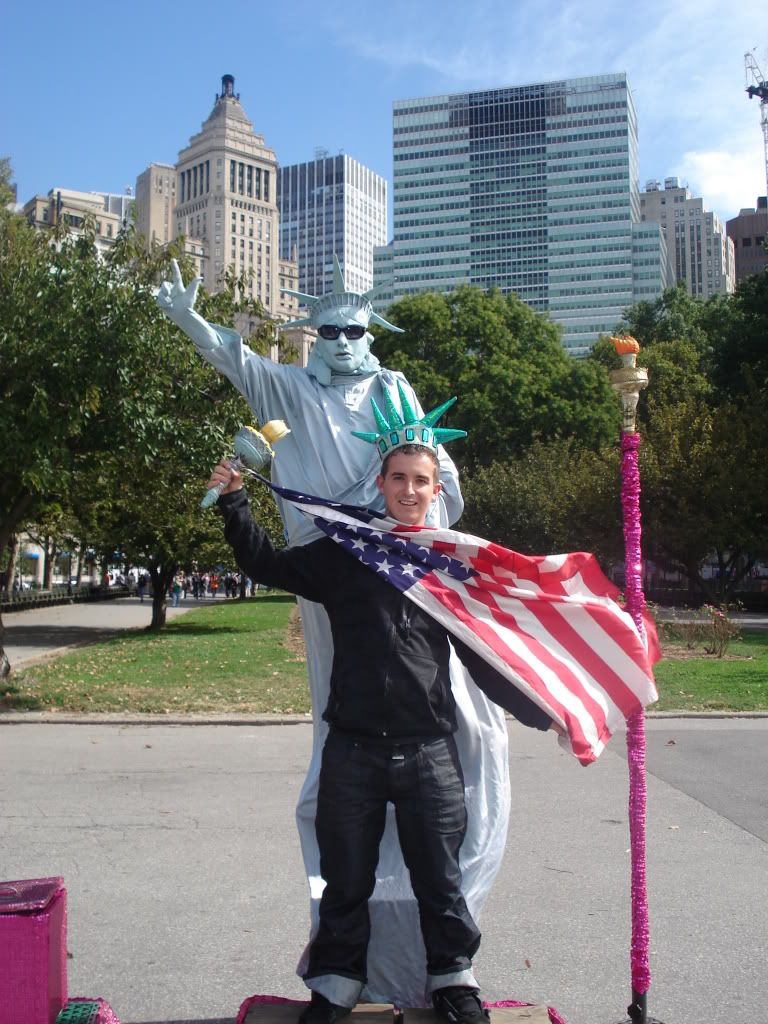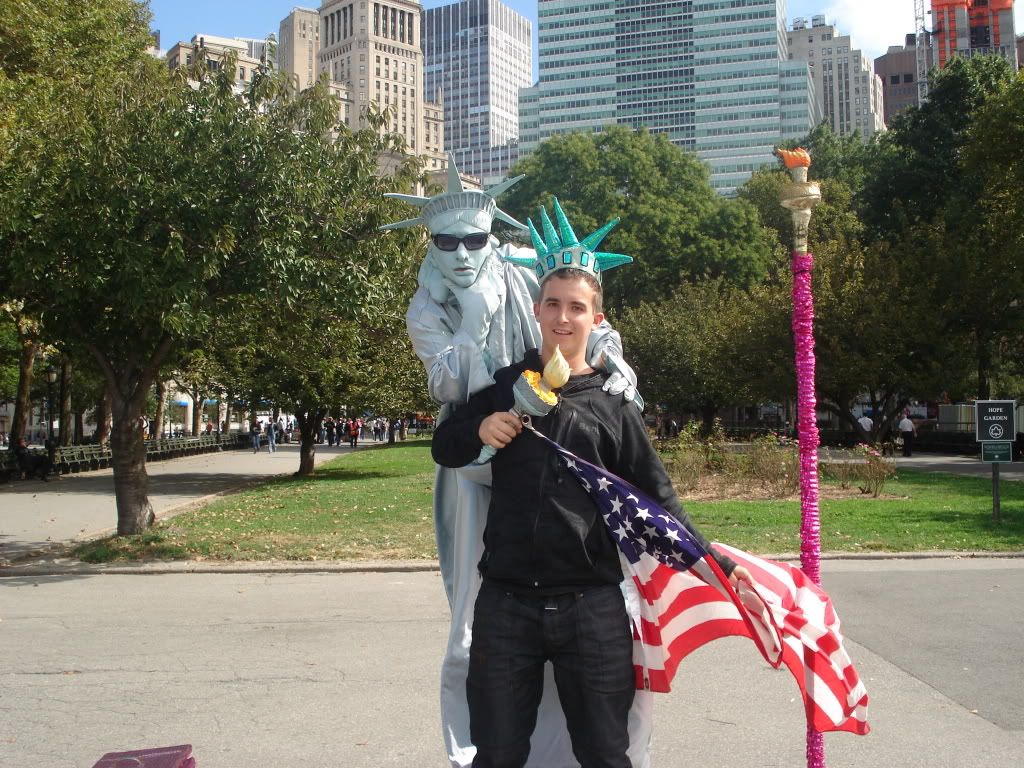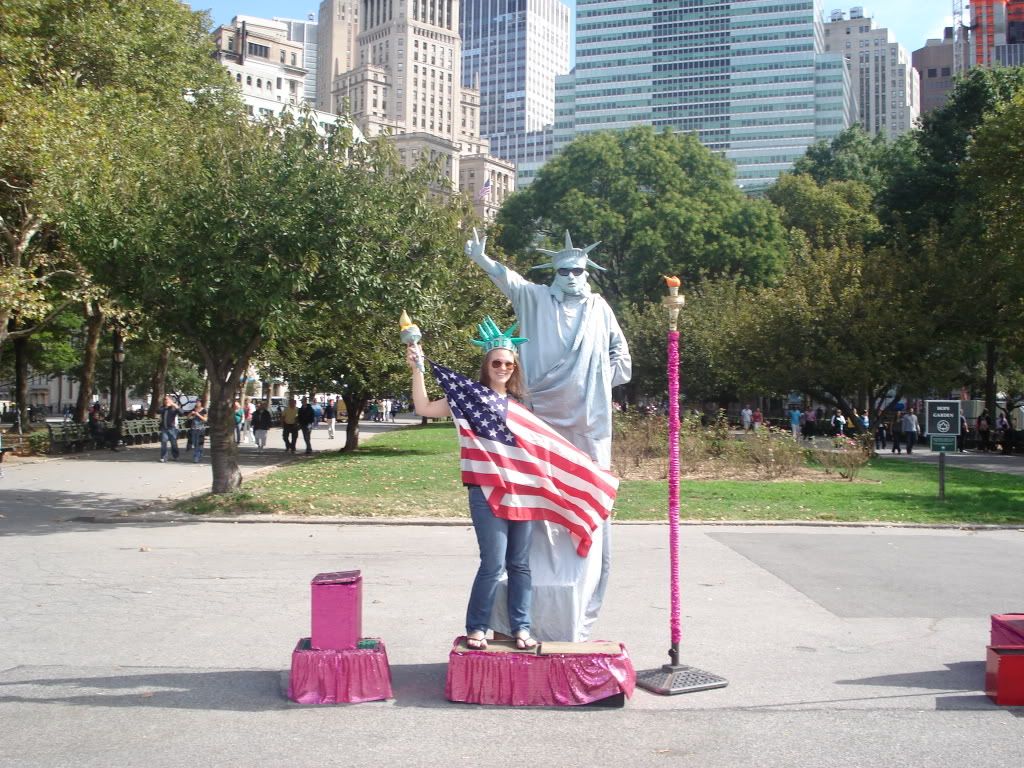 we took the ferry to staten island and hung out there for a while..we took photos and had some lunch..scott bought a disposable camera so he has most of the photos of himself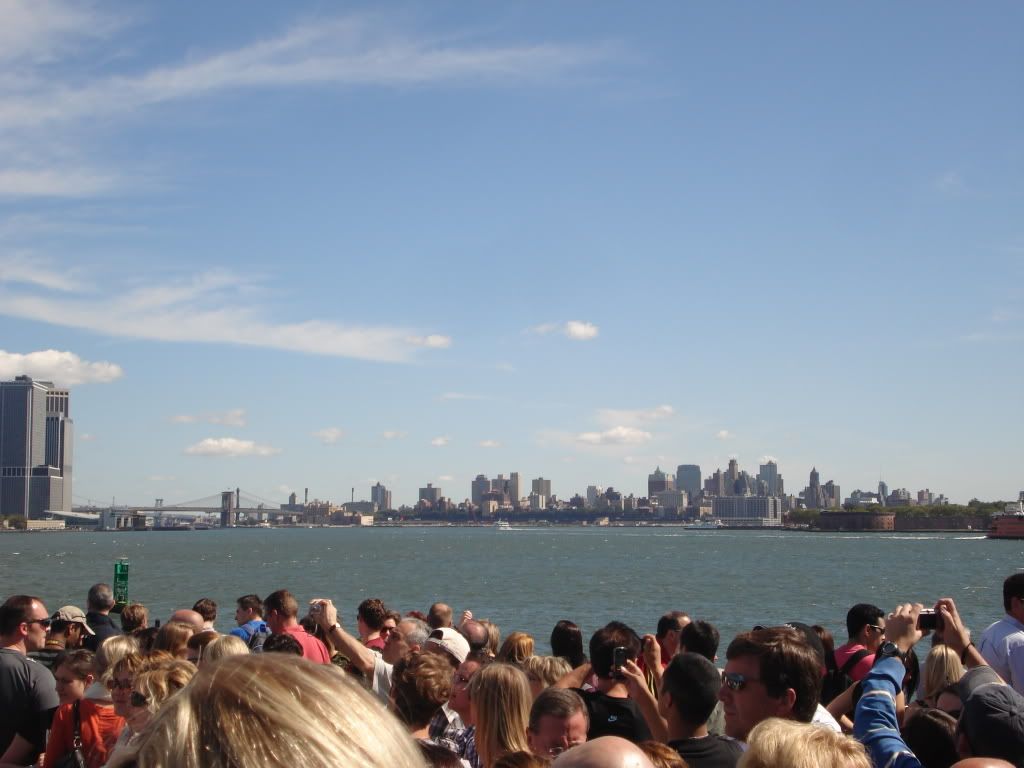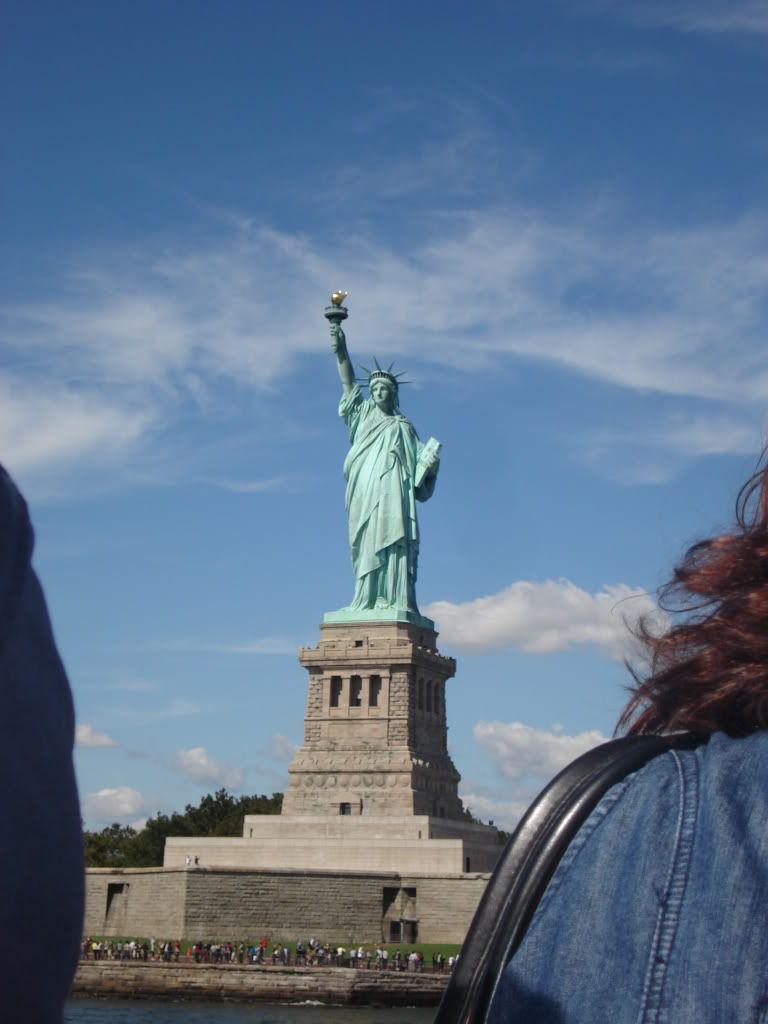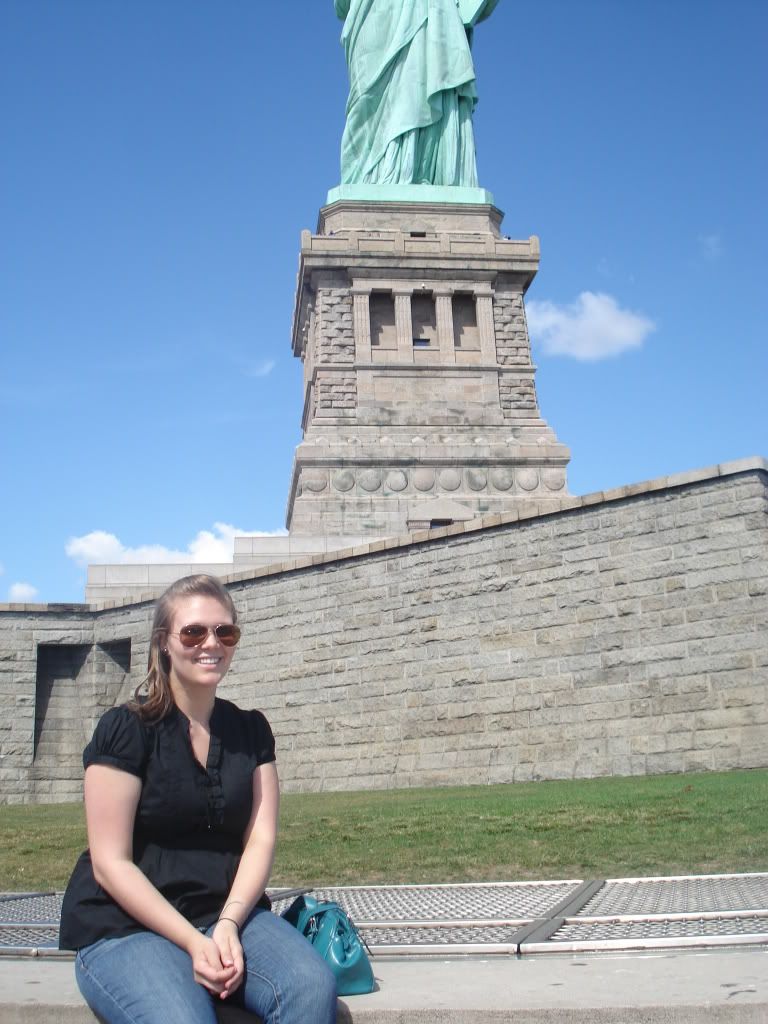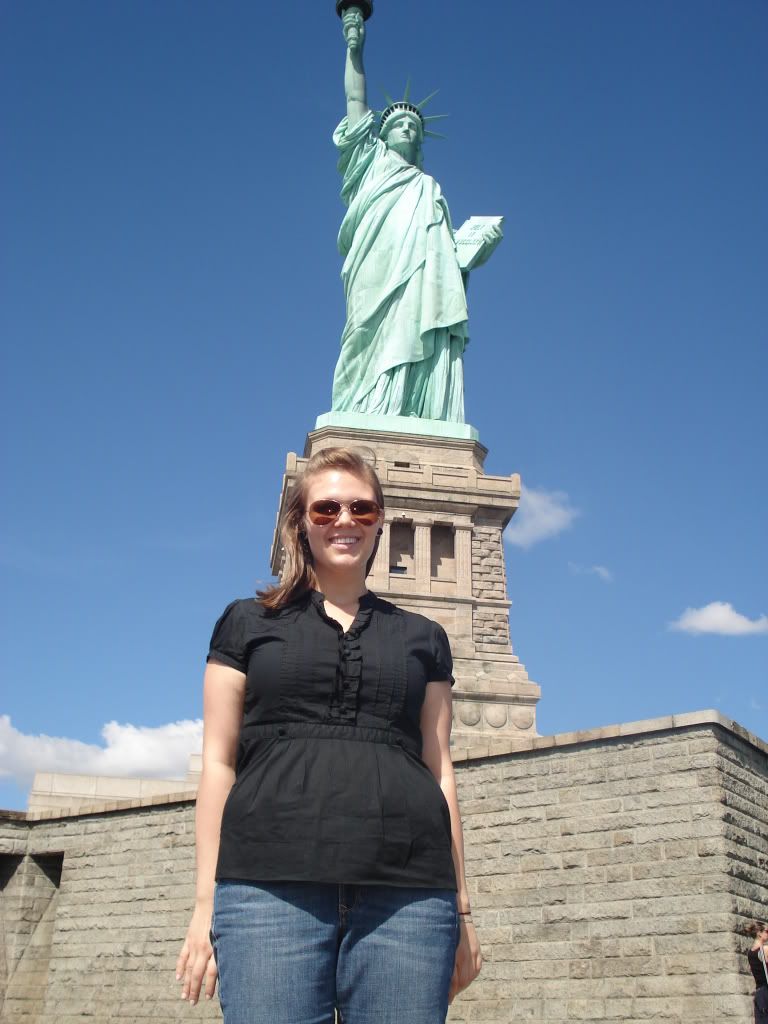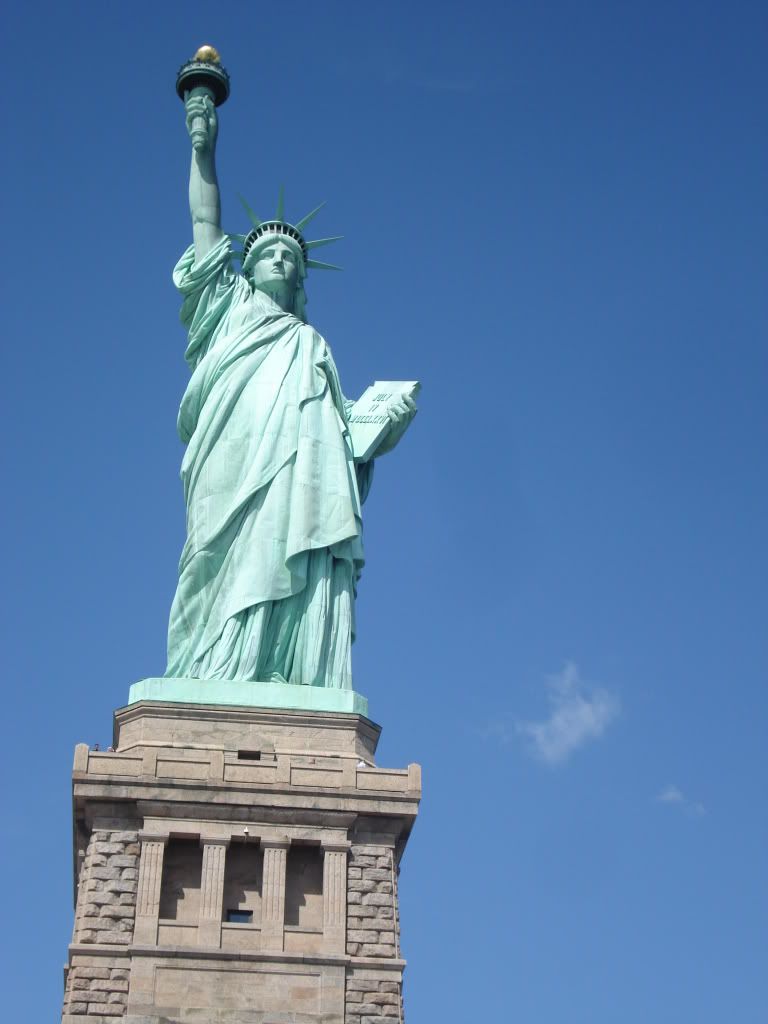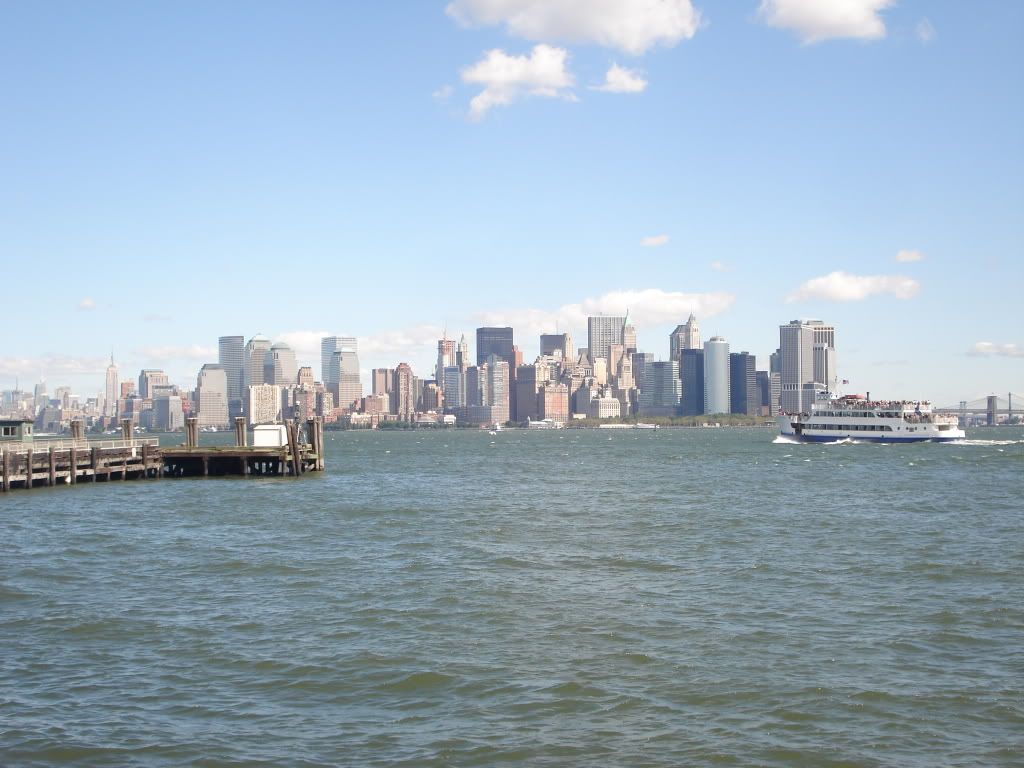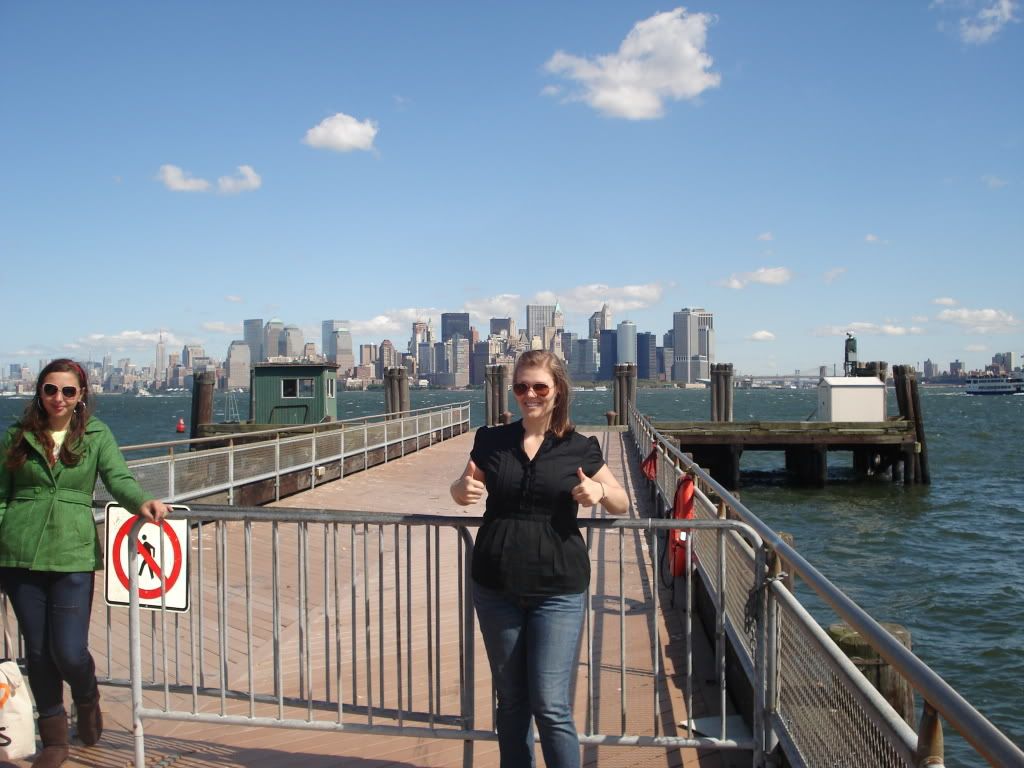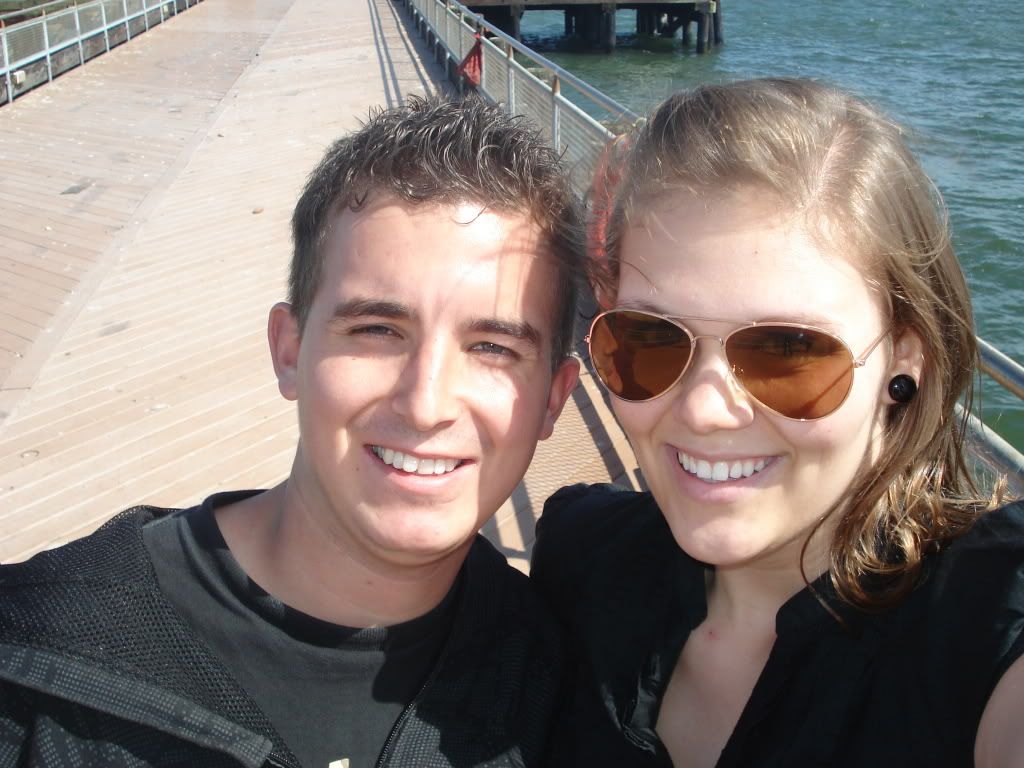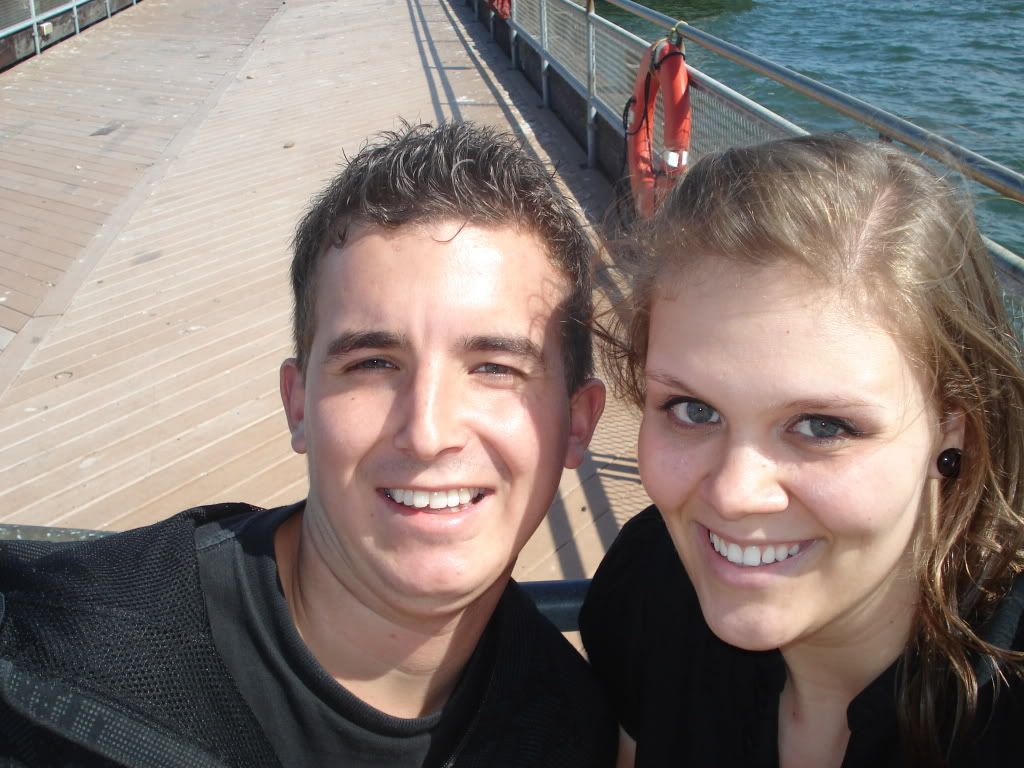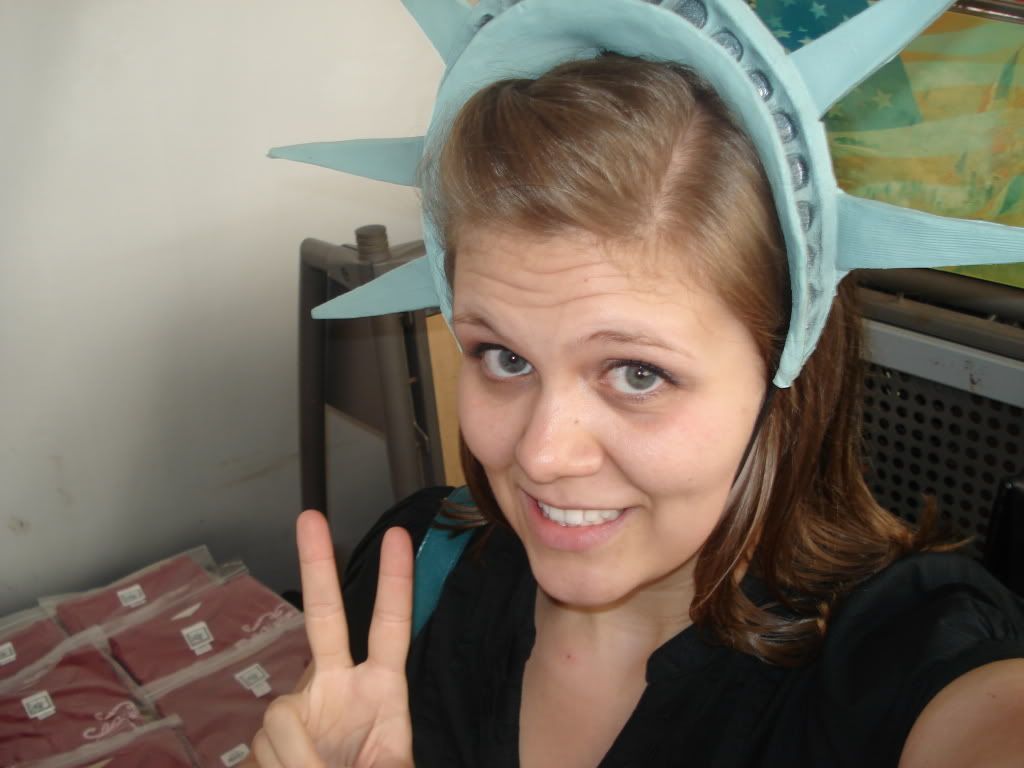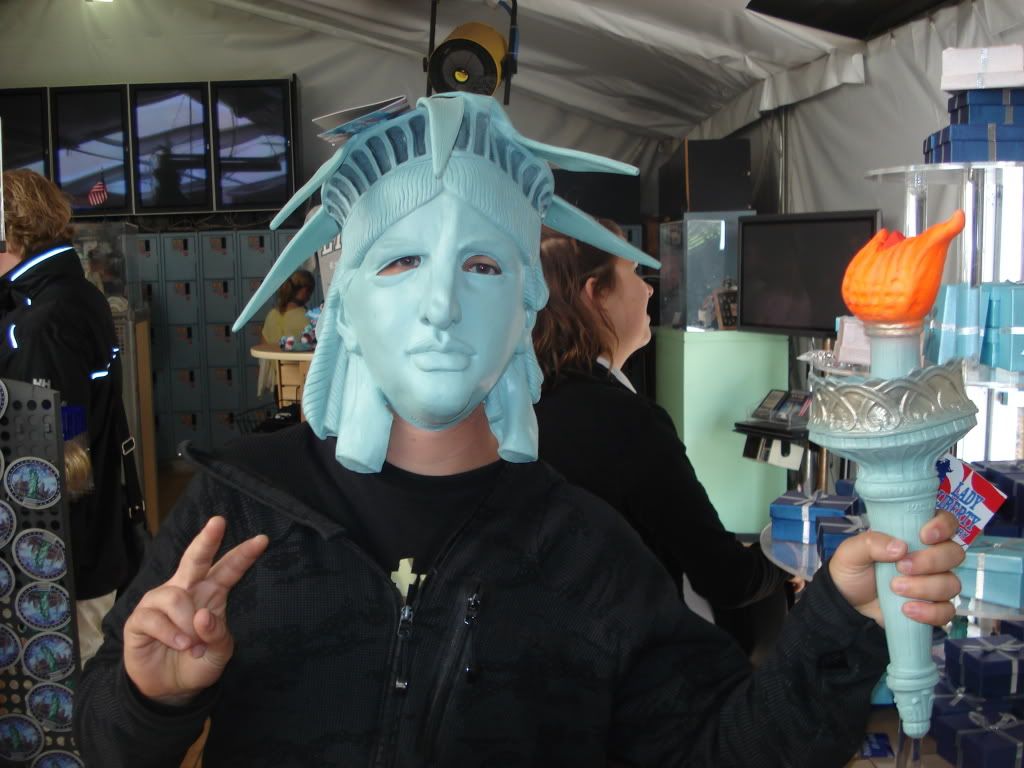 we got back to mainland new york and got on the subway to wall street and had a look at the new york stock exchange and some of the financial district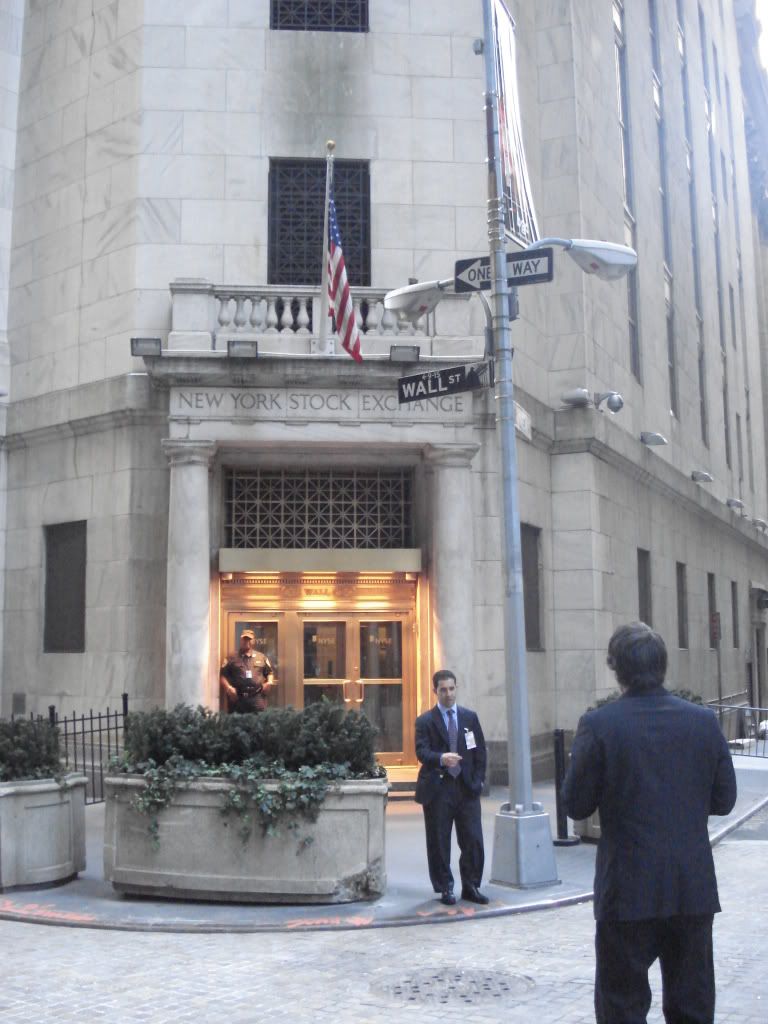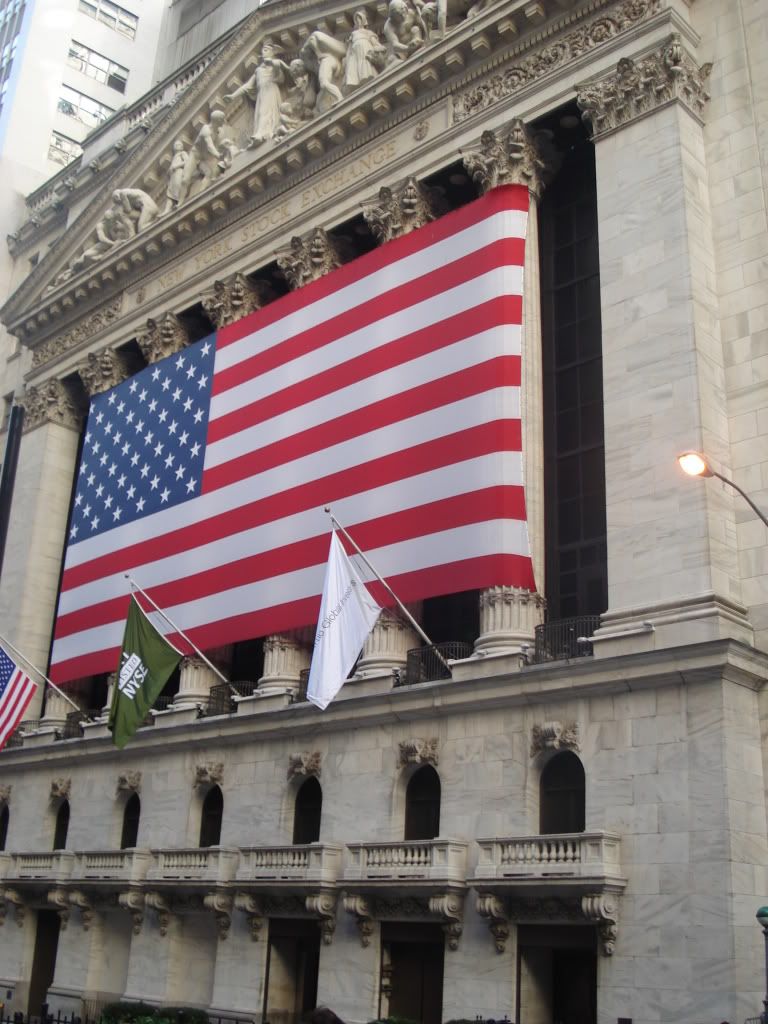 next up was a trip to chinatown! we subwayed it there and walked around. we went into a gun store and while scott was shopping (they also had touristy tshirts?) I had a little debate with a cop about dunkin donuts vs starbucks coffee. then we crossed over to mulberry street and hung out in little italy for a bit. we had dinner there (at la nonna, this really poshy restaurant that's actually pretty affordable and the food is delicious.)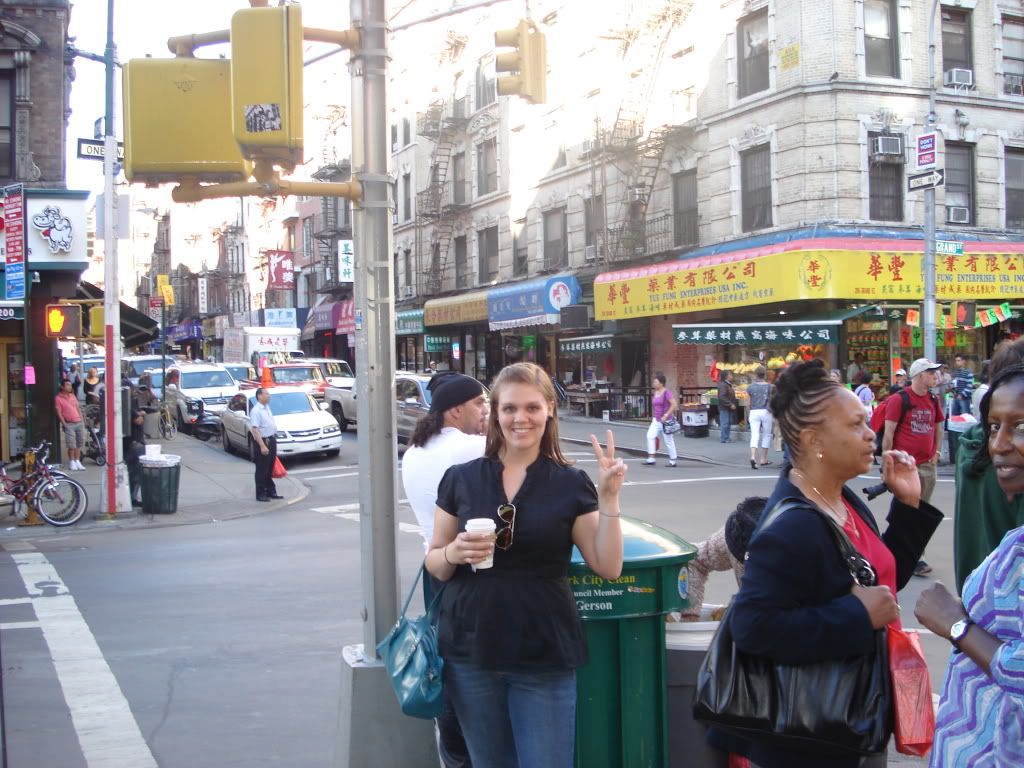 we retreated to our hotel, put stuff away, cleaned up a bit and then headed out for times square. scott did some shopping and bought lots of stuff. on our way back we found HELLO KITTY! kind of random and funny, so I took a photo with miss kitty.
on saturday scott and I did our own thing. I went for a walk down 7th avenue and did some shopping (I didn't buy anything lol) and then met my friend jenny for lunch (jenny's a lindy hop friend of mine from toronto who's doing her master's in NYC.) we met at madison square park and then subwayed it to the west village and had lunch at this yummmmy restaurant called blue ribbon. they make their bread in-house and I had this amazing sandwich and salad.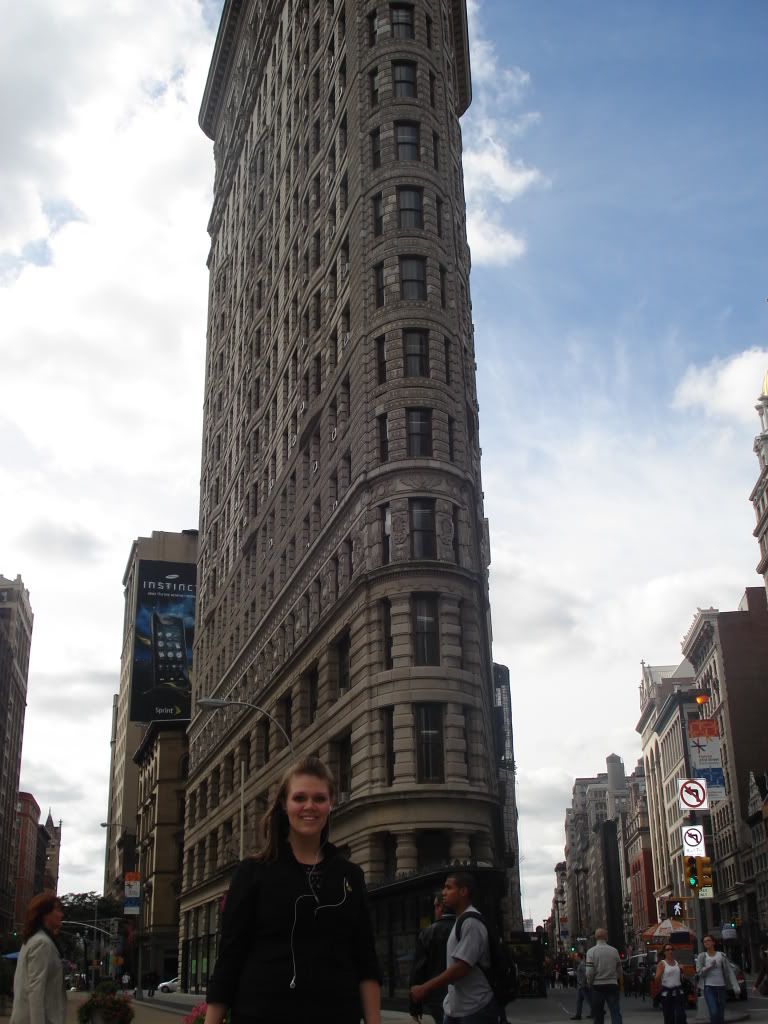 scott and I met up in the afternoon and took the subway to harlem to see the little monument for the savoy ballroom (where frankie manning used to dance!) we were the only non-black people on the subway up there and in harlem itself. it didn't feel unsafe or anything, just strange to be in such a segregated pocket.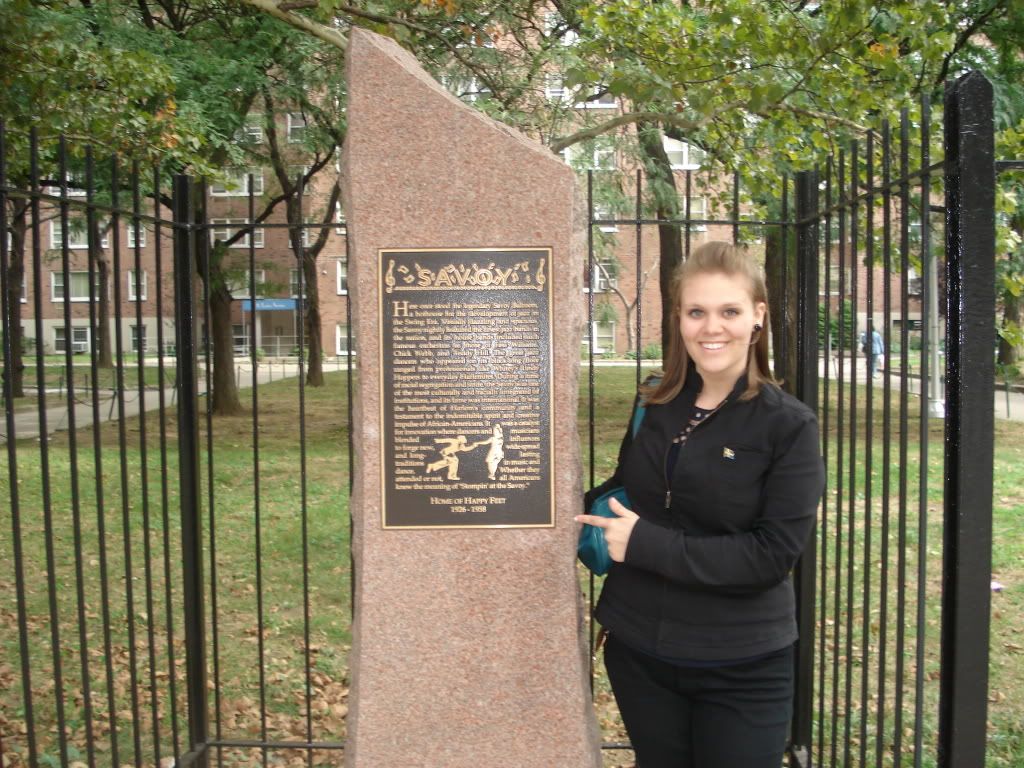 we got back on the subway and scott wanted to go do something else so I got off at central park and had a little sit at one of the ponds and watched some swans for a bit. then I went for a walk trying to find 106+park (yes, of BET fame lol)..I got to the intersection but no BET to be found..so I got back on the subway (may I add here that my navigation skills are impeccable..I never get lost or am unable to find my way, even in places I've never been before) and headed for the south-west corner of central park and rented a bicycle for an hour. I had no idea how hilly central park was...it started off fine and dandy and then up at the north end it somehow managed to turn into the tour de france and I thought I was gonna die. it took me one hour of solid trucking to get around the entire park. that said, I really love biking around the cities I go to so I try to make it happen every time I travel. I had a helmet, a little basket for my purse and leftover lunch and was good to go!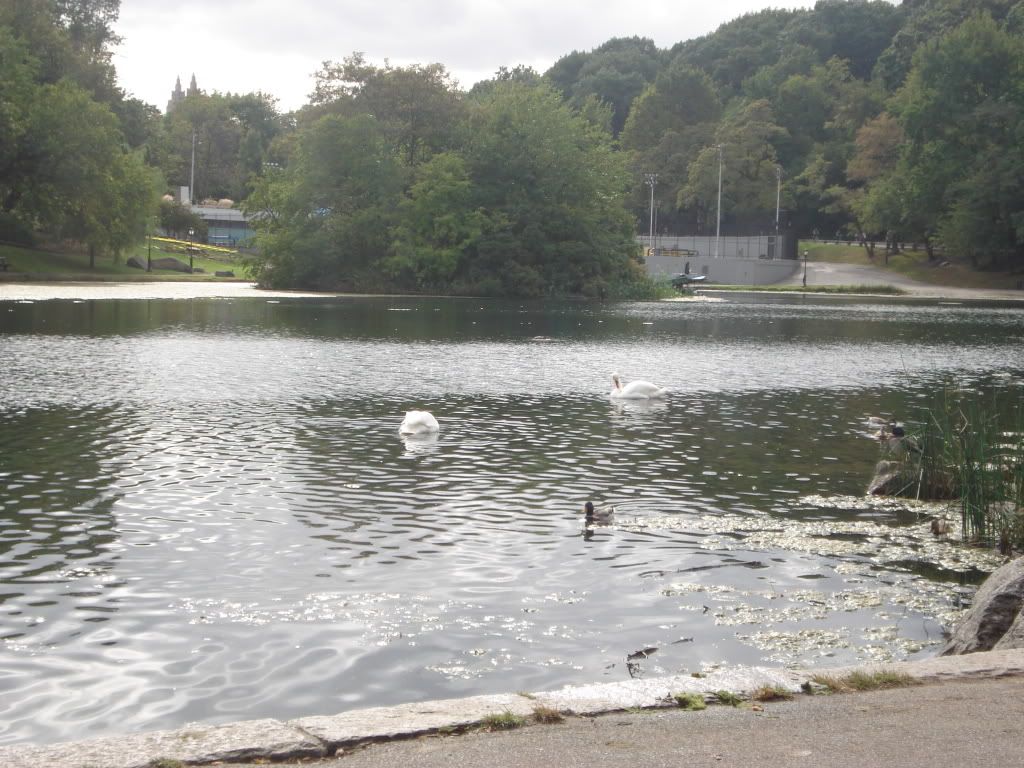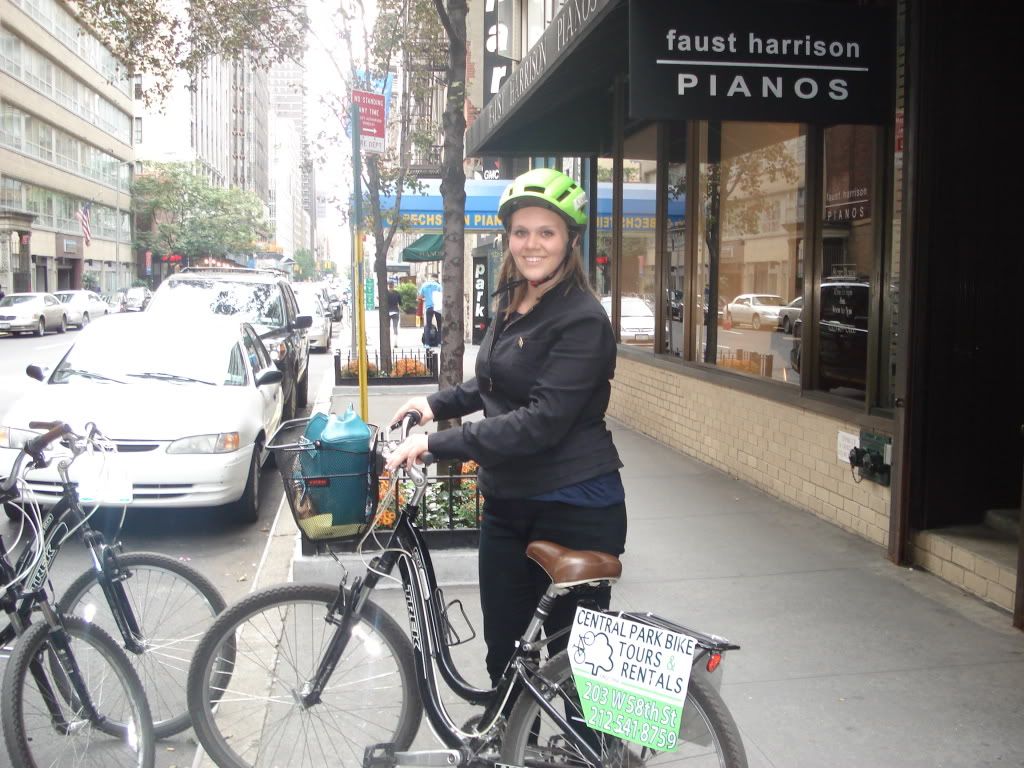 I met scott back at the hotel and we went for dinner. I still had half a sandwich from lunch so I bought a little bit of potato salad and a pumpkin spice latte from starbucks (it was reeeaaally cold so I got a hot beverage to warm up a bit) and scott bought a big salad and some stuff from starbucks and we headed over to central park and had a little dinner picnic on the pond.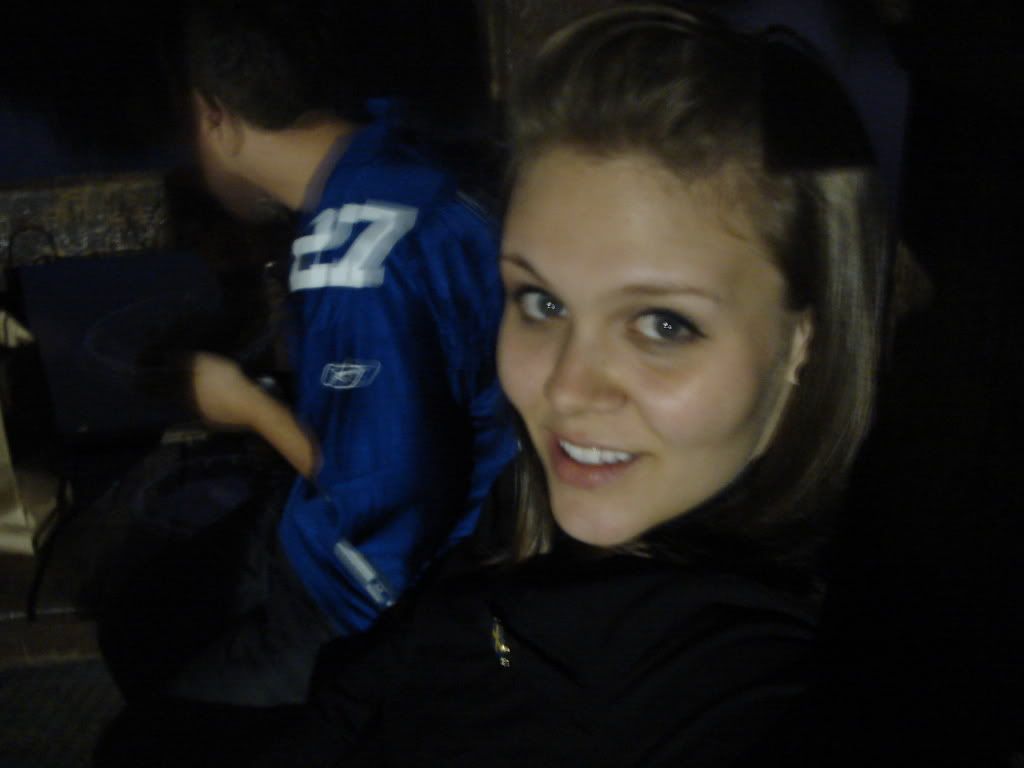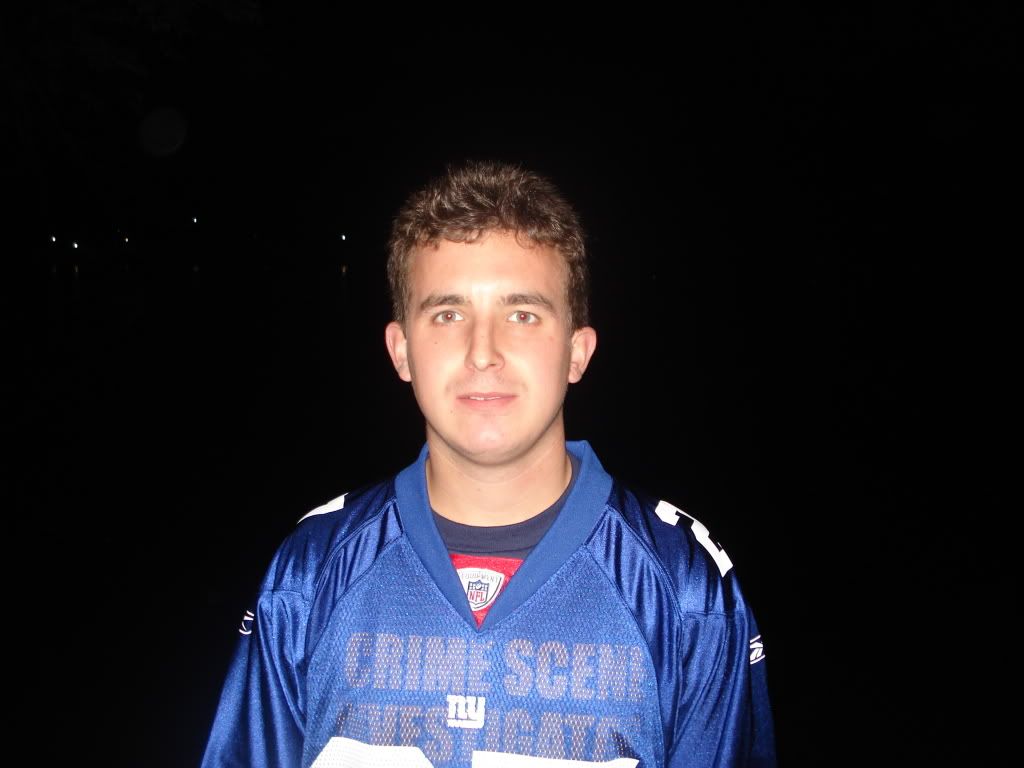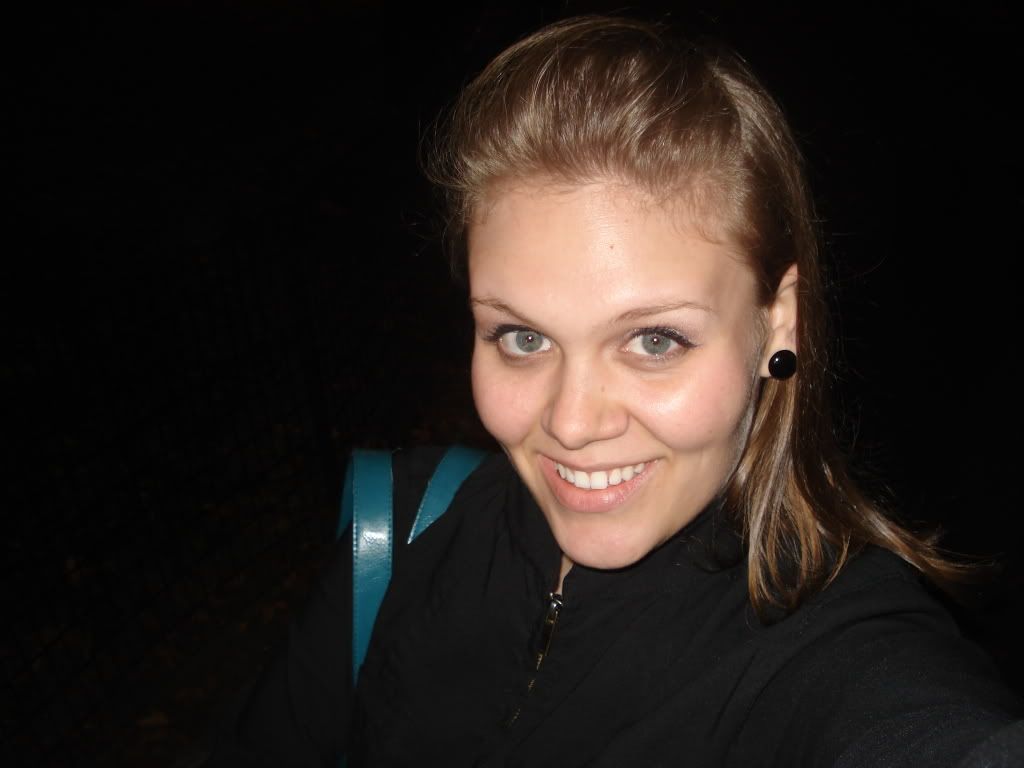 afterwards we headed to MAGNOLIA BAKERY!! yes, magnolia bakery. home of the tastiest cupcakes you will ever put in your mouth. I bought some for my family and had one myself :)
we walked around the upper west side a bit and then headed back to the hotel.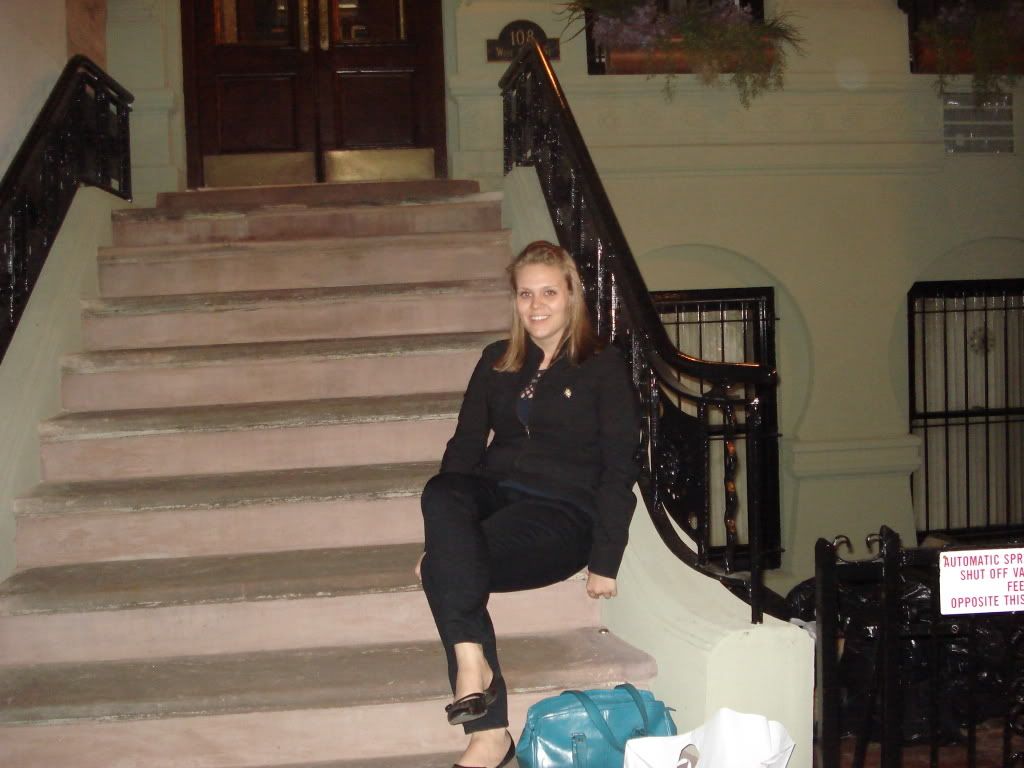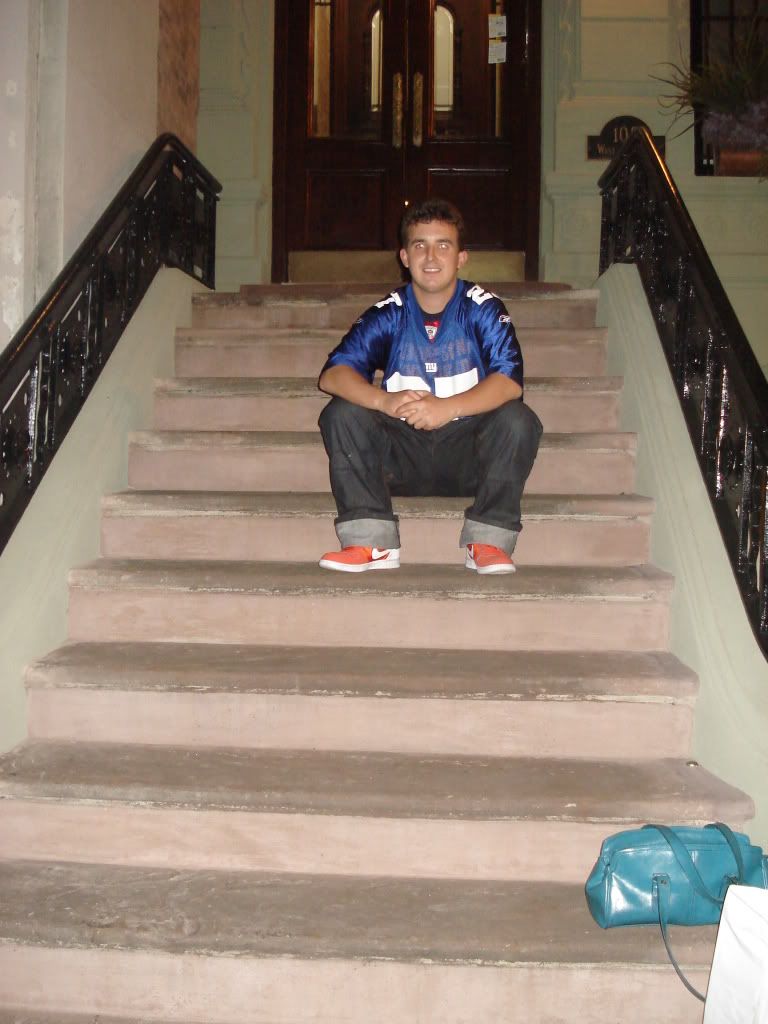 scott went out to do some more exploring and I packed and got ready to leave the next day. our flight home went well and a good time was had by all!