right. so last night was the
rue morgue
halloween party (rue morgue is a canadian horror magazine/etc, the party was also sponsored [as we were made aware of multiple times] by warner brothers, anchor bay, alliance films and some beer companies). angelica, me and two of ang's friends (rachael and nat) went to the berkeley church to ch-ch-check it out
so I met angelica downtown first in the afternoon so she could meet up with this lady from craig's list to buy a corset that she's wanted for a long time. that went well (it involved both of us going into a sketched-out one-stall bathroom thing together and exiting together which garnered a few looks), then we headed to her place to start getting ready. angelica was originally gonna go as a sailor zombie but this shirt she ordered off of ebay didn't come in time to she had to switch to a dominatrix zombie (which worked out well; she'd just bought the corset, she had a whip and handcuffs on hand, it was cool). angelica spent hours carving these pumpkins the other day, they turned out gorgeous
then came time for makeup..angelica did mine in about an hour, I looked wonderfully undead. she put a nice legion on my neck that looked so disgusting (it was liquid latex and it ended up sealing my neck skin to the collar of my dress lol, so I couldn't turn my head a ton). then she did her makeup while I tried to zombie up my hands. her friend rachael came over and we hung out til angelica was set to go.
we had originally meant to meet cynthia at the church for 8:30 but we ended up there around 8:50 (this involved us leaving late, stopping at mcdonald's for snacks and streetcars being unusually slow). whilst waiting at a busstop, a car full of young guys pulled up to a red light and I had my back to them and ang said "laura turn around, those guys are totally checking you out" so I turned around and their faces were pretty fear/wonder struck haha. I got a ton of compliments on my dress but the best compliment of all went to rachael when some guy said to her "are you meant to be marilyn manson's ex-wife [dita von teese]?" although rachael wasn't really dressed up, it's the best thing you could say to a person as dita=perfection



the pirate in the background wasn't in our party; we ended up seeing some other halloween party people out and about (although we did end up bumping into said pirate and his bloodied up friend inside the rue morgue party and they said hi and chatted for a bit)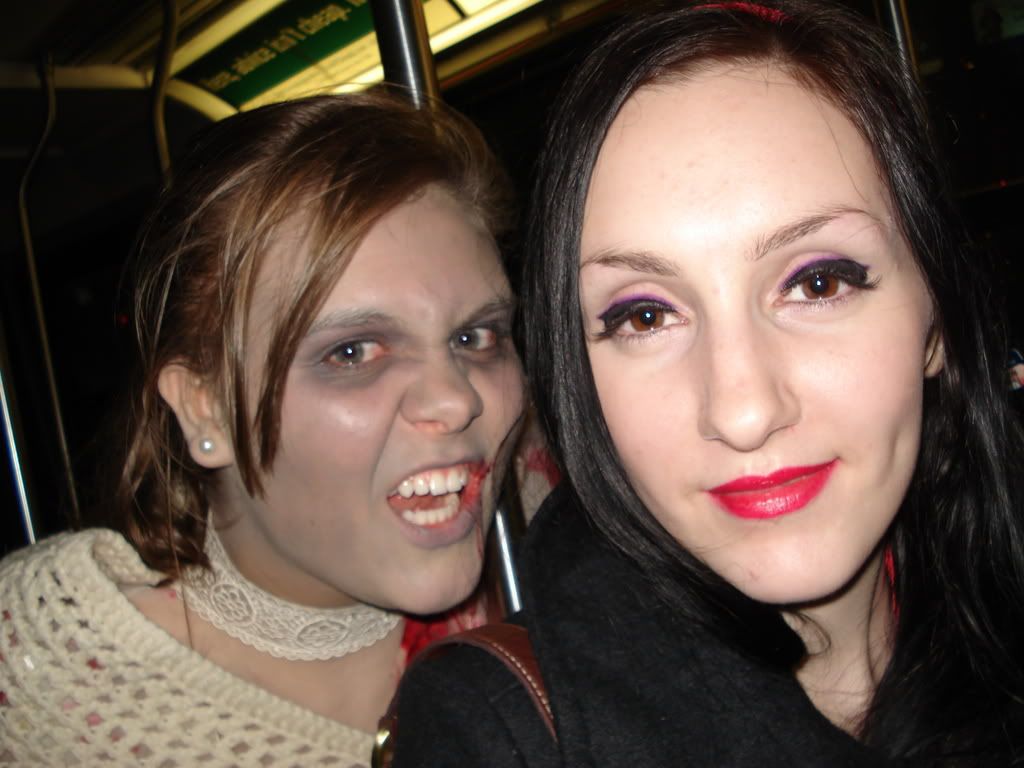 we got to the church and looked for cynthia for ages but had no idea where she'd gone (she doesn't have a cell phone so I had no way of getting in touch) it was
freezing
outside (about 8C). we met up with ang's friend nat on the subway funnily enough and she forgot to bring her ID but the doorman was really sweet and let her in and told us to have a good time. saved by the doorman fo sho. so we decided to go inside to look for cynthia, thinking she'd maybe have gone inside to get warm and meet us in there. couldn't find her, couldn't go outside (if you leave you're not allowed back in. ugh. predicament and a half) so we tried to have some fun but there weren't a ton of people there yet..nat and I danced on the dance floor alone haha and then some camera crew filmed us which was kinda lame as we were the only ones there. we ended up getting free copies of the reaping though, so you know, free swag is always a plus in my books. there was an MC who was kind of weird like. they had various acts throughout the course of the evening, like a fire eater, this girl who was rolling around on broken glass and just weird stuff really.
the one thing I will say is that the costumes in this place were out of sight. everyone looked like movie quality, it was a super fun environment to be in.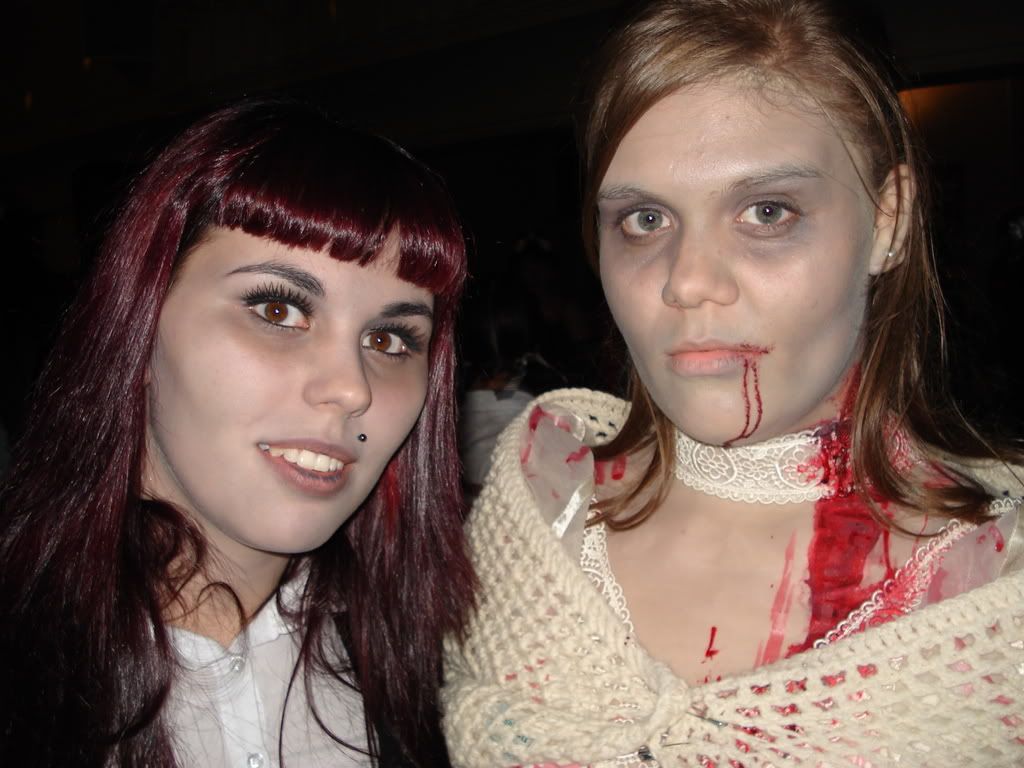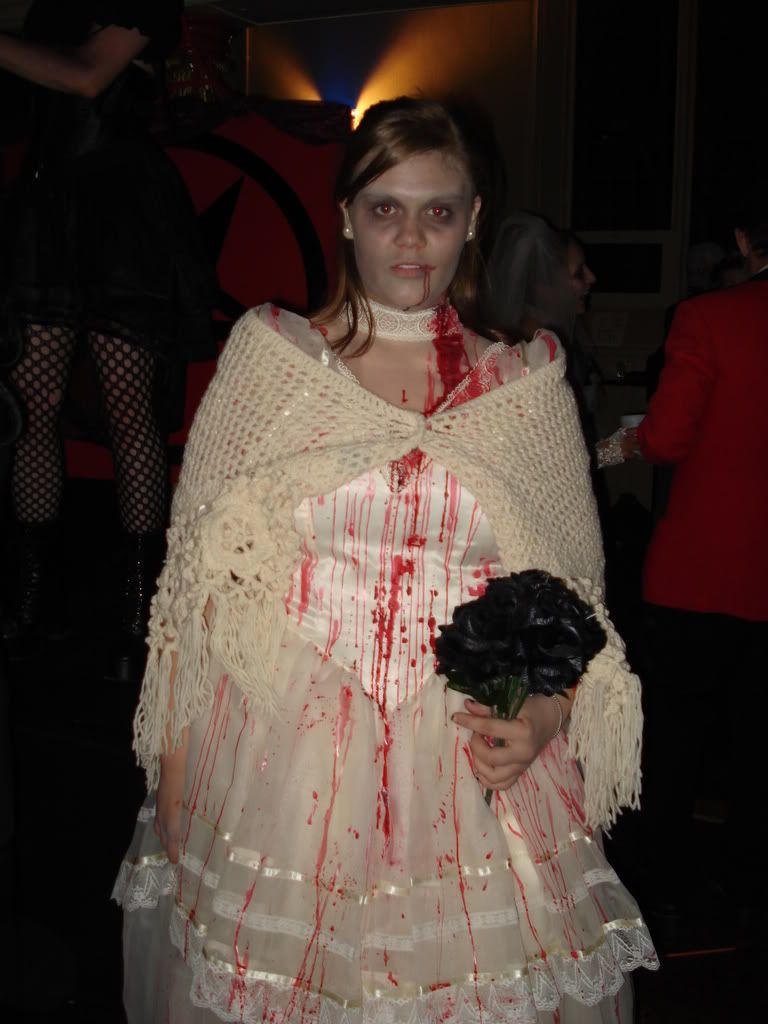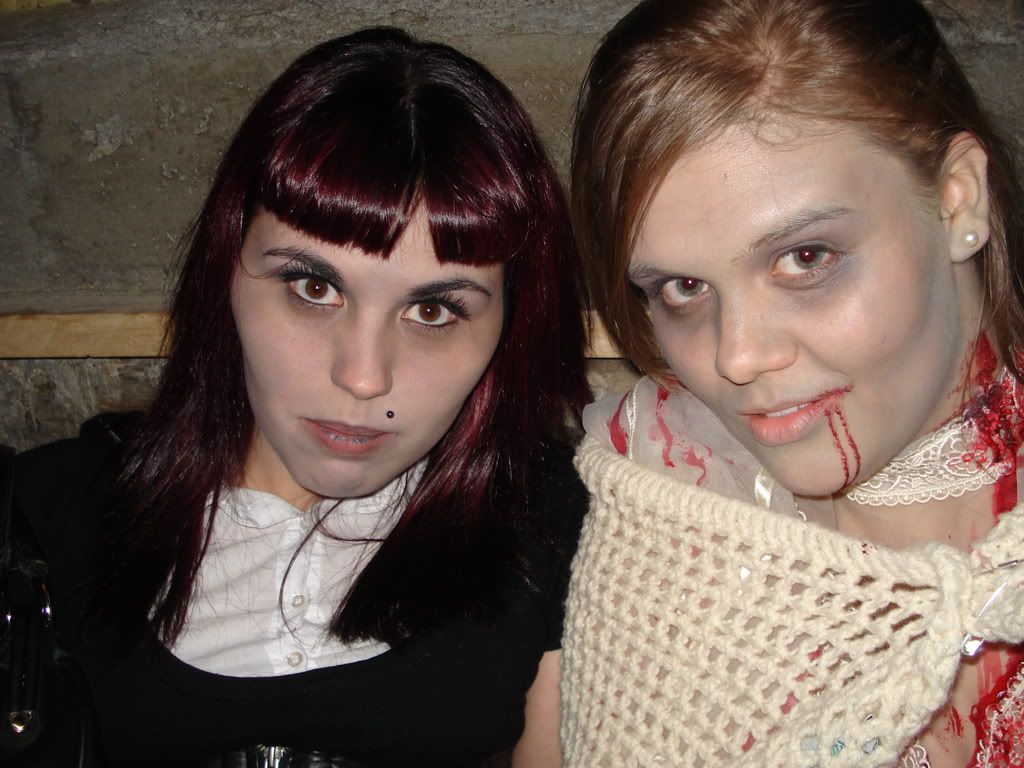 we saw a band called jack's hollow (I think?) play, they were pretty cool, although the highlight was this klaxons remix (the mix was shite but it was klaxons, which was cool)..the clock struck midnight and it was kind of getting boring so we started thinking about leaving. I ended up peacing around 12:40, however angelica was gonna stick around and my keys and clothes were at her house. sooo I ended up taking the ttc in full zombie garb alone in the middle of the night haha. I definitely got a few looks, and this one ttc driver who does the sheppard line sees me like 4 times a week walked by and looked at me, said "awesome" and kept going. so I'll probably see him monday and he'll probably realise who I am.
I took a couple more photos once I got home, before washing all the makeup off