The Twitter Crew went crazy this morning when I someone started to sing Need You Now by Lady Antebellum as a soundtrack for all the drama going on between Travis and K right now. All of sudden I had thousands of song recs and I promised I would come up with a dramatic mix so we could all listen to it while they manage to break your hearts on FB.

I had so many songs I decided to break it into three pieces, Travis' songs, K's songs and songs that fit both of them! Hope you all enjoy!

Thanks to
heyjuliee ,
skypirateb and
mizunfortunate for the help, song recs and crazyness!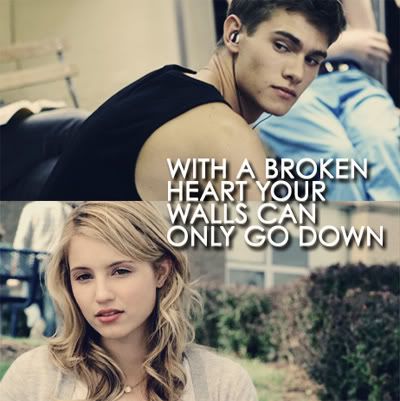 Travis

You do something to me that i can't explain
So would I be out of line if i said "I miss you"?
I see your picture
I smell your skin on
The empty pillow next to mine
You have only been gone ten days,
But already i'm wasting away


Tell Her This - Del Amitri
Tell her what was wrong
I sometimes think to much but say nothing at all
Tell her from this high terrain I am ready now to fall
I am ready now to fall
Tell her not to go
I ain't holding on no more
Tell her nothing if not this, all I want to do is kiss her
tell her something in my mind freezez up from time to time
Let's rearrange
I wish you were a stranger I could disengage
Just say that we agree and then never change
Soften a bit until we all just get along

Everyone knows I'm in
Over my head
Over my head
With eight seconds left in overtime
She's on your mind
She's on your mind
Saturday I'm running wild
And all the lights are changing red to green
Moving through the crowd I'm pushing
Chemicals all rushing through my bloodstream
Only wish that you were here
You know I'm seeing it so clear
I've been afraid
To show you how I really feel
Admit to some of those bad mistakes I've made
If you want it
Come and get it
Crying out loud
The love that I was
Giving you was
Never in doubt
Let go your heart
Let go your head
And feel it now

Dido - Here With Me

I didn't hear you leave
I wonder how am I still here
And I don't want to move a thing
It might change my memory
And I won't go
I won't sleep
I can't breathe
Until you're resting here with me

Maroon 5 - Never Gonna Leave This Bed
You hurt me
But do I deserve this?
You make me so nervous
Calm me down
Calm me down
Wake you up
In the middle of the night to say
I will never walk away again
I'm never gonna leave this bed
So come here
And never leave this place
Perfection of your face
Slows me down
Slows me down
Kayla
Cause I'm not lost, just looking for the prince.
I'm taking it, one step at a time and I'm getting by.
By the way,
It's you on my mind,
It's you on my mind.
And here comes the night pulling puppet strings on my heart again,
Shows me all of this time I've been blind to this waking life.
Now I...see it everywhere.
They say it fades if you let it,
love was made to forget it.
I carved your name across my eyelids,
you pray for rain I pray for blindness.

If you still want me, please forgive me,
the crown of love is fallen from me.
If you still want me, please forgive me,
because the spark is not within me.


This loss is numbing me
It pierces my chest
And I can't stop dropping everything
I thought we'd be sexy together
Thought we'd be evolving together
I thought we'd have children together
I thought we'd be family together


When I look up from my pillow
I dream you are there with me
Though you are far away
I know you'll always be near to me
I go to sleep, sleep
And imagine that you're there with me
I go to sleep, sleep
And imagine that you're there with me
I look around me
And feel you are ever so close to me
Each tear that flows from my eye
Brings back memories of you to me
Leave me out with the waste this is not what i do
It's the wrong kind of place to be thinking of you
It's the wrong time for somebody new
It's a small crime and i got no excuse
and is that alright yeah?
I give my gun away when it's loaded
is that alright yeah?
If you don't shoot it how am i supposed to hold it?
is that alright yeah?
I give my gun away when it's loaded
is that alright yeah, with you?


Still is the life
Of your room when you're not inside
And all of your things
Tell the sweetest storyline
Your tears on these sheets
And your footsteps are down the hall
Tell me what I did
I can't find where the moment went wrong at all
You can be mad in the morning
I'll take back what I said
Just don't leave me alone here
It's cold, baby
Come back to bed
Both
And the days feel like years when I'm alone
And the bed where you lie is made up on your side
When you're gone the pieces of my heart are missing you
When you're gone the face I came to know is missing too
When you're gone the words I need to hear
to always get me through the day
And make it ok
I miss you
You never said, you never said, you never said
That it would be this hard
Love was meant to be forever, now or never
Seems too discard
There's gotta be a better way for me to say
What's on my heart without leaving scars
So can you remain
When I call your name
And when you fall apart
Am I the reason for your endless sorrow
There's so much to be said
And with a broken heart
Your walls can only go down
But solo can you hear me
When I call your name
Even the best fall down sometimes
Even the wrong words seem to rhyme
Out of the doubt that fills my mind
I somehow find, you and I collide
Don't stop here
I've lost my place
I'm close behind
Their words mostly noises
Ghosts with just voices
Your words in my memory
Are like music to me
I'm miles from where you are,
I lay down on the cold ground
I, I pray that something picks me up
And sets me down in your warm arms
After I have travelled so far
We'd set the fire to the third bar
We'd share each other like an island
Until exhausted, close our eyelids
And dreaming, pick up from
The last place we left off
Your soft skin is weeping
A joy you can't keep in
Don't let yourself go
cause everybody cries
and everybody hurts... sometimes.
Sometimes everything is wrong.
Now it's time to sing along.
When your day is night (hold on, hold on)
if you feel like letting go (hold on)
if you're sure you've had too much... of this life, well hangon.
You and I were friends from outer space
Afraid to let go
The only 2 who understood this place
And as far as we know
We were way before our time
As bold as we were blind
Just another perfect mistake
Another bridge to take
On the way of letting go,
This ain't goodbye
It is just the way love goes
When words aren't warm enough, to keep away the cold?
This ain't goodbye
It's not where our story ends
But I know you can't be mine, not the way you've always been
As long as we've got time
Then this ain't goodbye
Oh no, this ain't goodbye



ZIP

- Feedback is appreciated!